Save the Date! The Film Independent Forum Returns (Virtually) July 31-August 7
Last year, the Film Independent Forum—everyone's favorite indie film industry conference and multi-day networking event—underwent what we thought, at the time, were some pretty big changes, relocating in both calendar date and physical location to new summertime digs at LMU Playa Vista. Turns out there were far greater changes in store for 2020—specifically, changes necessitated out of Film Independent's stringent "safety first" approach to its programming during the ongoing COVID-19 crisis. But! With necessity comes innovation…
This year of 2020, the Forum is being reimagined as a weeklong virtual event, taking place July 31-August 7 and taking advantage of all the possibilities that a virtual setting will allow—broadening the scope of the event and bringing the Forum, for the first time, to filmmakers across the world.
What can you expect? Formal programming will be announced soon—follow us on social—though we can guarantee another great year of wide-ranging and inclusive keynotes, conversations, filmmaker panels, networking opportunities, pitch sessions and screenings designed to help pour jet fuel on your film career.
So save the date: July 31-August 7. Got it? Great! In the meantime, let's revisit some of our favorite Film Independent Forum moments from last year. See you (online) soon!
INSIDE THE WRITERS ROOM

Who: An inclusive cross-section of working TV writers, including Marlana Hope (Grey's Anatomy, Army Wives), Duncan Birmingham (Maron, Blunt Talk), Erin Cardillo and Richard Keith (Significant Mother, Life Sentence) and Ali LeRoi (Everybody Hates Chris, Survivor's Remorse).
Some choice wisdom. Says Hope, of the professional hierarchy of most Hollywood writers rooms: "Starting at the bottom, you generally have Writers PA. Then you can become the Writers Assistant or the Showrunner's Assistant. There's the Script Coordinator, that's the person who's putting in all the script changes, the clearances, the names—it's kind of a master class because you get to read all the different versions of the script, further describing the tiers of Staff Writer, Story Editor, Executive Story Editor, Co-Producer, Producer, Supervising Producer, Consulting Producer, Co-Executive Producer and ultimately Executive Producer.

NARRATIVE PODCASTS

Who: A group of amazing young creative storytellers, all making waves in the emerging medium of narrative fiction podcasts—moderated by Mischa Stanton and including panelists Eli Barraza (The Far Meridian), Bikram Chatterji (Managing Director, Maximum Fun), Ivuoma Okoro (Vega), Colleen Scriven (Lesser Gods) and Lauren Shippen (The Bright Sessions).
Some choice wisdom. Says veteran sound designer Mischa Stanton, regarding the medium: "In 2012, Welcome to Nightvale got very popular. Since then, there's been a few different waves of digital audio, namely people picking up podcasting as a serial storytelling form. There have been a few others since Nightvale that have gotten really super successful, so that they're being looked at for new media. For example, Gimlet's Homecoming, which was released on Amazon to great acclaim, so it [podcasting] went from something no one knew was there, to now—where there are a lot of eyes on it, with room to grow."

OLIVIA WILDE ON 'BOOKSMART'

Who: First-time filmmaker—and eventual winner of Best First Feature at the 2020 Spirit Awards—Olivia Wilde, discussing the making of her then-soon-to-be-released debut, the instant-classic teen flick Booksmart.
Why it's great. "Film sets feel like construction sites. They're hectic and loud and not at all conducive to relaxation and vulnerability. It's nearly impossible for actors to relax on most sets, and I wanted to create an experience where they didn't feel like there was too much difference between the energy we were showing onscreen and what they [the cast] were feeling in real life. So I created an environment where I demanded equality between all departments and the cast, I wanted to get rid of this bullshit where the cast is in a class above the film crew—I think that causes a lot of problems on film sets and in performance."

NISHA GANATRA & LILY SINGH

Who: Acclaimed filmmaker Nisha Ganatra (Late Night, The High Note, Chutney Popcorn) in conversation with YouTube superstar-turned-late-night-host Lilly Singh.
Some choice wisdom. From our 2019 recap: A young Ganatra began working her way up the ladder on film sets. But inevitably—as a woman determined to call the shots—she repeatedly ran up against what she described as a "glass ceiling." Looking for a better "in" into the business, Ganatra enrolled in film school at NYU, studying under Spike Lee, who encouraged her to develop Chutney Popcorn as her feature debut. Lee's reasoning, she said, was that she could always pass Chutney off as a mere "student film" if unsatisfied with the results. Such a contingency didn't prove necessary, however, and Ganatra's career was off and running. "Now think off all the people who will be inspired by you," Singh enthused, counting herself among one of Ganatra's avid disciples.

MAKING MUSIC VIDEOS

Who: Three of today's hottest music video directors, Emily Kai Bock (A Funeral for Lightning, Lorde, Grimes), Daniel Kwan (Swiss Army Man, DJ Snake) and Hiro Murai (Atlanta, Childish Gambino).
Some choice wisdom. Kwan: "You can pump out a music video a month if you really want to, and it feels great. You get the likes; you get the people writing you up in articles and stuff like that. It's addictive. It's a beautiful high as a creative, to get your work seen regularly. This is one of the reasons I feel like a lot of music video directors have a hard time moving into narratives. It takes a lot of willpower to disappear for a couple of years and say, 'I hope that people won't forget me.' It's this big gamble—that was one of the weird things for me that I'm just starting to get over. Like, I haven't put out anything for a little while."

Bonus! Some of our favorite keynotes from yesteryear…

Ava DuVernay (2013)

Effie Brown (2016)

Jill Soloway (2014)

Jason Blum (2015)

Jordan Peele (2017)
See ya next month!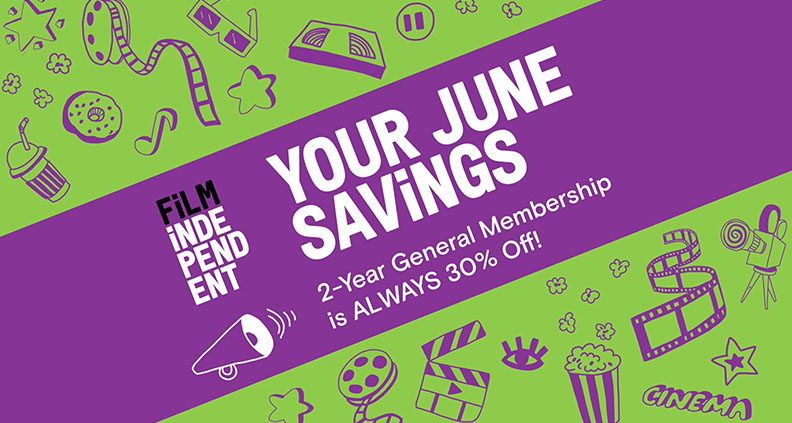 To become a Member of Film Independent, just click here. Two-year general Memberships are always 30% off to purchase or renew. To support everything Film Independent does to support artists year-round, consider a donation.
More Film Independent…