See How Our 2023 Global Media Makers See Los Angeles, In Just One Minute
It is no secret that technology now advances rapidly and dramatically, constantly changing the pace at which we're able to process our surroundings, perspective, and experiences—as well as the way we reflect those experiences back at others. After nearly a century of being an elite, expensive pursuit, tech has made filmmaking an accessible medium for everyone. And during this year's Global Media Makers LA Residency, five international filmmakers had the opportunity to explore the city through short films made in the annual iPhone Collaborative Workshop—using nothing but an iPhone 14 and their own unique POVs.
Global Media Makes (GMM) is, of course, a cultural exchange program, supported through a partnership between Film Independent and the U.S. Department of State's Bureau of Educational and Cultural Affairs. This year, GMM welcomed a diverse group of filmmakers from 15 countries in Asia and Africa. For many, it was their first time in LA and the United States.
Five filmmakers from Bangladesh, Egypt, Lebanon, Libya and Nepal were selected to participate in the iPhone Collaborative Workshop, building community with one another while being paired with creative producers based in Los Angeles, who guided them through the exploration of the city and the filmmaking process, from development to post-production.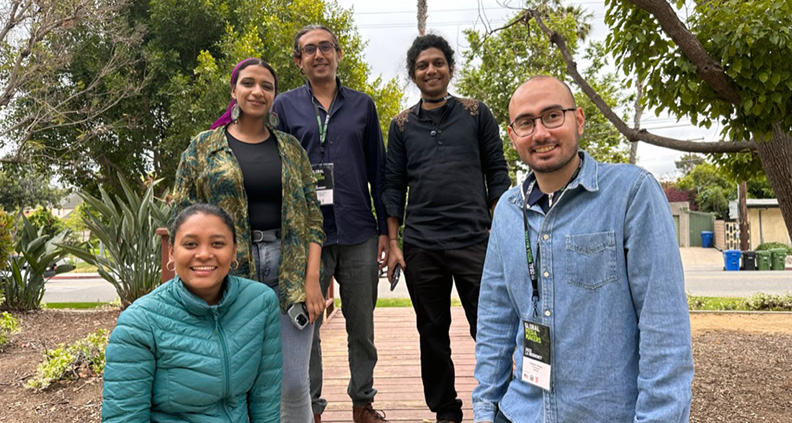 "It's very rewarding to see our Global Media Makers connect with our Los Angeles Fellows to discover LA through a creative dialogue as expressed in these poignant 60-second films," said María Raquel Bozzi, Film Independent's Senior Director of Education & International Initiatives. "An iPhone, with its high-quality capture, ease of use and cinematic workflow capabilities, is the perfect tool for freely exploring the visual richness of our dynamic Angeleno community."
The workshop culminated in a screening and talkback session inside the Film Independent screening room, which I (your author) had the honor of moderating. As one of the creative producers involved in this year's workshop, it was amazing to see the filmmakers' initial ideas come to life and blossom on the screen. Each was fascinatingly unique, showcasing the artists' viewpoint and interpretation of our City of Angels. Check them out below…
THERE WE WERE
Logline: Through her eyes, he finds Los Angeles…
Director: Mahde Hasan, 2023 GMM Fellow, Creative Development Track
Creative Producer: Sue-Ellen Chitunya, 2023 Amplifier Fellowship; 2020 Producing Lab Fellow
Follow: @m.a.h.d.e.h.a.s.a.n, @Sweet_Sue_Shine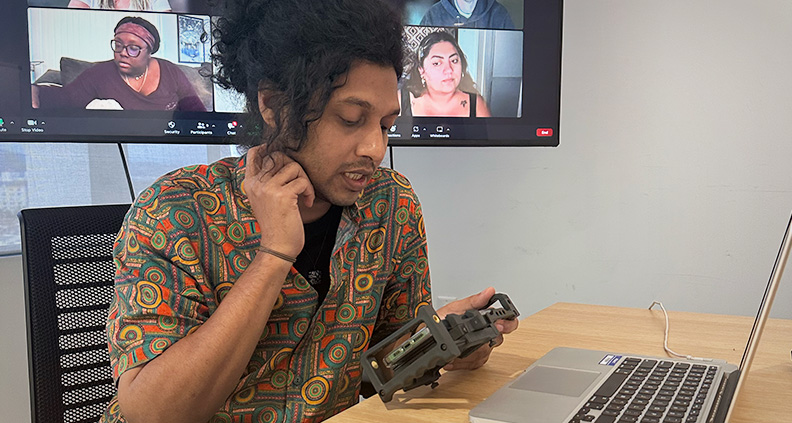 About: Mahde Hasan is a screenwriter and director based in Dhaka, Bangladesh. For the workshop, he chose to center an actress as the focus of his piece, keeping the identity of star (Elif Sözen, a fellow Global Media Maker from Turkey) a secret until the final screening. Hasan's French New Wave influences come through beautifully in the final portrait, which takes the audience on a winding journey through many iconic Los Angeles sites and landmarks—an impressive itinerary given Hasan's relatively short time in the city.
SISTERHOOD IN HOLLYWOOD
Logline: In the city of Hollywood, the dream of filmmaking bonds a sisterhood.
Director: Rajeela Shrestha, 2023 GMM Fellow, Documentary Track
Creative Producer: Winter Dunn, 2021 Project Involve, Directing Track
Follow: @rajeelashrestha, @itswinterdunn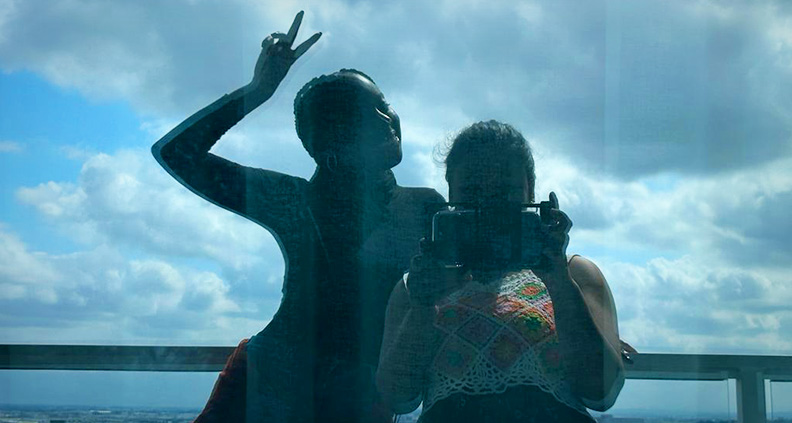 About: Rajeela Shrestha is a filmmaker who has been actively involved in Kathmandu's film industry since 2014. She believes that visual storytelling is a powerful medium to make people understand the complexities of the world. During the development process, Shrestha spoke often about how grateful she was to be surrounded by the other female filmmakers in her cohort. The resulting film is a colorful and vibrant exploration of LA, mixed with joyful footage of the many diverse women in GMM 2023. At the Q&A, the filmmaker spoke emotionally of her gratitude and how she'll never forget this time surrounded by her new "sisters" in Hollywood.
CITY WALLS CAN TALK
Logline: An Egyptian filmmaker is captivated by the beauty and freedom of the varied art found on the walls of Los Angeles. In Egypt, street art is forbidden, leaving her to explore the similarities and differences between the two cultures and how city walls speak to us all.
Director: Asmaa Gamal, 2023 GMM Fellow, Documentary Track
Creative Producer: Martina Silcock
Follow: @asmaa_ga3frie, @notthetennisplayer_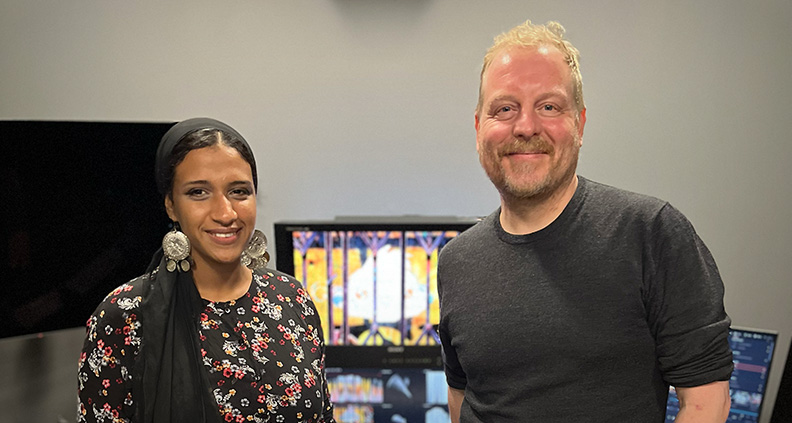 About: Asmaa Gamal is an independent photographer and director with a Master's degree in Drama and Television. At the beginning of the workshop, Gamal spoke about the laws in Egypt forbidding street art and how she loved looking at murals all around Los Angeles. For her, this was a privilege to have such public displays of art that are encouraged. She even connected with an Egyptian artist living in LA, who'd left his home country to pursue his passion for art. He was later featured in the film and was able to attend the final screening.
ONCE UPON A TIME IN LA
Logline: A friendly, glamorous city with dazzling billboards, where the manifestation of richness and poverty, luxury cars and the unhoused coexist.
Director: Abdullah Al-Ghaly, 2023 GMM Fellow, Screenwriting Track
Creative Producer: Imani Davis Project Involve 2023 Programming Track
Follow: @imanimdavis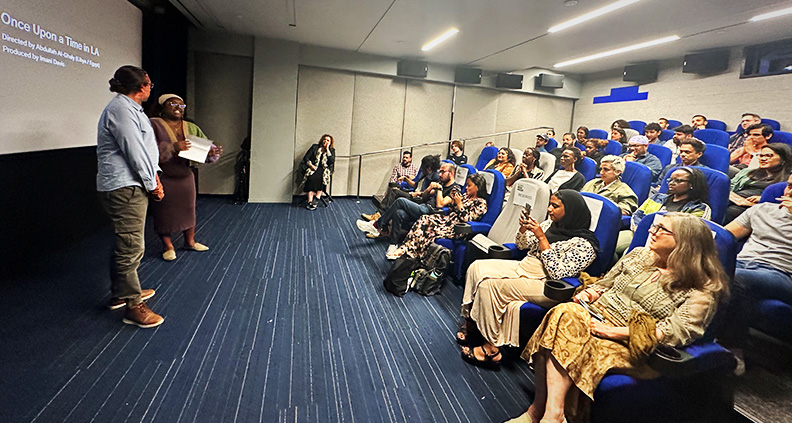 About: Abdullah Al-Ghaly is a Libyan writer, director and editor. Born in Alexandria, Egypt, he studied filmmaking and animation at Cairo Cinema Institute. Al-Ghaly had a strong vision for the short since the beginning of the workshop, knowing he wanted to show the stark wealth disparity on display in downtown LA. He also wanted to cut to heavy metal music, a genre of music he often turns to for creative inspiration. At the screening, he spoke extensively about the differences between the places he's lived and LA, his surprise at the number of unhoused people on the street and the city's prevalence of gaudy real estate properties.
The Fellows' time in Los Angeles was short, but the impact was evident onscreen and in the room, as the shorts' creators swelled with pride for the beautiful work that was made. The filmmakers are all back home now, but hopefully still reflecting on their time in La La Land.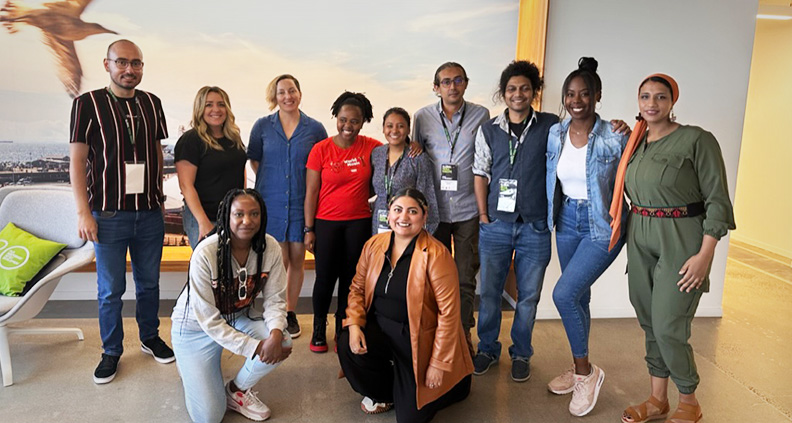 This iPhone Collaborative workshop was facilitated by several filmmakers that have been through Film Independent Artist Development programs, Celebrating 30 years, it promotes unique independent voices by helping filmmakers create and advance new work. Become a Member of Film Independent today. Support us with a donation here.
To learn more about Global Media Makers, click here. Global Media Makers is supported through a partnership between Film Independent and the U.S. Department of State's Bureau of Educational and Cultural Affairs. Film Independent promotes unique independent voices, providing a wide variety of resources to help filmmakers create and advance new work. Learn more online and become a Member of Film Independent today.
Keep up with Film Independent…