Someone We Watched: Things Get Weird with a Double-Dose of Rania Attieh & Daniel Garcia
Each year, the Film Independent Spirit Awards give the Someone to Watch Award to an emerging filmmaker of singular vision. In this column, film critic David Bax revisits some of the grant's recipients to see how their work and careers have continued to develop. The 2020 Someone to Watch Award was given on January 4.
***
Four months in, the most consistently fun part of researching each Someone We Watched entry is viewing two films back-to-back, separated by years or even decades, and picking out the similarities that wouldn't necessarily be so obvious in standalone viewings. In that sense, this month's entry proved especially revealing.
On the surface, a science fiction-tinged domestic drama and a dark comedy about an aging porn star with anger management issues seem miles apart. Nevertheless, directing duo Rania Attieh and Daniel Garcia exhibit preoccupations and points of view that form connective tissue between both films, laying the groundwork in a case for their auteurship. Attieh and Garcia's third feature, 2014's H., won them the Someone to Watch Award at the 2015 Film Independent Spirit Awards. The title stands for the name Helen and the film takes place in Troy, New York—get it? There are two Helens in H., actually, and their stories are told in alternating chapters.
Helen #1 (Robin Bartlett) is a housewife in a stale, routine marriage to her husband, Roy (Julian Gamble). She assuages her loneliness and pain (which, the film suggests, runs deeper than a lack of matrimonial chemistry) with a hyper-realistic baby doll that she cares for and feeds in-between online and real life get-togethers of other women with the same, emotionally consuming hobby.
Helen #2 (Rebecca Dayan) is an artist who collaborates with her husband, Alex (Will Janowitz). Somewhat recently, Alex had an affair, which has complicated Helen's feelings about being four months pregnant with their child. What connects the two Helens—as well as everyone else in the area—is the arrival of some sort of meteor, and a subsequent explosion of white light up near Lake George (where Roy happens to be fishing at the time). The event causes loud humming sounds in people's ears, sends wild horses running through the streets of Troy and, most consequentially, sparks a number of people to, almost involuntarily, journey to the site of the meteor (or whatever it is) and fall into a sort of coma. Roy and Helen #2 are among them.
Attieh and Garcia, who also wrote the screenplay, don't overexplain or, in some cases, explain at all. We don't know if it's aliens or magic or the gods who sent this mysterious force to Lake George. And the film doesn't belabor the point that its two lead couples are both anxious over an infant that either doesn't exist or doesn't exist yet.
The sense of dread that comes as a result of all this not knowing pushes H. into the territory of yet another genre, horror—or maybe that just comes from watching a movie about the onset of a sudden epidemic just as coronavirus panic is setting in!
Last year's Initials S.G. also flirts briefly with horror, though I'll leave it for you to discover why the lead character's skin seems to be pulsing and shifting underneath that bandage. Diego Peretti stars as Sergio Garces, who used to be kind of a big porn star, recorded an album of Serge Gainsbourg covers, and now mostly makes a living as an extra in movies playing unnamed wedding guests and dead bodies. He almost certainly understands how sad his life has become but makes every effort to appear otherwise.
Hanging out on the fringes of Buenos Aires' film industry, Sergio spends his free time smoking joints, going to parties and cheering on Argentina's soccer team (the movie takes place against the backdrop of the 2014 World Cup). Through a festival programmer friend of his, he meets Jane (Julianne Nicholson), an American independent film distributor who, we eventually realize, is looking to have an affair on her business trip before finally divorcing her husband.
There are superficial similarities between H. and Initials SG. Obviously, they both have initials in their titles; they're both shot in a scope aspect ratio; they both include ominous shots of characters staring at clouds; they both feature unhappy marriages; and Peretti looks a lot like he could be Janowitz, 20 years from now (that last one is probably a coincidence).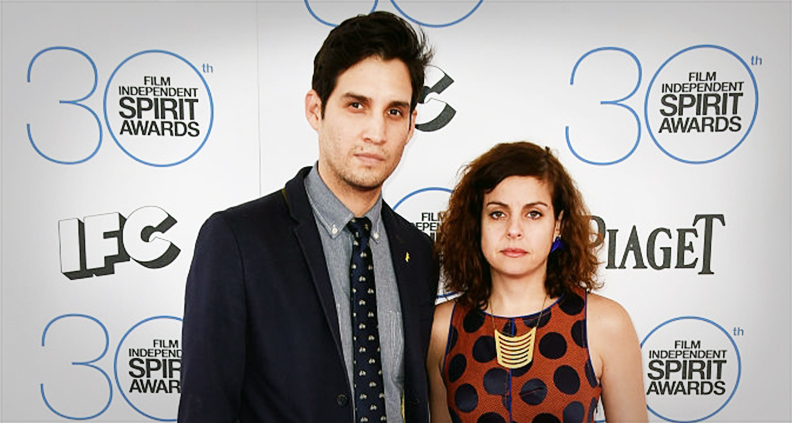 But beneath that, there's an undeniable authorship and perspective that link the two films. Attieh and Garcia overlay and interweave the quotidian and the surreal. Mundane and recognizable situations abound, like minor repairs being needed to the car and the house or running late to an appointment with a doctor. But they exist alongside, and in comparative measure to, bizarre sights like the head of a statue floating on top of a lake or a human/equine hybrid (but not quite a centaur) stalking the snowy woods.
Sergio's entire life is a series of surreal situations, from being dressed as a 19th century soldier while surrounded by a contemporary movie crew or strapping a virtual reality camera to his face when he makes his ignominious return to pornography. The varied weirdness of his life, though, doesn't make it any less sad when he's sitting on his couch in his underwear, smoking French cigarettes and watching Argentina lose to Germany. Nor does the supernatural new arrival outside of Troy take away from the prosaic suffering of the Helens and their husbands.
In the five years in between H. and Initials SG, Attieh and Garcia worked in short form documentary, making "The Pride of Del Rio," about Del Rio, Texas' young, gay mayor and The Second Shift, a series of shorts detailing the contradictory, absurd second jobs and second lives of Lebanese citizens. That last series in particular seems especially well suited to the pair's penchant for blending the workaday and the weird. They've also delved further into the horror genre with an entry in the anthology series Two Sentence Horror Stories. With such a varied resume only half a decade removed from their Someone to Watch win, it's clear we've just begun to see what Attieh and Garcia have to offer.
How to watch: H. is available for rent or purchase on iTunes. Initials S.G. is available on HBO Now, HBO Go and Hulu.
Other nominees: Chris Eskia has yet to produce a follow-up to his very well-received Civil War drama The Retrieval. But the year's third nominee, Ana Lily Amirpour, who made waves with her methodical and beautiful Iran-set, California-shot horror movie A Girl Walks Home Alone at Night, followed it up with 2016's The Bad Batch, found plenty of work directing television shows (Legion, Castle Rock, The Twilight Zone, Briarpatch) and is now attached to helm, of all things, a remake of 1993's Cliffhanger.
Film Independent promotes unique independent voices, providing a wide variety of resources to help filmmakers create and advance new work. To support our efforts with a donation, please click here and become a Member of Film Independent here.
Keep up with Film Independent…
(Header: Julianne Nicholson and Diego Peretti in Initials S.G.)