The Spirit of Independence: Ava DuVernay, Array Releasing and the Importance of Cinematic Legacy
Ava DuVernay seemed at home. Sitting in her chair, she cheerfully greeted the crowd, teased moderator Elvis Mitchell and pointed out her friends in the audience. It felt more like a family gathering than the bestowment of an award, but that's precisely why the Selma director was at the LA Film Festival on June 4: DuVernay is this year's recipient of the Spirit of Independence Award. The panel was sponsored by American Airlines. Honored alongside her were Tilane Jones and Mercedes Cooper, the other two great minds behind Array Releasing, DuVernay's distribution collective focused on promoting the cinematic work of women and people of color.
It's a small outfit, but a determined and effective one. "Mercedes is the Director of Marketing for Array, who does an amazing job with the two pennies and a shoestring that I give her," said DuVernay of Cooper. She was quick to clarify just how much work her collaborators put into their mission: "Tilane is the Executive Director of Array," said DuVernay, adding, "She's the boss of me."
DuVernay, who then illustrated the need for more minority-focused distribution outlets with an anecdote, "I got onto Twitter when Straight Outta Compton came out," she said, "I remember a CNN headline saying 'Compton Film Debuts with no Shootings'."
Through Array, DuVernay seeks to prove that not only does an audience exists for these films, but that these films deserve the respect and understanding so many other films receive.
"Its not just the fact that a film can do well, it's the fact that a movie can have community around it, have conversation around it, can push a national moment forward, can be a piece of art. Yet all the things that surround films of color seem to be a surprise."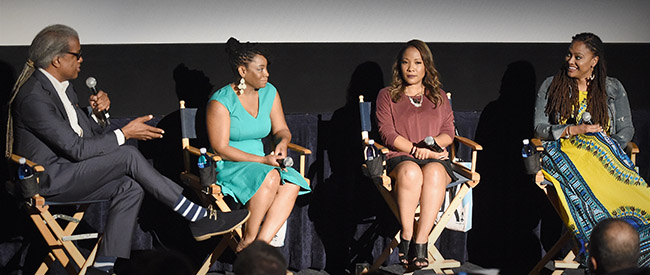 DuVernay, Cooper and Jones clearly put a lot of work into this venture, but it's not just a shot in the dark. Black cinema has commanded an audience for a long time, but still has to repeatedly prove itself despite these many successes.
Mitchell offered 1972 as the point that should have solidified black cinema's place in the national box office. "We can go back to 1972, the first and only year where two black women were nominated for Best Actor Oscars, and the only year still to date that a woman of color was nominated for writing a screenplay—Suzanne de Passe's Lady Sings the Blues," Mitchell said. "And these things get forgotten. That Shaft saved MGM from bankruptcy. That Superfly, a negative pick-up for $150,000, made eight million dollars in 1972. These things are forgot as a matter of course. So it's almost like you have to educate the media every time you film one."
Cooper, having spent the last few years marketing many black films, agreed. "From a marketing standpoint, yes. You have to say this all the time—cultivate the audience, pick films that we love, that we see out there in places such as LA Film Festival and all around the world and say, if we love it, and we like these stories, these human stories, other people will like them too."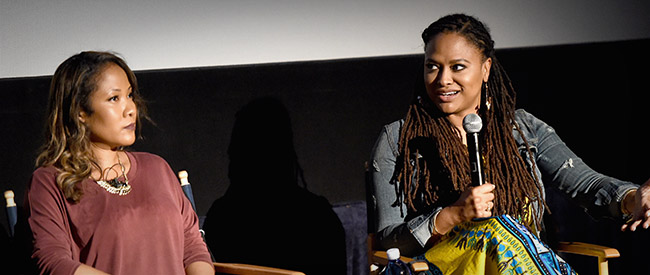 Through Array, DuVernay seeks to offer something new to the system. Part of this process, however, is done by pulling from the past. After all, there's no shortage of black and female filmmakers DuVernay argues should be in conversations about cinematic history, and yet they somehow never make the cut.
"That's why it's incumbent upon us—women filmmakers, people of color—to track our own legacy," she said. "It's important that when I talk I speak about Euzhan Palcy and Julie Dash, and Neema Barnette, and Kathleen Collins, and Kasi Lemmons, and Gina Prince-Blthywood and all the women who came before."
To know that these artists are so looked over puts a sour taste even into DuVernay's own success. "It assumes because I'm the first black woman to do this and that, that I was the only one that could, did, tried, or had the capacity to do so, which is incredibly insulting and disrespectful to all the artists who have been doing this work for this moment."
By design, Array rebels against this type of thinking. This is in part why they brand Array supporters as "rebels" and "mavericks"—people seeking to change the status quo of which artists are remembered and discussed.
"I rarely read an article about one of my white male counterparts in the current moment without seeing luxurious references to other white, male filmmakers who influenced them—or who the writer thinks might have influenced them. But rarely do I have a writer or critic look at a film by Ryan Coogler or a film by Dee Reese [who then] makes the connections from a black canonical legacy, or from women," she said, adding, "I mean I've literally, fully ripped off Agnes Varda's shots, hoping that someone would be like, could that be a connection? Looks new to me."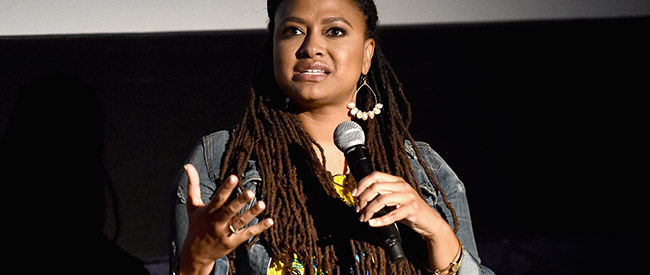 In essence, DuVernay believes audiences could use some variety in their visual literacy.
"More of those connections, it just comes from educating people."
"This is not just a black filmmaker problem. It's devastating for black filmmakers, but equally so, if not more so, for other kinds of colors and cultures. When's the last time you had a conversation with a native woman filmmaker? Latina filmmakers? Can you name ten? Can you name five? Can you name three Latina filmmakers?" DuVernay asked.
Ultimately, DuVernay's message to the audience is simply that if you love cinema, you must demand and support its diversity.
"Everyone here loves film. Yet a whole swath of film, a whole group of filmmakers have been kept from you. That pisses me off. If you really love film, aren't you being upset and that certain films are being kept from you?"
---
This year's 2016 LA Film Festival is currently happening at the ArcLight Cinemas in Culver City as additional venues citywide through June 9. Buy your tickets to all of our great screenings and special events today. Click here for more information.
To see our full lineup and Festival Guide, please visit our website, stay tuned to this blog and subscribe to our YouTube channel. Learn how to become a Member of Film Independent by clicking here.