Submissions Open! Film Independent Spirit Awards Now Accepting 2022 Contenders.
So here you sit. You've spent the past few years (decades?) chasing down your dreams, encountering challenge after challenge, remaining true to your creative vision. There was that first vomit draft, so horrible you almost cried. There was the humbling—and sometimes humiliating—process of finding the money, and the fun of putting your team together. There was that one time on set when the PA tripped and knocked over the camera table, putting a crack in your band-new Zeiss lens. And then there were the obnoxious notes (many of which, upon retrospect, were correct) and festival rejections. But still: you made a movie!
Frankly, you deserve an award for just making it this far. Unfortunately, karma and self-actualization do not typically manifest in tangible form. HOWEVER. You can still very easily place yourself in the running for the Film Independent Spirit Awards­—submissions to be nominated for 2022 awards are now open. Plus, a reminder: episodic series and TV are now eligible as well. Wanna know more? Visit our FAQ page for rules, eligibility requirements and more. Regular deadline is September 21 while Film Independent Members have until October 8.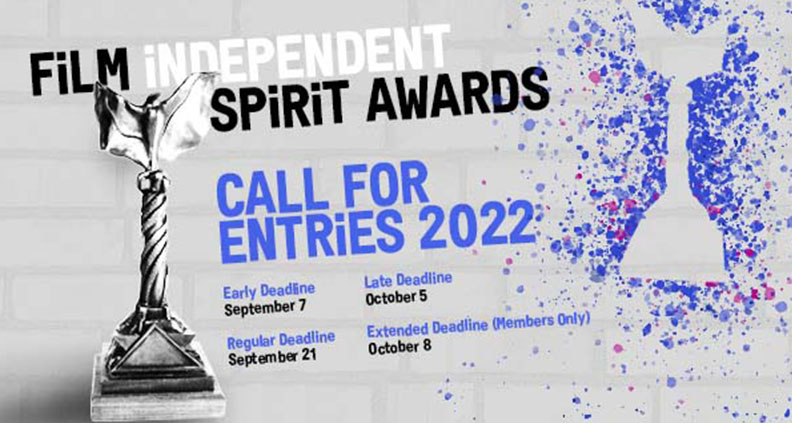 And really, we love any excuse to revisit a roundup of our favorite Spirit Awards acceptance speeches. Here now are ten great ones, but who knows? Next year your speech might be here instead. So don't delay—submit now.
'NOMADLAND' WINS BIG
Why we love it: Last awards season was an absolute beast for 2011 Film Independent Screenwriting Lab Fellow and 2018 Bonnie Award winner Chloé Zhao, with Nomadland doing pretty well at that other awards show as well as taking home Best Feature, Best Director, Best Cinematography and Best Editing.
ED LACHMAN'S TOUCHING SPEECH
Why we love it: When Carol won Ed Lachman a Spirit Award for Best Cinematography at the 2016 ceremony, the veteran cinematographer—who provided Todd Haynes's queer cinema classic its luscious period look—offered a few humble words of gratitude and offered a few poetic thoughts about love and equality.
SIGNS OF THE TIME
Why we love it: An IRL member of the deaf community, Paul Raci lent his performance as Riz Ahmed's Sound of Metal mentor a truly authentic and compassionate point of view. Upon receiving his well-deserved Spirit Award for the role, Raci acted as his own ASL interpreter, buoyantly signing his thanks and encouragement.
OVERLAPPING SAFDIES
Why we love it: Maybe the Safdie Brothers… are just like that, all the time? The filmmaking duo's films are a master class in nerve rattling sensory overload, as was their 2020 Best Director acceptance speech for Uncut Gems—a cacophonous, dual-delivery litany delivered at the speed of twin con men trying to unload an enchanted emerald.
HAAS MAKES HISTORY
Why we love it: Israeli actor Shira Haas made history this year by becoming the Spirit Awards' first-ever winner of Best Female Performance in a Scripted Series, for her work on the Netflix drama Unorthodox. Based on a true-life story and adapted from the bestseller of the same name, it was a great way to inaugurate the category.
MYA TAYLOR. WOW.
Why we love it: Speaking of making history, who could forget trans performer Mya Taylor's big win for Best Supporting Actress in 2016, claimed for her unforgettable role in Sean Baker's Tangerine? Trans actors have only become more visible in the five years since Taylor's call for better representation—a reason to be happy.
A PROMISING YOUNG… YOU GET IT
Why we love it: For those of us who first knew her via Call the Midwife (where she played plucky midwife Nurse Patsy Mount), it's been great fun to watch English filmmaker Emerald Fennell evolve into an acclaimed writer-director, first as showrunner for Season Two of Killing Eve and, most recently, the Spirit Award-winning director of last year's provocative Promising Young Woman.
HELLO 'FAREWELL'
Why we love it: A 2014 Project Involve Fellow whose autobiographical cross-cultural tale of merciful familial duplicitousness first appeared on public radio's long running This American Life, Lulu Wang took home Best Feature for The Farewell in 2020. Watch for the moment when Robert De Niro hands her the award.
DOUBLE THE MICHAELA
Why we love it: With TV (however you define it) now on the table, another big 2021 winner was Michaela Coel, whose astonishing I May Destroy You claimed two prizes, Best New Scripted Series and Best Ensemble Cast in a New Scripted Series; quite the double-dip, which as huge ice cream cone fans, we of course love.
A-PEELE-ING
Why we love it: Get Out was inarguably the most debated film of 2017—a bold, genre-wrapped exploration of the failings, exploitations and injuries wrought by white progressives on their supposed Black "allies." When Spike Lee announced Jordan Peele as the Best Director winner in 2018, it felt like a full-circle moment.
Film Independent promotes unique independent voices, providing a wide variety of resources to help filmmakers create and advance new work. The Film Independent Spirit Awards is our largest fundraiser. To support our efforts with a donation, please click here and become a Member of Film Independent here.
Follow Film Independent…
(Header: Abraham Attah and Idris Elba at the 2016 Spirit Awards)