Summer Lovin': Catch Up with June and July's Film Independent Presents Q&As
Whatever your feelings about the year so far, it's fair to say that 2022 has thus far been a whirlwind. If fact, as adults for whom time is increasingly becoming an abstract concept at best, we're contractually obligated to exclaim "I can't believe it's almost August already!" There, now that's out of the way we'd like to bring your attention to this list of great Q&A's, all part of our ongoing Film Independent Presents series of virtual and in-person screenings.
THE NORTHMAN
Guest of honor: Robert Eggers (writer/director); moderated by Jacqueline Coley (Awards Editor, Rotten Tomatoes)
About: From visionary director Robert Eggers comes The Northman, an action-filled epic that follows a young Viking prince on his quest to avenge his father's murder.
What critics are saying: "What's perhaps most impressive about The Northman is that it hurtles through 136 minutes of musclebound, shaggy-maned mayhem without a whisper of camp or a wink of irony," writes A.O. Scott, of The New York Times.
YOU WON'T BE ALONE
Guest of honor: Goran Stolevski (writer/director); moderated by Jenn Wilson, Senior Programmer, Film Independent
About: Set in an isolated mountain village in 19th century Macedonia, You Won't Be Alone follows a young girl who is kidnapped and then transformed into a witch by an ancient spirit. Curious about life as a human, the young witch accidentally kills a peasant in the nearby village and then takes her victim's shape to live life in her skin. Her curiosity ignited, she continues to wield this horrific power in order to understand what it means to be human.
What critics are saying: "A witch discovers life, love and death via the bodies of others in a beautifully made and moving treatise on what it it means to be human," writes Benjamin Lee, of The Guardian.
MONTANA STORY
Guests of honor: Scott McGehee (director), David Siegel (director); moderated by Jenn Wilson, Senior Programmer, Film Independent
About: From the acclaimed writer/directors Scott McGehee and David Siegel (What Maisie Knew, The Deep End) comes a neo-Western with an emotional tremor hiding beneath it. Two estranged siblings (Haley Lu Richardson, Owen Teague) return home to the sprawling ranch they once knew and loved, confronting a deep and bitter family legacy against a mythic American backdrop.
What critics are saying: "Owen Teague and Haley Lu Richardson in a Well-Acted Tale of Family Demons," says Variety's Owen Gleiberman.
PLEASURE
Guests of honor: Ninja Thyberg (director), Sofia Kappel (actor); moderated by Jenn Wilson, Senior Programmer, Film Independent
About: Ninja Thyberg's debut feature film is a journey into the Los Angeles porn industry through the lens of newcomer Bella Cherry (Sofia Kappel). Strong, self-confident and determined, Bella embarks on a mission to become the best at any cost. Pleasure is written and directed by Thyberg, with a stunning first-time performance by Kappel, who anchors an ensemble of adult industry actors.
What critics are saying: "A Raw and Real Inside Drama About the L.A. Porn Industry," writes Variety's Owen Glieberman.
EMERGENCY
Guests of honor: Carey Williams (director), KD Dávila (writer); moderated by Josh Welsh, President, Film Independent
About: Kunle (Donald Elise Watkins) and his best friend, Sean (RJ Cyler), are both seniors in college about to embark on an epic night of Spring Break parties. Sean has the whole night planned out, including every party they will hit on their "legendary tour." Kunle is down, yet mostly concerned with finishing up his mold experiment in his lab, as his acceptance to Princeton is hinging on the results. They return to their apartment to pre-game, yet find that their roommate, Carlos (Sebastian Chacon), left the door open. As they enter with trepidation, Sean and Kunle discover a drunk, semi-conscious White female they don't know on the floor and an oblivious Carlos, who didn't hear her come in over the video game blaring in his ears. Kunle wants to call the cops but Sean vehemently opposes the idea, concerned how it will look when the cops show up (two Black men, one Latino man and a passed out White woman). Together, Carlos, Sean and Kunle load the girl (who they nickname Goldilocks, but whose real name is Emma (Maddie Nichols) into Sean's van, with the intention of taking her somewhere safe rather than calling the police. Meanwhile, Emma's sister, Maddy (Sabrina Carpenter), has realized that Emma left the party they were at, and begins to search for her in a drunken panic using Emma's phone's location. What ensues is a chaotic, hilarious, and tension-filled chase all over town as our trio grapples with their differences while attempting to bring Emma to safety.
What critics are saying: "Emergency is a genre thriller that owes a great debt to the films of Spike Lee and Jordan Peele. It's tightly wound, uncompromising in its anger, yet also a beacon of kindness. A terrific achievement," gushes Rohan Naahar, of The Indian Express.
TANKHOUSE
Guests of honor: Noam Tomaschoff (writer/director), Matthew Cooper (producer), Richard Kind (actor), Stephen Friedrich (actor) and Tara Holt (actor); moderated by Jenn Wilson, Senior Programmer, Film Independent
About: When thespian couple Tucker Charlemagne and Sandrene St. Jean are kicked out of the avant-garde theatre scene in New York by their long-time acting guru Buford Slezinger, they must venture back to Sandrene's hometown of Fargo, North Dakota to start a new theatre company and win a residency at the historic Fargo Theatre. Should be a piece of cake for our cultured artístes, right? Wrong. Upon arrival, they discover that Fargo already has a theater company headed up by Sandrene's ruthless former drama teacher Mr. Mortensen, and they mean business.
What critics are saying: "Tankhouse might not be for everyone with its outlandish humor, but if viewers are willing to invest in the absurdity, then it's worth watching. Tomaschoff has clearly created this movie out of respect for anyone who has loved spending time in the theater, and with a game cast ready to shoulder the material, it becomes something very sweet underneath all the quirk," says ScreenRant's Rachel Labonte.
FIRE ISLAND
Guest of honor: Andrew Ahn (director and Film Independent Fellow); moderated by Josh Welsh, President, Film Independent
About: Set in the iconic Pines, Andrew Ahn's Fire Island is an unapologetic, modern day rom-com showcasing a diverse, multicultural examination of queerness and romance. Inspired by the timeless pursuits from Jane Austen's classic Pride and Prejudice, the story centers around two best friends (Joel Kim Booster and Bowen Yang) who set out to have a legendary summer adventure with the help of cheap rosé and their cadre of eclectic friends.
What critics are saying: "Indie director Andrew Ahn creates a mainstream queer classic with the romcom Fire Island, his inventive modern adaptation of Pride and Prejudice. Following a group of gay friends on a wild vacation, it features some of the funniest and most tension-filled scenes in any movie this year. As complete as any piece of entertainment can be," says Siddhant Adlakha, IGN.
CHA CHA REAL SMOOTH
Guest of honor: Cooper Raiff (writer/director/star); moderated by Janelle Riley (Deputy Awards and Features Editor, Variety)
About: Fresh out of college and without a clear life path going forward, 22-year-old Andrew is stuck back at home with his family in New Jersey. But if there's one thing that belongs on his nonexistent résumé, it's how to get a party started, which lands him the perfect job of motivational dancing at the bar and bat mitzvahs for his younger brother's classmates. When Andrew befriends a local mom, Domino, and her daughter, Lola, he finally discovers a future he wants – even if it might not be his own. Cooper Raiff writes, directs and stars alongside Dakota Johnson, Brad Garrett, Leslie Mann and newcomers Vanessa Burghardt and Evan Assante in this tale of unconventional love that brims with emotional honesty.
What critics are saying: "Raiff's ambition to break free from sentimental formula and forge a path of his own is clear, making him an exciting young filmmaker to watch," writes Roger Ebert's Christy Lemire.
WE FEED PEOPLE
Guests of honor: Sara Bernstein (producer) and Andrew Morreale (editor); moderated by Jenn Wilson, Senior Programmer, Film Independent
About: We Feed People spotlights renowned chef José Andrés and his nonprofit World Central Kitchen's incredible mission and evolution over 12 years, from being a scrappy group of grassroots volunteers to becoming one of the most highly regarded humanitarian aid organizations in the disaster relief sector.
What critics are saying: "A major reason the film is so satisfying is that it restores faith in the idea that people can act selflessly in the best interest of strangers in need," writes Mark Keizer, of The A.V. Club.
MARCEL THE SHELL
Guests of honor: Dean Fleischer Camp (director), Nick Paley (co-writer) and Kirsten Lepore (animation director); moderated by Jenn Wilson, Senior Programmer, Film Independent
About: Marcel is an adorable one-inch-tall shell who ekes out a colorful existence with his grandmother Connie and their pet lint, Alan. Once part of a sprawling community of shells, they now live alone as the sole survivors of a mysterious tragedy. But when a documentary filmmaker discovers them amongst the clutter of his Airbnb, the short film he posts online brings Marcel millions of passionate fans, as well as unprecedented dangers and a new hope at finding his long-lost family. A beloved character gets his big-screen debut in this hilarious and heartwarming story about finding connection in the smallest corners.
What critics are saying: "This kid-friendly A24 movie is somehow whimsical, bittersweet, life-affirming and a little bit heartbreaking all at once. And that makes it the perfect movie for the moment," writes Fox 10 Phoenix's Caroline Siede.
BRIAN AND CHARLES
Guests of honor: David Earl (writer/actor), Jim Archer (director) and Rupert Majendie (producer); moderated by Jenn Wilson, Senior Programmer, Film Independent
About: Brian and Charles follows Brian, a lonely inventor in rural Wales, who spends his days building quirky, unconventional contraptions that seldom work. Undeterred by his lack of success, Brian attempts his biggest project yet. Three days, a washing machine, and various spare parts later, he's invented Charles, an artificially intelligent robot who learns English from a dictionary and has an obsession with cabbages. What follows is a humorous and entirely heartwarming story about friendship, family, finding love and letting go.
What critics are saying: "If Brian and Charles is ultimately more E.T.: The Extra Terrestrial than A.I.: Artificial Intelligence, it's still a feel-good charmer with a glowing human heart," writes BFI's Leigh Singer.
THE BLACK PHONE
Guests of honor: Scott Derrickson (writer/director ); moderated by Jenn Wilson, Senior Programmer, Film Independent
About: Finney Shaw, a shy but clever 13-year-old boy, is abducted by a sadistic killer and trapped in a soundproof basement where screaming is of little use. When a disconnected phone on the wall begins to ring, Finney discovers that he can hear the voices of the killer's previous victims. And they are dead set on making sure that what happened to them doesn't happen to Finney. Starring four-time Oscar® nominee Ethan Hawke in the most terrifying role of his career and introducing Mason Thames in his first ever film role, The Black Phone is produced, directed and co-written by Scott Derrickson, the writer-director of Sinister, The Exorcism of Emily Rose and Marvel's Doctor Strange.
What critics are saying: "A film set in 1978 that feels like it was made in 1978 in all the best possible ways… There's a raw realism to it in a supernatural setting that I found really compelling," says KPCC FilmWeek critic Christy Lemire.
DON'T MAKE ME GO
Guests of honor: director Hannah Marks (director), actors John Cho and Mia Isaac; moderated by Josh Welsh, President, Film Independent
About: When single father Max (John Cho) discovers he has a terminal disease, he decides to try and cram all the years of love and support he will miss with his teenage daughter Wally (Mia Isaac) into the time he has left with her. With the promise of long-awaited driving lessons, he convinces Wally to accompany him on a road trip from California to New Orleans for his 20th college reunion, where he secretly hopes to reunite her with her mother who left them long ago. A wholly original, emotional and surprising journey, Don't Make Me Go explores the unbreakable, eternal bond between a father and daughter from both sides of the generational divide, with heart and humor along for the ride.
What critics are saying: "It's easy to take the ride with Max and Wally because of the two performers who bring them to life," writes Roger Ebert's Brian Tallerico.
MRS. HARRIS GOES TO PARIS
Guests of honor: Anthony Fabian (director); moderated by Jenn Wilson, Senior Programmer, Film Independent
About: Mrs. Harris Goes to Paris is the enchanting tale of a seemingly ordinary British housekeeper whose dream to own a couture Christian Dior gown takes her on an extraordinary adventure to Paris.
What critics are saying: "Lesley Manville delivers an effervescent performance that reminds us of her formidable comedic, as well as dramatic range," writes Time Out's Cyrus Cohen.
This week only, we're offering $50 off for new and upgrading Filmmaker Pro and Film Lover Memberships.  Visit filmindependent.org/join or click the icon below to learn more.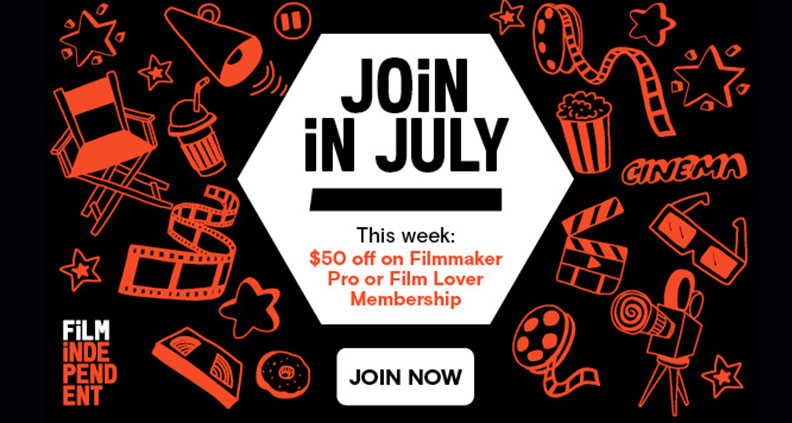 Keep up with Film Independent…
(Header, L-R: Josh Welsh, Mia Isaac, Hannah Marks, John Cho )