Ballot Fever: Spirit Awards Voting Season Enters Full Swing
By now Tuesday's Iowa caucus is a fading memory. But soon enough, the machinery of the 2016 Presidential Election cycle will kick into high gear, inundating the front page of every newspaper and political blog with levels of mudslinging not seen since Green Day took the stage at Woodstock '94.
Let's face it: voting is stressful. Or at least it is when the fate of the free world hangs in the balance. But there's still one form of voting that's actually fun.
And no, we don't mean voting for American Idol or the NBA All-Star ballot (though those are fun, too). We're talking about the 31st Film Independent Spirit Awards.
Film Independent Members have until February 16 at 9:00am PT to cast their ballots, which means there are still 12 days to cram as many of our nominees into your eyes and ears as possible.
So cancel that doctor's appointment, skip your daughter's piano recital and tell the boss you've come down with a bad case of something. It's time to buckle down in a dark theater or in front of a warm DVD player and watch this year's nominees.
(Also, don't actually do any of those things listed above. We just put those in for dramatic effect—just like a Spirit Award-winning screenwriter might. That's right, we've managed to learn a thing or two over the years.)
After all, it's because of voters like you that our winners get to take the stage and say "thank you." Here's the proof:
So mark your calendars and don't forget to vote! The Film Independent Spirit Awards are an extension of our Members, and we want your voice to be heard!
The Film Independent Spirit Awards will be broadcast live on IFC February 27 at 2:00pm PT and 5:00pm ET, hosted by Kumail Nanjiani and Kate McKinnon.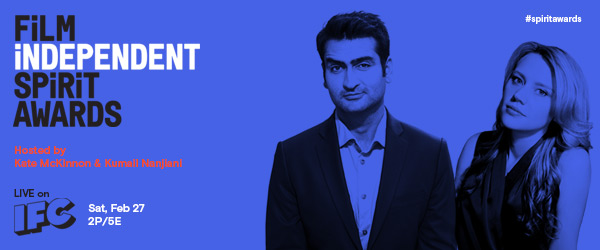 To learn more about the Spirit Awards please click here. To make sure you're a 2017 Spirit Awards voting Member please click here or visit our website.
Matt Warren / Film Independent Digital Content Manager