2016 Film Independent Spirit Awards Celebrate Diversity and a Mouthful of Ham
"I just wanted to day drink in Santa Monica and kiss Paul Dano!"
This was how Kate McKinnon—one of the hosts of Saturday's 2016 Film Independent Spirit Awards—summed up the star-studded event during a mid-show sketch, planting sloppy one on the Love & Mercy nominee with a mouthful of ham. But while she was the only one who consummated this particular wish (other than perhaps Dano's date, Zoe Kazan), there was plenty else for viewers to enjoy during this year's show, held in its signature tent just north of the Santa Monica Pier.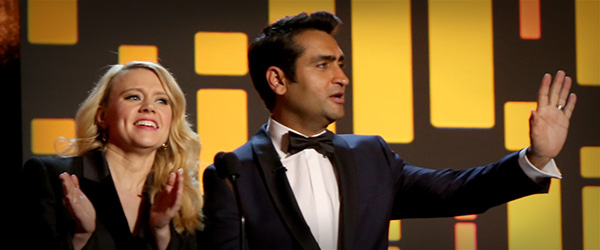 McKinnon and fellow comedian Kumail Nanjiani opened the show up with a parody sketch of Room and relished in delivering jokes about Film Independent's reputation for diversity compared to the Academy Awards.
"The Spirit Award nominees are as diverse as the cover of a brochure for a liberal arts college," began Nanjiani, "while the Oscar nominees are as diverse as the student body at a liberal arts college."
And diversity certainly took the main stage, starting with Best Supporting Male Award for Idris Elba for Beasts of No Nation. To share his award, Elba brought on stage his co-star Abraham Attah. First-time actor and young talent Attah eventually got his own standing ovation when he later went on to accept the Best Male Lead Award.
Another young actor to bring light to the show was Jacob Tremblay, who is 47 years old according to Michael Keaton. McKinnon introduced the (actually) nine-year-old Room actor alongside Anthony Mackie as "the buddy cop movie you'd pay to see" so that they could present the Best First Screenplay Award. Tremblay stood on a platform to reach the mic while reveling in the presence of his hero…"Falcon".
The two presented the award to first-time screenwriter Emma Donoghue, who adapted the screenplay for Room from her own critically acclaimed novel. Donoghue thanked her family in during her speech, adding that "children do leave you less time to write, but they give you a lot more to write about."
Writer/director Marielle Heller was another first-timer, taking home Best First Feature for the acclaimed The Diary of a Teenage Girl. During her thank-you's, Heller described how she told her husband they had to make the movie before they had a baby. "I've never seen anyone work so hard to get a movie made."
The awards held a special place for Carol, which won Best Cinematography by Ed Lachman. The show then spoofed the romantic drama of two women who develop a complicated romance in the 1950s. In the sketch, Kate McKinnon took on the role of Carol trying to seduce Rooney Mara during a "glove lunch" despite Kumail's interruptions as their oblivious waiter. The spot featured guest appearances by McKinnon's fellow gay funny women, Jane Lynch and Wanda Sykes.
Another major win was for Mya Taylor, a transgender actress who won the Best Supporting Female Award for her role in Tangerine. Mya tucked away her nerves during accepting speech to make a powerful call to action for Hollywood: "There is very beautiful transgender talent, so you better get out there and put it in your next movie." The award marked the first major film award to be given to a transgender actress, a historic moment in cinema.
Michael Keaton, last year's winner for Best Male Lead, presented the award for Best Female Lead to the rapidly rising star Brie Larson for her performance in Room. Cheered on by her so-called "spirit animal" Jacob Tremblay, who gave her a standing ovation on his chair, Brie Larson took the stage with a heart-warming speech on the importance of independent film. Larson described how her roots lie in independent film, because through it she was able to discover what a "real woman looks like, real love looks like…real messiness."
Amongst so many important wins for new talent, underrepresented stories and truly bold films, the ceremony's biggest winner was the true story of one of the biggest child sex abuse scandals in the Catholic Church, Spotlight. Starting with the Robert Altman Award for Ensemble Cast, Spotlight co-writers Tom McCarthy and Josh Singer then won Best Screenplay, and dedicated their award to the real life reporters, editors, lawyers, and survivors who fought against the church against the abuse and subsequent cover-up.
The film took home the show's final award for Best Feature. As a large group of actors, collaborators, producers, and real-life inspirations for the film trickled up on stage, Spotlight producer Michael Sugar reflected on a "reminder that it takes a village to make a movie."
---
For a complete list of 2016 Spirit Award winners, please click here. To view a complete playlist of acceptance speeches, please visit our YouTube channel.
Learn more about Film Independent by visiting our website, and learn how to vote for next year's awards by becoming a Member of Film Independent—click here.