The New Wave: Alma Har'el on Shia LaBeouf, 'Honey Boy' and Free the Work
After many years facing down challenges in her own career, Israeli-born filmmaker Alma Har'el's passion for empowering new and inclusive artistic voices has led her to create Free The Work, a curated talent-discovery platform looking to fascilitate better professional opportunites for underrepresented creators. The platform—which launched last week—is an extension of #FreeTheBid, Har'el's initiative pressing for more equitable opportunites for females in commerical directing, which began in 2016.
All this made Har'el the ideal candidate to be featured as the Centerpiece Keynote at The New Wave, Film Independent's new showcase celebrating cultural change makers. Produced by Film Independent in partnership with KCRW and official host The Museum of Contemporary Art, Har'el's talk was capped off by a screening of her debut narrative feature Honey Boy, following years of acclaimed documentaries, music videos and commercials. The event happened October 19 at at MOCA Grand Avenue.
Honey Boy sees Film Independent Spirit Award nominee Har'el collaborating with star and first-time screenwriter Shia LaBeouf, who plays a lightly fictionalized version of his own alcoholic father. LaBeouf based the cathartic screenplay on his own childhood, with the project beginning as part of a court-ordered rehabilitation program. The film's cast includes Lucas Hedges, Martin Starr, Noah Jupe and FKA Twigs.
Har'el began by expressing her gratitude for being featured at the event, praising the other films in New Wave program and characterizing them as "films that are all fearless examples of independent storytelling made by directors who found their voice against all odds, in a world that often rewards gender and race over vision."
Har'el's rise to prominence after leaving Israel for LA over a decade ago was neither smooth nor linear. She detailed this by speaking about her beginnings as a music video director—claiming to never have made a single dollar on any of them. She then decided to pivot and seek commercial directing work to simply pay the bills. After a dry spell with little help from her management team, she realized the industry was among the most male-dominated in the world, and that it was time for shift to independent film.
Har'el then moved to possibly the last place one would typically go to seek recognition in the film industry—or even want to inhabit: The Salton Sea. This is where she began work on Bombay Beach, which would mark the turning point in her career. The surreal piece won the top documentary award at Tribeca in 2011 and gave her immediate legitimacy.
"I'm a documentarian who believes our dreams are an actual part of our reality and our truth," Har'el said as she pinpointed a certain aspects of her documentary work, which blurs the line between fiction and nonfiction in a way that resonated with audiences.
The strong friendship and working partnership between Har'el and LaBeouf was initiated by chance, but seems like fate in retrospect. LaBeouf was browsing the Bob Dylan section at the Amoeba Hollywood store one day when he came across Bombay Beach, which had been mistakenly placed in the section due to the fact that Dylan's music was featured in the film. The Transformers star not only purchased it, but watched it twice that night—and immediately reached out to contact Har'el.
They would go on to collaborate on a Sigur Ros music video and LoveTrue before Honey Boy. Har'el, like LaBeouf, was the child of an alcoholic father who understood the healing power of cinema (many of her fondest memories with her father were in theaters), so the partnership seemed to make all the sense in the world.
Honey Boy is a raw, uncompromising look at the vicious cycle of alcoholism and how it can seem impossible to escape. While the names and details have been altered, the movie is LaBeouf's attempt to make sense of his own story. The film effectively utilizes two parallel threads: one centering on 12-year-old child actor Otis Lort, played by Noah Jupe, and the other on the 22-year-old version of Otis, played by Lucas Hedges.
In the former, LaBeouf plays onetime rodeo clown and combat vet James Lort, himself the son of alcoholic parents, who treats Otis more like a cash cow rather than a son. Otis is abused both physically and mentally and is caught in the middle of drama between his estranged parents. In the latter, Otis is a troubled young man, enduring court-ordered rehab and, in the process being tasked with the writing the script of his young life.
While many addiction stories have been told in films in recent years, Har'el and cinematographer Natasha Braier elevate Honey Boy with surreal elements, hinting at otherworldly spiritualy and magical happenings through dream-like visuals. There's no shortage of creativity in the visual construction of this film—and despite it all, LaBeouf's script also offers plenty of humor and specificity to create something wholly unique.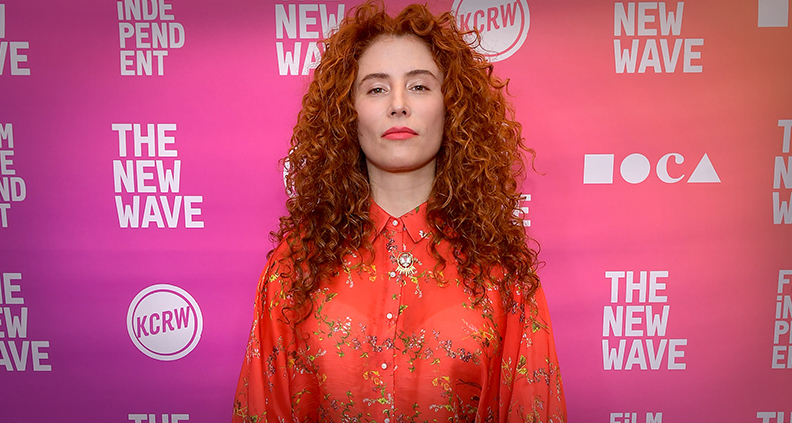 One of the most powerful scenes in the film where James and Otis smoke cigarettes in near unison to cope with a moment of stress, leading the viewer to believe that Otis might never escape this destructive cycle. But ultimately, recovery seems likely for Otis. When Otis tells James he will make a film about him in the end, it signals optimism, given what we know about how the director feels about the therapeutic qualities of film.
Honey Boy will be released on November 8th and Free the Work, which Har'el described as "Yelp for finding underrepresented creatives" launched this week, with an expanded mission to include support for people of color, transgenderered and non-binary identifying people, and those with disabilities.
Said the filmmaker: "I use film to help the people I work with, and myself, live a less binary, black-and-white existence so we can actually find a deeper truth.
The New Wave program consists of keynotes, conversations, panels, community events and spotlight programming from Film Independent and KCRW, along with free admission to official host venues MOCA Grand Avenue and The Geffen Contemporary at MOCA. The New Wave continues Saturday, October 19 and Sunday, October 20.
The New Wave is produced by Film Independent, in partnership with KCRW and sponsored by official host, The Museum of Contemporary Art (MOCA). Supporting Sponsors are Easterseals Disability Services, Hulu, LA County Department of Arts and Culture, National Endowment for the Arts, Netflix, SAG-AFTRA, SAGindie, Warner Bros. and Writers Guild of America West.
Follow Film Independent…