Undertow (aka Contracorriente)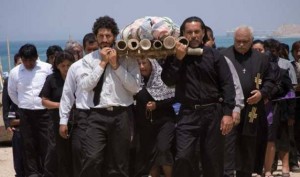 Narrative Feature
Director: Javier Fuentes-Léon
Producers: Javier Fuentes-Léon, Rodrigo Guerrero
Budget: Under $1 million
Financing: Foreign co-production funds; Grants; Small private equity
Production: Six weeks/Perú/November–December 2008
Shooting Format: Super 16mm
Screening Format: 35mm, DigiBeta
World Premiere: 2009 San Sebastián International Film Festival
Awards: Miami Film Festival – Audience Award, Ibero-American Competition; San Sebastian International Film Festival 2009 – Sebastion Award; Sundance Film Festival 2010 – Audience Award, World Cinema Dramatic.  Perú's official submission to the Academy Awards; nominated for the Goya Award for Best Latin American Film.
Development and Financing
While studying film at CalArts in Los Angeles in 1996, filmmaker Javier Fuentes-Léon was given an exercise in his screenwriting class: to write a scene with three characters in one location, and create an intense conflict.  Javier wrote a scene that contained magical elements, which he later developed into a play.
Five years later, he decided to write a feature and used his play as the basis for the story about a married fisherman in a Peruvian village trying to come to terms with his secret relationship with another man.  A year later, he had a first draft.  At the time, Javier was part of Film Independent's Project: Involve. Javier had met filmmaker Don Roos (Happy Endings) at Outfest, the Gay and Lesbian Film Festival in Los Angeles, and he agreed to become his Project:Involve mentor
While developing the screenplay, with input from Roos, Javier was invited to participate in Outfest's Screenwriting Lab.  There he met screenwriter John August (Big Fish) and Sundance's John Cooper and they both gave him feedback and suggestions.
During the script's development, Javier applied for the Nicholl Fellowship, a screenwriting grant awarded by the Academy of Motion Picture Arts and Sciences, and was shortlisted as one of the semi-finalists.  As this award is followed closely by the industry, he found himself solicited by production companies all over town that wanted to read Undertow.  Many liked his script but it wasn't for them.  Others suggested shooting it in English, but Javier was adamant about shooting in Spanish, to give authenticity to the story's magical realism elements.
The first break came when Javier was selected to participate in the Berlin International Film Festival's Talent Campus in February, 2005.  He was one of 500 filmmakers selected from all over the world. He was also one of only 20 filmmakers selected from the Talent Campus to be a part of a co-production market (the Talent Project Market) taking place during the festival alongside the official Berlinale Co-production Market.  A German producer, Annette Pisacane from Cameo Films, who was one of the jurors selecting projects for Talent Project Market, loved Undertow and approached Javier wanting to produce it. Cameo Films was able to secure a film grant of $100K from the Nord-Rhein Westfalia film commission called Filmstiftung.
Soon after, Javier and Cameo Films made a grant application to the World Cinema Fund, overseen by the Berlin Film Festival. They were not successful, but once again, one of the jurors on the awards committee loved the project and recommended it to Memento Films, a French films sales, production and distribution company that concentrates mainly on international specialty films. Memento came on board and applied to the French Ministry of Culture's Fonds Sud film fund (dedicated to fund films shot in underdeveloped areas of the world) and put in $130K towards the budget.
In November 2005, Javier was invited to participate in another screenwriting lab in Spain for emerging and established Spanish and Latin American writers.  Undertow developed further, and through rehearsals with actors, Javier refined the script, often cutting scenes from three pages down to one page.  By the end of the lab, he was close to a final draft.
Whilst in Spain, and afterwards in Los Angeles, Javier met with Colombian producers Michel Ruben, Andrés Calderon and Rodrigo Guerrero from Dynamo Productions who had created a film fund from private equity money.  They liked the project and came on board as producers.  Their Colombian fund stipulated that the film had to have a Colombian lead, and at least two department heads on the crew had to be Colombian — conditions Javier was happy to honor.
The French and German producers were not able to acquire any more funds, so they took a back seat on the project, and the Colombians and Javier took over as the hands-on producers. Fund raising continued for a few years, with the producers pitching the project at festivals worldwide, including Toronto, Cannes, and Berlin.  During this period, Javier was working as an editor, and subtitling films into Spanish.
In June 2008 Javier was awarded a Peruvian production grant for $150K, and Undertow's final piece of funding fell into place.  The film was finally greenlit.
Undertow shot for six weeks in Perú in November and December of 2008.
Javier spent the first half of 2009 in post, initially cutting the film in Peru, and then later on, moving back to LA where picture was locked in April. He then went to Bogota, Colombia where the Digital Intermediate and sound premix were done.   It was a hectic post-production schedule, as everyone was racing to try and complete the film for a Cannes debut in May 2009.  Ultimately they just weren't ready in time, and they weren't accepted.
During the hectic post period, Undertow was selected to participate in the Latin American Film Festival in Toulouse, France in March 2010. Undertow played in the festival's Film In Construction (works in progress) section, which grants completion funds to films in post. It's important to note that the Toulouse screening wouldn't be considered the world premiere, as the film was incomplete.
As is often the case with foreign co-productions, the European funds had a caveat attached to them.  The German funds had to be spent in Germany, and some of the French funds had to be spent in France.  So Javier completed the sound mix in France, along with the score (conveniently, Javier found a Peruvian composer he liked, Selma Mutal, who lived in France).  The final film blow-up to 35 mm was completed in Germany, with the German funds.
Festival Preparation and Strategy
At the end of March, after the screening of Undertow in Toulouse, Javier was invited to premiere the film at the San Sebastián International Film Festival in Spain in September 2009, one of the most prestigious festivals in Europe behind the big three of Cannes, Berlin, and Venice.  Shortly thereafter, Sundance accepted the film for its 2010 festival.  Sundance programmers usually prefer to screen world premieres, but they were not bothered by the San Sebastián premiere.  However, they did request that Javier not screen the film publicly after its debut, so the filmmakers had to turn several festivals down that wanted to screen the film after San Sebastián and before Sundance.
In the run-up to Sundance, the producers of the film received calls from prospective producer's reps and sales agents.  At the end of 2009, Javier and Dynamo hired Steven Beer, a well-respected entertainment lawyer in the U.S., to advise them during the whole process of finding a sales agent in time for Sundance. Although they had partly financed Undertow, Memento Films didn't want to handle foreign sales.  In the first week of January, Javier and his Colombian producers chose to go with Shoreline Entertainment for world sales (for a 15% commission).  Rights to Colombia, Peru, France, and Germany were already being handled by the respective producers on the film. Dynamo (the Colombian production company) reserved the right to handle sales in several Latin American territories.
In addition, Jeffrey Winter and Orly Ravid of the Film Collaborative came on board to take over the festival applications.  By the end of 2010, Undertow will have played in over 100 festivals worldwide — the Film Collaborative usually secured screening fees, which averaged $500 (sometimes as high as $1,000), for which they took a 50% commission for their services.
Based on Shoreline's recommendation, the filmmakers hired Jessica Edwards from Murphy PR to handle publicity at Sundance. Edwards got great coverage for the film in the Latin press and television outlets, and made sure the film was covered by the trades.
Sale and Release
During Sundance, Maria Lynn from Wolfe Releasing saw Undertow and loved it.  Wolfe paid six-figures for all North American rights, except theatrical.
Undertow proved to be an extremely popular festival title – to date it has won a total of 53 awards worldwide, between jury and audience awards – that the filmmakers decided to self-release the film theatrically in the U.S., in conjunction with the Film Collaborative. The producers of the film re-invested the profits from festivals into the initial theatrical roll-out.  Wolfe Releasing also contributed a small amount for the release. The city by city
6-month rollover theatrical release starting with San Francisco and expanding from there, had a cost of approximately $36K all total.
Undertow opened in San Francisco on September 17 to great reviews—the Film Collaborative spent very little on advertising but spread the word via grass roots marketing, reaching out to gay and Latino audiences around the city. It played in San Francisco for six weeks, were the gay community and art-house film lovers proved to be the strongest supporters of the film. The filmmakers got a major boost for the theatrical release when, in September 2010, Perú selected Undertow as its official entry to the Academy Awards® for Best Foreign Language Film.
After San Francisco, the film opened simultaneously in New York and Los Angeles on November 26, in an effort to draw attention to Perú's Oscar submission of the film. To support the release of the Film in Los Angeles, since Javier is a Film Independent Fellow, Film Independent held a special screening and reception on November 23. The film played for two weeks in Los Angeles and six weeks in New York.  Javier attributes the success of the film in New York, in part, to a great review in the New York Times. Later, the film went on a rolling release that lasted from December 2010 to April 2011, playing in Miami, boca raton, provincetown, Portland, Chicago, Seattle, San Diego, Washington DC, Boston, Denver, salt lake city, Minneapolis, Dallas, palm springs, Rochester and Tacoma, wa.
Due to the success of the film on the festival circuit and a promising theatrical run during the 2010/11 awards season, Wolfe delayed the DVD release until June of 2011.
Undertow has already opened to great reviews in the Netherlands, Spain, the UK, Ireland, Brazil, Dominican Republic, Puerto Rico, Ecuador, Bolivia, colombia and peru. In terms of box office, it did particularly well in spain and the UK. it has done less well than the producers expected in Colombia and Perú. Javier notes, "The real issue in Latin America is that having a love affair between two men in the film is still a major obstacle for audiences to go see it, with audiences not being comfortable with two men kissing. Still, the film brought 50,000 people to the cinemas in Peru." Shoreline continues to sell foreign rights.
Advice from the Filmmaker
"Don't underestimate the potential of any 'door'," says Javier. He was unsure of the worth of participating in the Berlin Talent Campus, but that's where it all started.  It made him realize that there is a lot of financing available to filmmakers outside their own borders. "It's worth looking."