VIDEO: Global Media Makers Go Inside LA's Underground Music Scene—in VR!
The world of 360-degree video can be a daunting one for even the most talented and seasoned filmmakers. As with any emerging medium, 360 (or "VR", though there is a difference) comes with its own unique set of virtues and headaches—a fact swiftly learned by 2017 Global Media Makers Fellows Ali Vatansever and Anna-Maria Aslanoglu as they collaborated together to create Do What You Love: The LA Underground Beat Music Scene, an original 360 docu-short produced as part of the international filmmaker exchange program's month-long LA residency earlier this year.
Do What You Love takes viewers on an immersive journey inside LA's underground electronic music scene, featuring interviews and performances from artists including Daedelus, Verbs, Major Gape, Repeated Measures and more—not to mention Mousey, aka GMM travel and hospitality coordinator Margaret McGlynn, who acted as the Turkish Vatansever (who directed) and Aslanoglu's (the film's producer) liaison to LA's beats community.
You can watch the entire film (no goggles or Google cardboard required—though it helps!) here:
Mentor Kel O'Neill was Vatansever and Alanoglu's creative advisor, overseeing the project and connected the filmmakers with other organizations that supported the workshop: Emblematic and One Thousand Birds. Emblematic opened their facility to the Fellows for a field trip and offered stitching consultation, while One Thousand Birds provided free post-production sound.
Following the program, we caught up with Vatansever and Aslanoglu to discuss the film (which played as part of LA Weekly's Artopia Festival earlier this summer) and go behind-the-scenes to get their thoughts on working in this new medium, and whether or not they think it's here to stay.
For the project, Film Independent Project Involve Fellow Nico Navia acted as collaborating DP, with the filmmakers partnering with Google's 's Jump Start program to use the Odyssey cameras and Jump stitching system for 360-degree video.
Here's the conversation:
ALI VATANSEVER & ANNA-MARIA ASLANOGLU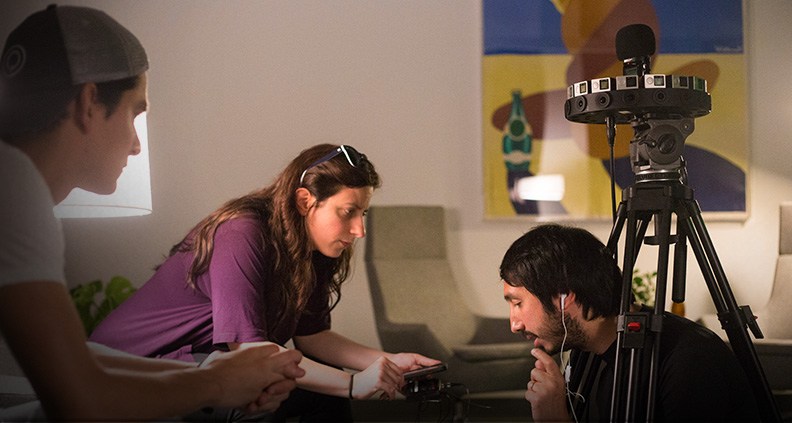 Were you intimidated by the idea of working with 360/VR, or were you excited?
Vatansever: I'm teaching a VR class back home, where we have access to limited equipment. After hearing that there might be a chance for some GMM fellows to work on VR, I was very excited. Having a chance to use Google Odyssey was invaluable. As we started to work on the idea, my producer Anna-Maria and I both acknowledged the fact that at the end of the day we may screw up, but hey, we are allowed to! It's part of the experiment.
Aslanoglu: On one side, I was very excited by the idea of working with 360/VR. On the other side, it was also challenging to get used to the idea. I was learning something very new while it's also in its early steps. Trying to become part of that world of immersive storytelling was among the most fruitful feelings I had during the [Global Media Makers] workshop, I should say.
What's the biggest difference between telling a story traditionally vs. VR/360?
Vatansever: There's no frame. There's no telling the audience where to look. In a sense, it feels like as the director you are the enabler for the audience to tell their own stories. And there's no behind the camera. When you're rolling, it's a lonely experience for the actors, unless you can hide underneath the camera.
Aslanoglu: I think we can't and shouldn't compare these, since I consider VR/360 not an "expansion" of filmmaking in the way we're used to, but a new way of transferring feelings and stories—a new medium.
What was your strategy for making the most use of the 360-degree environment?
Vatansever: We want the audience to feel as if they were witnessing a performance. For the interviews, we wanted to be right next door to the performances, witnessing the unique spaces LA Beat scene may offer while still having eye contact with the interviewee.
Aslanoglu: The camera literally sees everything, so every single corner needs to be as the director wants it to be. All lighting needs to be controlled, but also put there naturally. We tried a couple of set-ups, from tiny locations to a larger studio-type place. All of them taught us a lot for our next VR experience.
What did you like about shooting on the Google Odyssey? What was difficult?
Vatansever: Compared to other VR cameras, Google Odyssey is less complex. Sure, the whole setup is bulky and leveling the camera is time consuming. But it doesn't feel technical. You don't see anything when you're shooting. No reference image, no monitors. It feels like analog film.
Aslanoglu: Using 16 GoPros with 16 memory cards needs strategizing and planning. This was one of our main concerns. How much can you keep shooting and experimenting while you have limitations in terms of uploading, backing up and downloading the material?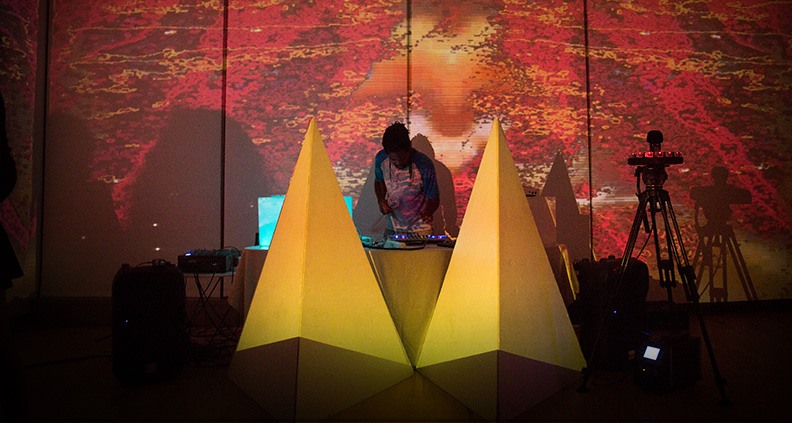 Will VR ever replace traditional filmmaking? Do you think it will be used to tell feature-length stories?
Vatansever: I try to not borrow much terminology from conventional filmmaking. Yes, there will be longer stories to be told in VR. But I don't know whether we're going to experience them the same way. We need to think in different terms, especially about who the audience is.
Aslanoglu: would like to see and experiment feature-length narratives made with VR—apart from the issue of nausea. I don't think that VR will replace traditional filmmaking. I consider VR a new medium with new horizons to express feelings in an immersive and maybe more participatory way.
What was your biggest mistake putting together this project? Or, what worked better than expected?
Vatansever: We ran out of data space in the middle of the shoot one night. I wish we had one more night to shoot. During editing, we experimented with the audience's front-view, so that with every new scene the viewer needs to look around to find the source of action. The more common approach is to overlap each action with the one from the previous scene. I think it paid off surprisingly well. Each viewer was searching the space, which I think helped the film.
Aslanoglu: Our biggest mistake was the issue with the memory cards. We actually forgot to push "stop recording" at the right moment. So we couldn't finish our planned shots. But as in traditional filmmaking, this limitation made us more creative! Luckily, the light issues we were concerned about and the sound post-production worked easier than we thought.
What advice would you give to filmmakers who are about to make their first 360/VR film?
Vatansever: Go ahead, take the camera and start to experiment. There's no right no wrong. The whole world has started anew. It's not too late to jump onboard.
Aslanoglu: I'd suggest digging the VR world on the web, first and foremost.
Will you be using 360/VR in the future?
Vatansever: For sure. I want to continue to experiment with the medium, tell stories, engage audiences. During GMM, I was given the chance to meet some key figures of the medium. Now here at Koc University where I co-teach a VR class, we're still in touch with some of them. Our aim is to establish an interdisciplinary VR lab.
Aslanoglu: We definitely plan to collaborate with Ali on future VR projects in our country. We've already done our first business plan for that, to be continued in 2018.
MARGARET MCGLYNN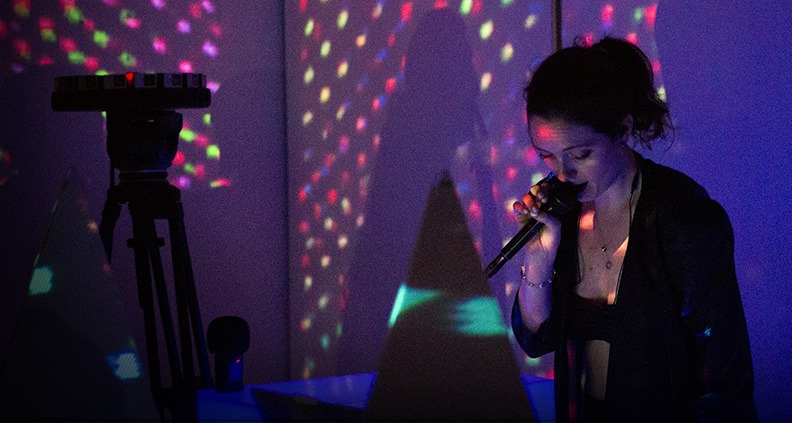 We also spoke to Global Media Makers travel and hospitality coordinator Margaret McGlynn, who when not facilitating the cultural engagement end of the GMM Fellows' LA Residency, filmmakers records and performs as Mousey—including a set in the Turn Down tent at this year's Coachella. Here's what she had to say about the film:
Tell me how the project came together and what your contributions were behind the camera.
McGlynn: While the Fellows were here, my main responsibility was cultural engagement. I'm really involved with the music scene and underground LA Beat scene. Definitely not everyone's cup of tea, but when I met some of the Fellows, they expressed an interest and knowledge of that world from afar. They'd heard who a lot of the musicians were, and they wanted to experience it. They'd been tasked to make this VR project. Ali and Anna-Maria approached me to make a VR project about the LA Beat scene, which I was more than happy to facilitate.
Did you know that you'd be one of the subjects appearing in the film?
McGlynn: I didn't know I'd be appearing in it until we'd gotten more into the details of it. But it turned out one of the nights they were filming, I was playing. So they interviewed me and got my set on camera. So no, at first I wasn't sure I'd appear. But it was gracious of them to include me and I'm certainly glad they did.
Can you describe a little about your involvement in this scene?
McGlynn: Well, it's all electronic music based. When I'm performing, I'm playing computer pads and singing. There's some DJ equipment as well. I'm with a crew called Beat Cinema and we'd throw monthly shows. We're a collective of DJs, producers and beat-makers. It's a nice creative community that feels very experimental—predictable is not a word I would use to describe it.
Tell me about some of the other interviewees in this film.
McGlynn: Alfred Darlington is an original, LA Beat-scene legend. He has loads of albums going back to the early 2000s, and his background is in jazz as a double bass player. I appeared on an album of his called Labyrinths doing backing vocals with the rapper Busdriver. Verbs is a hip-hop legend in LA. The other artists were Beat Cinema Residents. Major Gape was our VJ, always doing our visuals. DMM is a DJ. Kobe is someone I've known since before I moved to LA. He's doing this incredible live drumming with computer pads—you see him from a distance and it's so tight, you don't realize he's doing it live. The guy playing the guitar is Repeated Measures, a really talented kid.
Have you done anything with 360-degree or VR video before? What was the process like shooting in that format?
McGlynn: My impression of VR going into it was that I found it gimmicky, because most of what I'd seen of VR had been gimmicky. That perception was completely wrong. Shooting in VR was really exciting for me, because suddenly you become aware of this entire space. What I found really exciting was the potential to capture a real moment in time. It got me thinking about my favorite pieces of music historically and how I'd love to be able to see what the street vibe was like when they were being made. I love the potential of VR being able to capture a historical moment. There will be some music nerds in a 100 years time that might be able to pick up something and experience it in VR.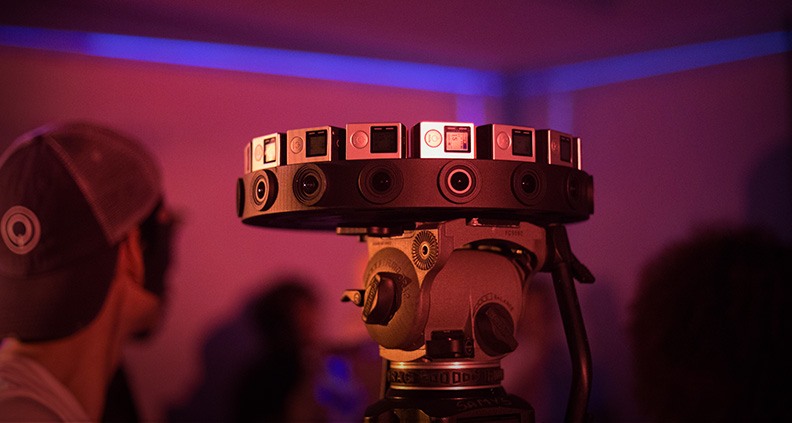 Global Media Makers is supported through a partnership between Film Independent and the U. S. Department of State's Bureau of Educational and Cultural Affairs. To learn more about the program, just click here. To watch work from past Fellows, click here and be sure to subscribe to Film Independent's YouTube channel.
Learn how to become a Member of Film Independent by visiting our website.
(Header: Project Involbe Fellow Alumni Nico Navia operating the Google Odyssey)