We The People: Taking On Issues of Inclusion in Entertainment Journalism
If you're reading this, chances you're the sort of cineaste for whom the actual act of watching films is just one part of the larger experience of being an engaged member of the online film community; a community shaped by reviewers, cultural commentators, awards prognosticators, box office analysts and other content creators. And just as Hollywood product is largely determined by a blinkered cabal of A-list powerbrokers, so too is film conversation largely shaped by a select subset of influential writers whose voices that don't always represent the full breadth and diversity of film audiences—or even their own readership.
But how do we fix this? Should journalists have greater opportunities to review content related to their own lived experience? Should outlets solely use writers from underrepresented communities to review so-called "diverse" content? These were just two of the questions posed by September 23's We The People panel "Stimulating Conversation: Entertainment Critics," which occurred as part of a two-day Inclusion Summit at the 2018 LA Film Festival.
Moderated by Gil Robertson of the African American Film Critics Association, panelists included freelance critic Carlos Aguilar, Trish Bendix (Managing Editor, INTO), freelance critic and podcaster Kristen Lopez, Karen Peterson (writer, AwardsCircuit.com) and Dino-Ray Ramos (editor, Deadline). We The People took place over two days at the Writers Guild Theater in Beverly Hills. Watch the full panel below and read up on some of the highlights below:
'STIMULATING CONVERSATION'
Who's going to write this? Robertson asked how editors identify the best writers to take on pieces about films with obvious themes of identity. "It's a conversation we're constantly having," said Peterson. Ramos added: "I don't feel pressure, but I take it seriously." Aguilar observed that when the Disney-Pixar film Coco was released in 2017, "Not a single major outlet had [the film] reviewed by a Latino"—lamenting that such oversights are common.
Niches cut both ways. Lopez recalled how one of the first pieces she was ever outright commissioned to write was an analysis of A Quiet Place as seen from a disabled person's experience. She said she was "happy to have a nice to write about, but at the same time I shouldn't be the only person writing about disability representation," adding, "It's very easy to become the 'take' person when there's something [about a specific issue] that needs to be written."
Where outlets fail. Ramos confessed that when Crazy Rich Asians was released earlier this year, he felt the pressure to weigh in, even though "it didn't necessarily speak to my own experiences." But he admitted that doing so "gave me the opportunity to talk about different issues of Asian American representation on film." For her part, Lopez observed that magazines and websites frequently use "problematic, ablest language," when discussing disabilities. "This is why you need someone [with a disability] writing these things," she said.
Finding new voices. So! Where should outlets be looking to find a more inclusive pool of critics and culture commentators? Said Bendix: "I've found writers on Twitter [and said] 'Can I pay you to write about this?'" and noting the importance of mentoring young writers. Said Aguilar: "I've gotten gigs complaining [on social media] about wanting to write something," citing a recent article about the upcoming Alfonso Cuarón film Roma as an example.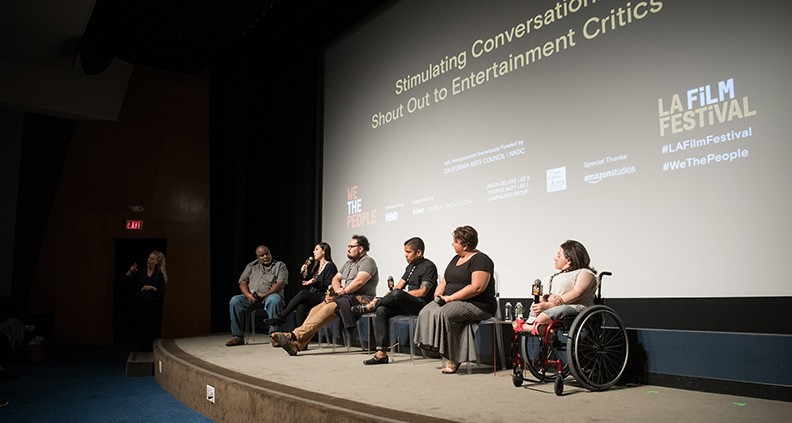 The internet, good and bad. Robertson asked how much the internet has been a game changer in opening the door to underrepresented voices. Lopez acknowledged that it has opened doors, but that "there's so much harassment of minority writers and minority voices, it's led a lot of people to doubt themselves and if they should continue in this business." On the other hand, Peterson added, "The internet [has given] a lot of creators a platform, so there's a lot more to see—there's a lot more content being created for us to write about."
Daily grinds, personal insights. Inevitably in entertainment journalism, the hectic day-to-day demands of producing content often trumps the ability of editors to approach their subjects more thoughtfully. Said Ramos of Deadline, "Each editor is constantly putting out content, and sometimes we don't get a chance to breathe," adding, "I have to think on the fly and trust my gut instinct." Other times, says Bendix: "You're able to share this one idea that no one else knows about or is going to be able to execute—so I'm grateful when writers pitch me something no one else is talking about."
Getting started. Aguilar said that regardless of one's background, "It's difficult to earn a living" working as an entertainment journalist. He advised aspiring writers to begin writing their own blog and pitch to smaller outlets. "Use the internet," he said. Ramos agreed: "Use your resources. It only takes one 'yes.'" Lopez offered a different piece of advice: "If you're fortunate to go to film festivals, try to meet other writers that way." But if not, "Twitter is a great resource to actually interact with editors."
Be heard. Robertson observed that when talking about issues of representation in film journalism "it becomes a question of integrating the pipeline that employers are pulling from." Greater inclusion, everyone agreed, only benefits the overall breadth and health of film discussion. Said Bendix: "As a marginalized person, you're going to have a totally different view of a film." And that's a valuable commodity.
For more information about upcoming Film Independent events, click here. To learn more about our Film Education programs, click here.
Learn how to become a Member of Film Independent by visiting our website. The 2018 LA Film Festival took place September 20-28. See more of Festival coverage on Film Independent's and YouTube channel.