Here are the Winners of the 2018 LA Film Festival!
This year's LA Film Festival was a big one. Partially this was because 2018 marked the Festival's debut in its new late-September calendar spot. But even beyond our real love for our new autumnal time slot, 2018's festivities were a landmark display of independent film at its finest and in all its myriad forms—from the launch of the new Portal VR showcase, to the new We the People inclusion summit, plus nine amazing days of screenings, panels, performances, special events and more. And now, it's all about to come to an end.
But not before we give out some awards! The 2018 LA Film Festival Awards Brunch happened just moments ago, September 28, at the Loft at the W Hotel in Hollywood, celebrating jury prize honorees from the Festival's U.S. Fiction, World Fiction, Documentary, Nightfall, LA Muse and short form categories. Audience Awards were also presented for Fiction Feature, Documentary Feature, Short Film and Web Series, all presented by the esteemed LA Film Festival Jurors.
The event also honored 2018 Guest Director Lauren Greenfield (The Queen of Versailles, Generation Wealth) with the Spirit of Independence Award, presented by LA Film Festival Director Jennifer Cochis.
Keep reading for a full list of winners: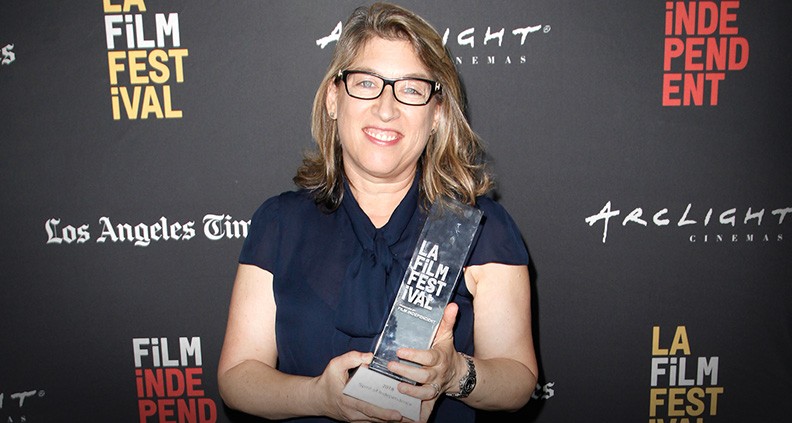 U.S. Fiction Award – This Teacher
Directed by Mark Jackson. Written by mark Jackson and Dana Thompson. Produced by Mark Jackson, Dana Thompson, Gigi Graff, Josh Mandel and Javier Gonzalez. Starring Hafsia Herzi, Sarah Kazemy, Lucy Walter, Kevin Kane and Len Gorn. A young Arab-French woman on an introspective journey visits her childhood friend in New York City before heading to the woods upstate. World Premiere.
U.S. Fiction Special Mention – In Reality
Directed by Ann Lupo. Written by Ann Lupo, Esteban Pedraza, Aaron Pryka. Produced by Ann Lupo, Nadine Martinez and Holly Meehl. Starring Ann Lupo, Miles G. Jackson, Kimiko Glenn, Jill Eikenberry and Olivia Washington. A young woman takes a journey through her own fantastic mind as she investigates her relationship to unrequited love. California Premiere.
World Fiction Award – Border (Sweden)
Directed by Ali Abbasi. Written by Ali Abbasi, Isabella Eklöf andJohn Ajvide Lindqvis. Produced by Nina Bisgaard, Peter Gustafsson and Petra Jönsson. Starring Eva Melander, Eero Milonoff and Jörgen Thorsson. Despite having the remarkable gift of being able to smell emotions, a border agent leads a mundane existence until she meets a stranger who shares her unique abilities and upends her life. California Premiere.
World Fiction Special Jury Prize, Directing – The Day I Lost My Shadow (France/Lebanon/Qatar/Syrian Arab Republic)
Written and directedy by Soudade Kaadan. Produced by Amira Kaadan. Starring Sawsan Arshid, Reham Al Kasar, Samer Ismail and Ahmad Ali. In the midst of a gas crisis during the early days of the Syrian Arab Spring, a young mother takes the day off work and strays far from home with only one objective in mind: finding a working cylinder so that she may cook a meal for her son. US Premiere.
Documentary Award – hillbilly
Produced and directed by Sally Rubin & Ashley York. Featuring bell hooks, Billy Redden, Ronny Cox, Frank X Walker, Crystal Good and Silas Howard. Two filmmakers visit rural Kentucky, one returning home to Appalachian to unpack the stereotype of "hillbilly" and explore the personal and painful experiences fueling our polarizing political climate. LA Premiere.
Documentary Special Jury Award for Excellence in Social Justice Storytelling – False Confessions (Denmark)
Directed by Katrine Philp. Produced by Katrine A. Sahlstrøm. "Would you confess to a crime you did not commit?" A defense attorney fights against the complex and manipulative tactics of US police interrogations, focusing on victims of coerced confessions as she helps exonerate her incarcerated clients. North American Premiere.
LA Muse Fiction Award – Staycation
Directed by Tanuj Chopra. Written by Tanuj Chopra, Anthony Ma and Grace Su. Produced by Lalithra Fernando. Starring Anthony Ma and Grace Su. A modern millennial codependent couple in DTLA have their relationship thrown for a loop when he discovers a photo from an ex on her phone. World Premiere.
LA Muse Documentary Award – Fire on the Hill
Directed by Brett Fallentine. Produced by Brett Fallentine, Jordana Glick-Franzheim, Steven Amato, Sean-Michael Smith, Jenna Cedicci and Jimmy Greenway. Three black cowboys in South Central share their stories following a mysterious fire that burnt down the community's stables, leaving the fate of the culture in question. World Premiere.
LA Muse Special Mention, Best Ensemble Cast – Solace
Written and directed by Tchaiko Omawale Produced by Tchaiko Omawale, Maya Emelle, Hope Olaide Wilson, Sabine Hoffman and Sascha Brown Rice. Starring Hope Olaide Wilson, Lynn Whitfield, Chelsea Tavares, Glynn Turman, Luke Rampersad and Sydney Bennett. A teenage orphan moves to LA to live with her estranged grandmother and works to win a performance art grant while secretly struggling with binge eating. World Premiere.
Nightfall Award – The Dead Center
Written and directed by Billy Senese. Produced by Billy Senese, Denis Deck, Jonathan Rogers, Shane Carruth. Starring Shane Carruth, Poorna Jagannathan, Jeremy Childs and Billy Feehely. When a mysterious John Doe wakes up in a morgue and wanders into a psychiatric ward, a devoted doctor and curious medical examiner must slowly uncover dark and sinister secrets about the man that reveal a more horrifying truth than they could have ever imagined. World Premiere.
Nightfall Special Jury Prize, Lead Actor – Ashleigh Morghan, Head Count
Directed by Elle Callahan. Written by Michael Nader. Produced by Samuel Sandweiss and Brandon Somerhalder. During a weekend getaway to Joshua Tree, a group of teenagers find themselves under mental and physical assault from a supernatural entity that mimics their appearances as it completes an ancient ritual. World Premiere.
Nightfall Special Jury Prize, Ensemble Cast – Spell
Directed by Brendan Walter. Written by Barak Hardley. Produced by Brendan Walter, Jon Lullo, Barak Hardley, Katy Stoll and Eleanor Wilson. Starring Barak Hardley, Jackie Tohn, Magnús Jónsson, Birna Rún Eiriksdóttir, Tom Wright, Stacey Moseley, Michael Nanfria, Michole Briana White and Bryndís Haraldsdíttir. Following the unexpected death of his fiancé an American illustrator travels to the Icelandic countryside to seek solace. What he finds instead is a blurred line between reality and fantasy as magical things begin to shake his very foundation — unless it's all in his head. World Premiere.
Award for Short Fiction – The Passage
Directed by Kitao Sakurai. Fleeing a pair of mysterious agents sends a dim-witted mute on a series of absurd misadventures.
Audience Award for Documentary Short – One Leg In, One Leg Out
Directed by Lisa Rideout. A lively, strong-willed sex worker struggles to move from the streets and into a career as a social worker, hoping to help fellow trans sex workers find acceptance.
Web Episode Jury Award – Psusy
Directed by Anna Duckworth. Two close friends drag us through their controversial, inappropriate, but always playful feminist world.
Audience Award for Fiction Feature Film – Brian Banks
Directed by Tom Shadyac. Written by Doug Atchinson. Produced by Amy Baer, Monica Levinson and Shivani Rawat. Starring Aldis Hodge, Greg Kinnear, Sherri Shepherd, Tiffany Dupont and Xosha Roquemore. Based on a true story, a young football player's dreams to play in the NFL are halted when he is falsely accused of rape and sent to prison. World Premiere. 
Audience Award for Documentary Feature Film – Stuntman
Directed by Kurt Mattila. Produced by Dwayne Johnson, Dany Garcia, Hiram Garcia, Brian Gewirtz, Steven Golebiowski, Kurt Mattila and Eddie Braun. Featuring Eddie Braun, Gary Davis, Conrad E. Palmisano, Buddy Joe Hooker, Scott Truax and Meg Braun. A veteran Stuntman sets out to complete the jump that bested his idol Evel Knievel: clearing the Snake River Canyon in a rocket-powered craft. World Premiere.
Audience Award for Music Video – Clutch
Directed by Christopher Ripley. A professional athlete's rise and fall from grace.
Audience Award for Short Film – Weekends
Directed by Trevor Jimenez. A young boy shuffles between the homes of his recently divorced parents in this surreal hand-animated film set in 1980s Toronto. 
Audience Award for Episodic Story – Revenge Tour
Directed by Andrew Carter. He's been cheated on, living in a friend's living room and stuck at a dead-end job. But one night he finds an unlikely stress-reliever—rapping.
Audience Award for Episodic Pilot – 40 & Single
Directed by Leila Djansi. A single, bisexual, mixed race bridal fashion designer maneuvers life and business in post-colonial Africa. World Premiere.
Seattle Story Award – I'm Sorry Happy Birthday
Directed by Claire Buss. A playful showcase of everyday life in Seattle's neighborhoods through whimsical vignettes that border on the fantastical – complete with a little bit of Pacific Northwest quirkiness. World Premiere.
TikTok Real Short Award – Ann Lupo
TikTok gave Festival filmmakers the chance to win a $10,000 unrestricted cash grant. Ann's video addressed the "Why I'm a Filmmaker" prompt with exceptional storytelling through the lens of TikTok, utilizing creator tools to enhance the narrative. Her innovative short, along with all of the submissions, can be found on the Film Independent (@filmindependent) TikTok account. Selected by special committee assembled by the LA Film Festival programming team.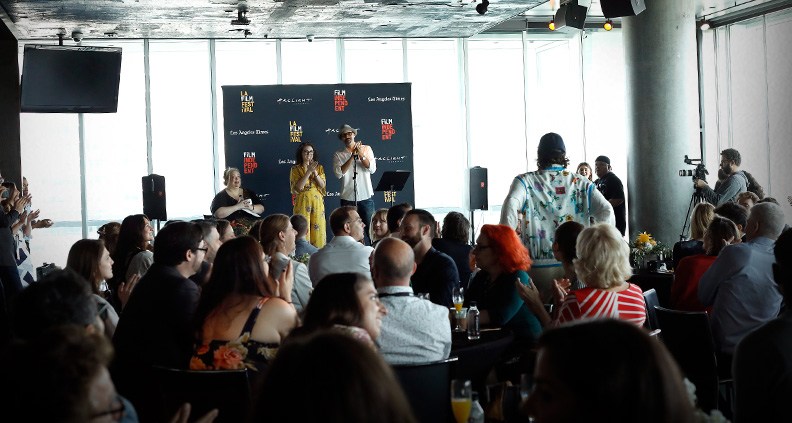 "We congratulate all of the filmmakers that shared their work with the LA Film Festival," said Festival Director Jennifer Cochis. "These awards honor the wide range of exceptional storytelling we've been sincerely delighted to present. All of us are looking forward to wider audiences discovering these stories in the year ahead."
Luckily, you don't have to wait that long if you're in LA. There's still time to see all of the 2018 LA Film Festival competition winning and audience award winning films today at the ArcLight Cinemas in Culver City and Santa Monica. For more information, click here.
Thanks for being a part of the 2018 LA Film Festival. See below for exclusive video highlights from each day of the Festival and for more, be sure to check out the Festival on our blog and YouTube channel. Highlights below:
The 2018 LA Film Festival took place September 20-28 at across the city. Catch more of our exclusive coverage on our blog and YouTube channel and be sure to keep up with the Festival on Twitter, Facebook and Instagram. To learn more about how to become a Member of Film Independent, click here.
Presenting Media Sponsor is Los Angeles Times. Official Host Venue is ArcLight Cinemas. Platinum Sponsors are American Airlines, EFILM | Deluxe, HBO and TikTok. The University Sponsor is Loyola Marymount University School of Film and Television. Official Screening Partner is Wallis Annenberg Center for the Performing Arts. Festival Supporters are Directors Guild of America, eTech Rentals, Kona Productions, TREETI and Visit Seattle. Festival Affiliates are 21st Century Fox Global Inclusion, ATK Audiotek, Konsonant Music, SAGindie and Writers Guild of America West. Additional support provided by National Endowment for the Arts. Stella Artois is the Official Beer. IMDbPro is the Official Industry Resource. CITI is the Official Credit Card. The LINE, NoMad Los Angeles and Freehand LA are the Official Hotel Partner. Essentia Water is the Official Water. Hillersden Estate Wines is the Official Wine. Getty Images is the Official
(Header, L-R: Holly Meehl and Ann Lupo accepting for In Reality)