10 Indies We Love About Rising Temperatures and Heated Tensions
The hottest month of the year is notorious for producing record-breaking temperatures and sizzling heat waves. Some find it bearable and want to savor every last drop of sweat the summer produces, while others can't wait to cool down. And as the humidity rises, delirium and hysteria set in; the unbearable heat igniting chaos and terror. This month for Indies We Love, we've selected ten films filled with blood, sweat and fears. Some take place during a heat wave, others have undefined seasons but lots of perspiration, and all have pulse-pounding tension that rises with the thermostat.
---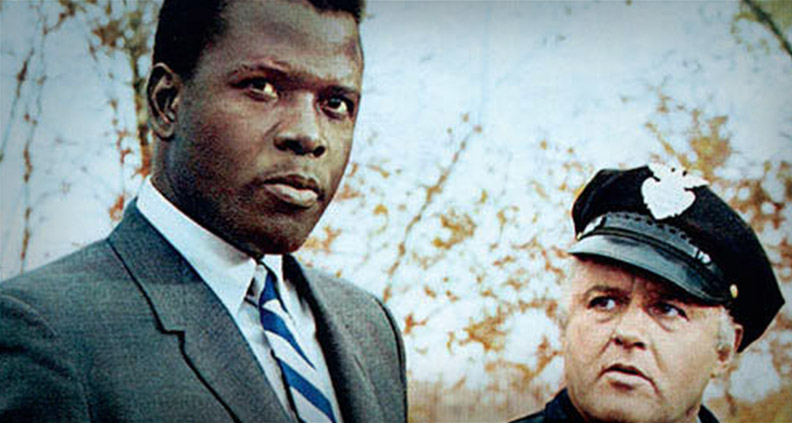 IN THE HEAT OF THE NIGHT (1967)
Where You Can Watch It: Starz, iTunes, Amazon, GooglePlay, Vudu, Playstation
Director: Norman Jewison
Starring: Sidney Poitier, Rod Steiger, Lee Grant
Why We Love It: Norman Jewison's classic Oscar-winning drama took home five golden statues at the 1967 ceremony, including Best Actor for Rod Steiger and Best Picture. The legendary Sidney Poitier plays vacationing detective Virgil Tibbs, a man famed for being one of the best investigators in the business. Before making his way back home to Philadelphia out of the sweltering Mississippi heat, Tibbs crosses paths with Detective Gillespie (Steiger), who asks for his expertise in a murder investigation. As the detectives hunt for the killer, Tibbs is faced with the added pressure of extreme racial tensions in a Southern town where blood has been shed. Considered one of the best films of all time by many critics, this is one timeless Hollywood flick that's still just as thrilling as it was back then.
---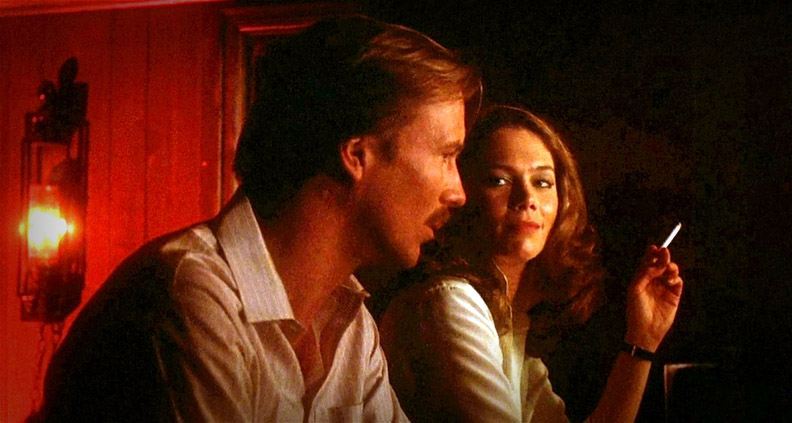 BODY HEAT (1981)
Where You Can Watch It: Amazon, GooglePlay, Vudu, Microsoft, Playstation
Director: Lawrence Kasdan
Starring: William Hurt, Kathleen Turner
Why We Love It: Making his feature film debut, Lawrence Kasdan wrote and directed this tense, provocative thriller, starring William Hurt as a small-town Florida lawyer and Kathleen Turner as the wealthy married adulteress who seduces him. During a searing summer heat wave, the two begin a passionate affair only to become frustrated at the notion that everything could be perfect if only her rich husband were not in the picture. The heat outside (and between the sheets) ignites a premeditation of murder, as the two lovers cook up a plot to kill Turner's husband and live happily ever after with all of his money. Co-starring Mickey Rourke, Ted Danson and Richard Crenna, Kasdan's first film was the first of many critically acclaimed and award-winning films the director would eventually make.
---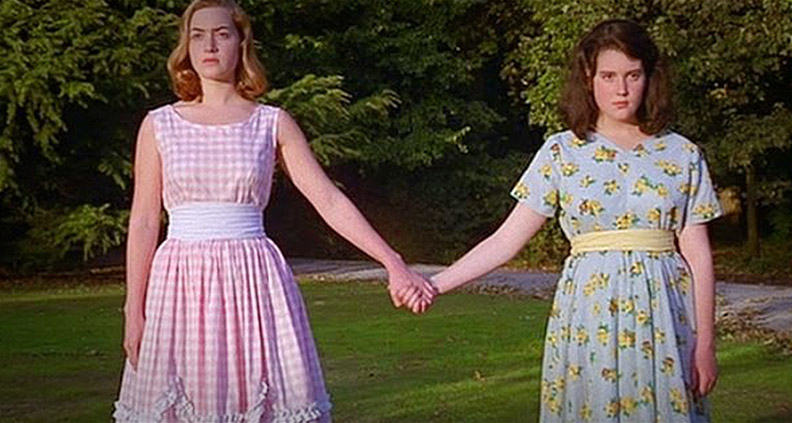 HEAVENLY CREATURES (1994)
Where You Can Watch It: Amazon, GooglePlay, Vudu, Microsoft, Playstation
Director: Peter Jackson
Starring: Kate Winslet, Melanie Lynskey
Why We Love It: Long before big Hollywood budgets and monumental responsibility of bringing The Lord of the Rings trilogy to the big screen, Peter Jackson made his mainstream (after several low budget horror movies, including Bad Taste and Meet the Feebles) directorial debut with this subtle, yet shocking drama. Based on the true story of the sensationalized Parker-Hulme murder in New Zealand, Kate Winslet and Melanie Lynskey star as Juliet and Pauline: two inseparable best friends with very vivid imaginations. Addicted to fantasy and forging a bond that's a little too intense, the besties conjure up a plan to kill Pauline's mother when she bans them from seeing each other. It's a slow-build of tension you couldn't smash apart with a brick, as the murder of Honorah Parker is carried out—which to this day remains one of New Zealand's most talked-about crimes.
---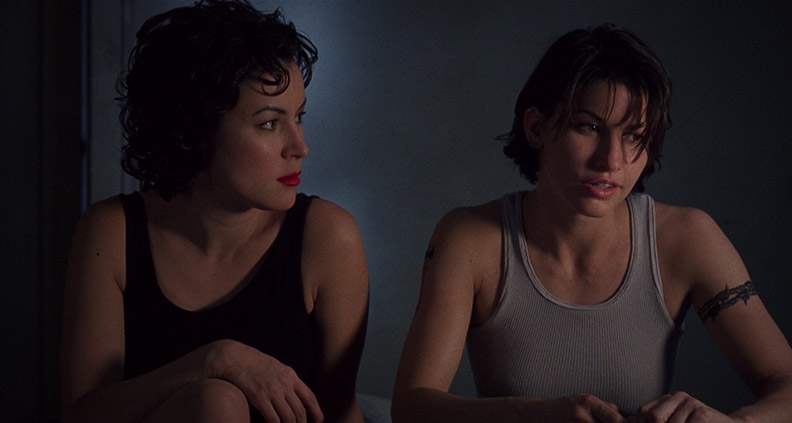 BOUND (1996)
Where You Can Watch It: Amazon, GooglePlay, Microsoft
Director: Lana Wachowski and Lilly Wachowski
Starring: Jennifer Tilly, Gina Gershon, Joe Pantoliano
Why We Love It: We couldn't make a list of films packed with sweat, blood and non-stop tension without including this gripping thriller from The Wachowskis. Sibling filmmaker duo Lana and Lilly Wachowski (then credited as The Wachowski Brothers) made this, their first feature, on a modest budget with only a few actors and locations. Shooting in black, white and red to enhance the suspense and tip a cap to the noir genre, cinematographer Bill Pope eventually received a Film Independent Spirit Award nomination for Best Cinematography. The erotic thriller stars Jennifer Tilly as Violet, the girlfriend of mafia thug Caesar (Joe Pantoliano) and lover of ex-con Corky (Gina Gershon). With the insanely hot sexual tension that builds between Violet and Corky beginning in the film's first act, viewers can't avoid being nailed to their seats right from the opening frame. Watching the two women carry out a plot to steal two million dollars of mob money from Caesar is often so unnerving it practically induces a panic attack. The Wachowskis were able to secure funding for The Matrix after introducing their ability to grab an audience by the jugular with this suspenseful rollercoaster.
---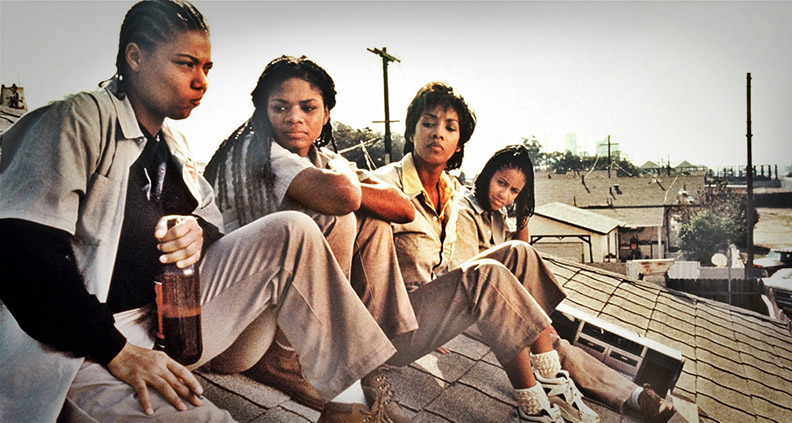 SET IT OFF (1996)
Where You Can Watch It: Amazon, GooglePlay, iTunes, Vudu
Director: F. Gary Gray
Starring: Queen Latifah, Jada Pinkett-Smith, Vivica A. Fox, Kimberly Elise
Why We Love It: Four friends face tough financial times and resort to pulling off a major crime in F. Gary Gray's action-packed thriller Set it Off. It's one of those movies where you're rooting for the main characters despite the fact that they're packing heat and robbing banks. While each of the women have their own individual measures of desperation that lead them to embark on these high-risk, consequence-heavy heists, it's only when Frankie (Vivica A. Fox) is wrongfully terminated from her job at a Los Angeles bank that the group's elaborate best laid plans are set into motion. Non-stop tension, pulse-pounding action and a Film Independent Spirit Award nominated performance by Queen Latifah all make up for one hell of a nail-biter.
---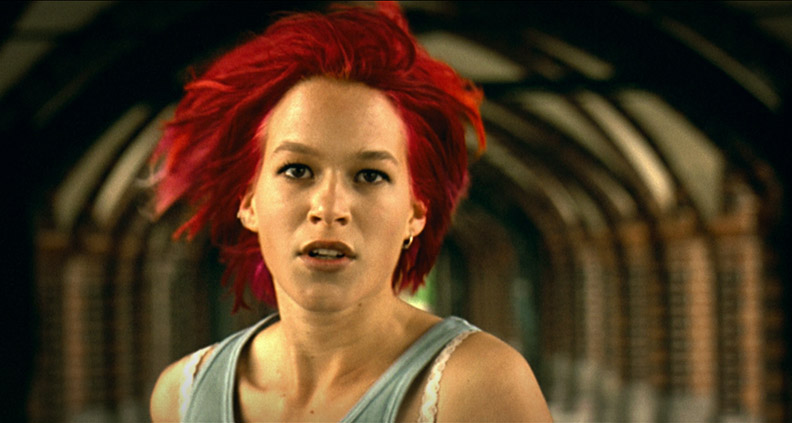 RUN LOLA RUN (1998)
Where You Can Watch It: Amazon, GooglePlay, iTunes, Microsoft
Director: Tom Tykwer
Starring: Franka Potente
Why We Love It: German filmmaker Tom Tykwer's innovative thriller Run Lola Run is one of those movies you simply can't forget. Few films move at this pace, taking the audience on a journey that gives the audience such a rush it often feels as if you're running just as fast as its star. Franka Potente shines as Lola, the rebellious, determined protagonist with bright red hair who will stop at nothing to find 100,000 pounds in twenty minutes to save her lover's life. The cinematography is eye-popping. The thrills are jaw dropping. The fight against time creates a tension that is so gripping it could cause you to break into a sweat just by watching. Tykwer's stylized adventure is truly a stamp of his creative aesthetic, which not only brought him to an impressive level of international success, but also won him the Audience Award at Sundance and the Spirit Award for Best Foreign Film.
---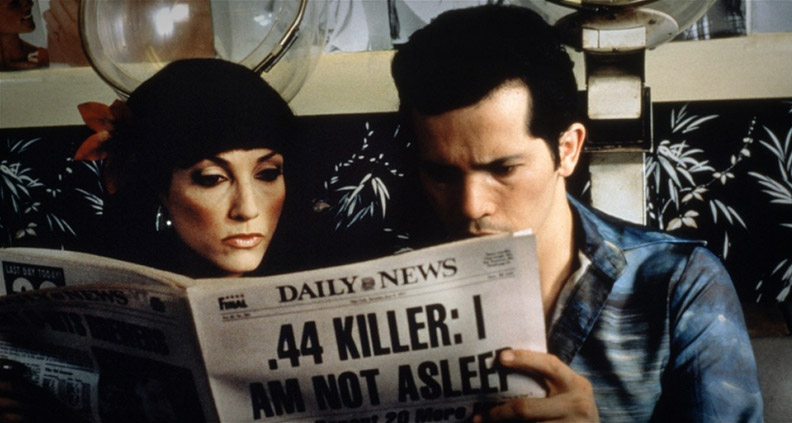 SUMMER OF SAM (1999)
Where You Can Watch It: Showtime, Amazon, GooglePlay, iTunes, Vudu, Playstation, Microsoft
Director: Spike Lee
Starring: John Leguizamo, Adrian Brody, Mira Sorvino, Jennifer Esposito
Why We Love It: Trailblazing indie filmmaker Spike Lee made our list last month in another heat-themed roundup that included Do the Right Thing! Ten years after that seminal film, the hot New York City temperatures again inspired the controversial director, leading to this unsettling drama. In the late '70s, the "Son of Sam" killer was stalking the streets and controlling the fears of women throughout the Big Apple. The film doesn't focus on the killings or infamous psychopath specifically, but more so on how the mood of the times affect the main characters and their relationships. John Leguizamo and Mira Sorvino take lead as a couple whose love is tested once Berkowitz starts his killing spree. Tensions rise within the Italian-American Bronx neighborhood where they reside, as paranoia and anxiety spread like a plague, causing distrust where there was once unity.
---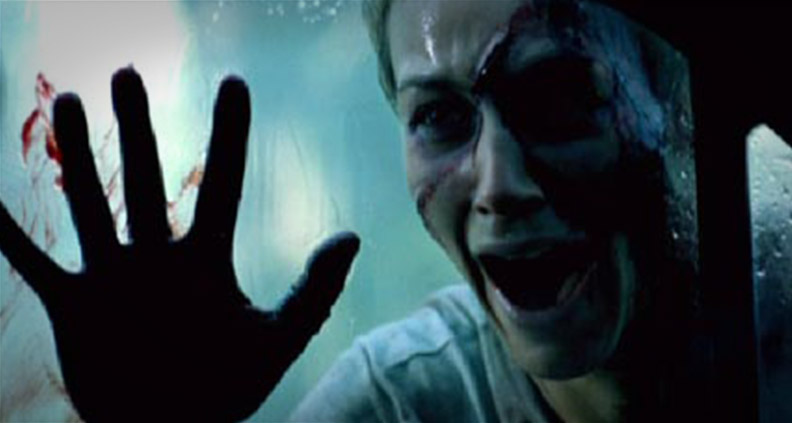 HIGH TENSION (2003)
Where You Can Watch It: Showtime, Amazon, GooglePlay, Microsoft
Director: Alexandre Aja
Starring: Cécile De France
Why We Love It: Talk about blood, sweat and fear! Not to mention our key word ("tension") is right there in the title! This French extreme horror film will freeze you like a statue, and then melt you to the ground. Cécile De France stars as Marie, who along with her dear friend Alexia (Maïwenn) retreats to a quiet weekend getaway. When the two arrive at Alexia's family's farmhouse (which, if that isn't creepy enough, of course sits in the middle of nowhere), their plan for relaxation is severely disrupted by chaos and terror. We won't give away too much of the plot in case you haven't seen it, but for those who dare we highly recommend you brave this violent and intense thriller on an empty stomach. You've been warned! It is definitely not for the faint of heart.
---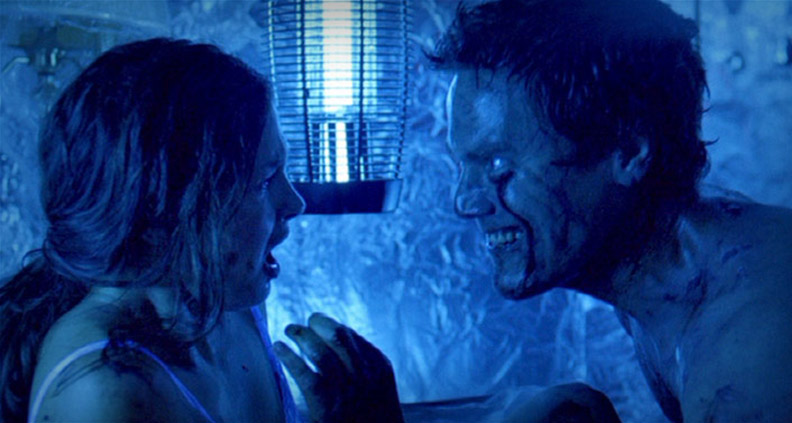 BUG (2006)
Where You Can Watch It: Showtime, Playstation, iTunes, GooglePlay, Vudu, Microsoft
Director: William Friedkin
Starring: Ashley Judd, Michael Shannon
Why We Love It: In 1973, William Friedkin made history and left his mark on the horror genre forever with The Exorcist. Since the turn of the century, he's only made a few films—one of which was 2006's Bug. After seeing the play by Pulitzer-Prize winner Tracy Letts, Friedkin collaborated with the writer on the adaptation, eventually making what he would describe as "the most intense piece of work" he'd ever done. The majority of the film takes place in a seedy Oklahoma motel room, where Spirit Award winner Ashley Judd has been living, hiding from her violent past. Judd's barmaid is set up on a date with Michael Shannon's character, an alleged war veteran who went AWOL. Their courtship quickly shifts from romantic bliss to horrific insanity. You can almost feel the Texas humidity as manic tension builds, sending the characters off into a frenzy of delusion and paranoia. There are several interpretations one can make, but there's no getting around how disturbing and unsettling the last half hour of the film is.
---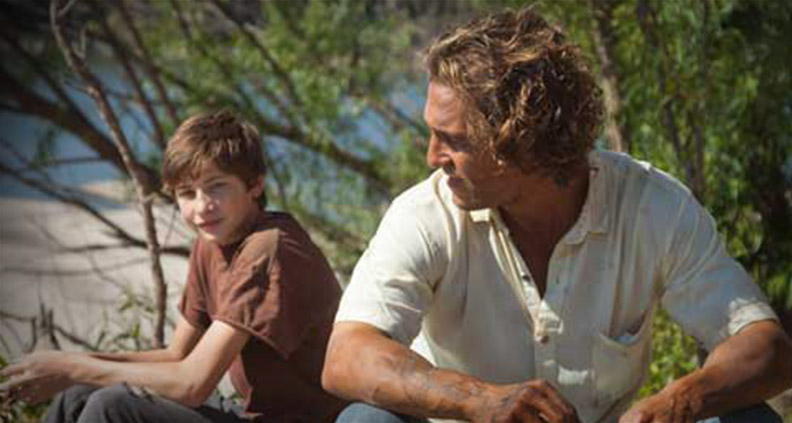 MUD (2012)
Where You Can Watch It: Playstation, Amazon, GooglePlay, Vudu, Microsoft, iTunes
Director: Jeff Nichols
Starring: Matthew McConaughey, Tye Sheridan
Why We Love It: Tension isn't always about blood and action, as proved in Jeff Nichols' gripping coming of age story Mud. Tye Sheridan delivers a breakthrough performance as 14-year-old Ellis, the adventurous youngster who, along with his best friend Neckbone (Jacob Lofland) makes the acquaintance of a drifter named Mud (McConaughey). Forging an unlikely bond, Ellis becomes deeply attached to Mud, despite the fact that no good could've led him to being stranded without shelter in the blazing Arkansas heat. As we learn more about Mud and the plot thickens, the film proves itself a taught thriller that, endearingly, is just as suspenseful emotionally. One of the most noteworthy accolades would have to be the talented cast, which includes Reese Witherspoon, Michael Shannon, Sarah Paulson and Ray McKinnon. Casting Director Francine Maisler, along with Nichols and his dream team of actors, were awarded the Robert Altman Award at the 2014 Film Independent Spirit Awards.
---
To learn more about Film Independent, subscribe to our YouTube channel. You can catch up with the rest of our blog here. And to learn how to become of Member of Film Independent, just click here.