Attention Movers and Shakers: Producing Lab is Now Accepting Applications!
Sure—actors and directors get all the glory, but we all know who really wields the power on any given film set: the producer. Producers find the money, hire the talent, assemble the resources for production and execute the logistics. Producers are the big-picture problem solvers, keeping their projects on track even as the forces of entropy work like malevolent elves to chip away at even the best-laid plans.
Nothing happens during the making of a movie or TV show—good or bad—without baring the telltale fingerprints of the resourceful individuals hustling across town from meeting to meeting, connecting the dots and making it all happen. They're the true movers-and-shakers. So ask yourself: am I a mover and a shaker?
If you answered "yes" then you should seriously consider applying for the 2016 Film Independent Producing Lab, which is currently accepting applications through this coming Monday, June 27. That gives you the entire weekend to prep. And really, what can't a talented, fast-moving film producer do with a single summer weekend?
So if you fancy yourself the next Christine Vachon, Jason Blum, Brian Grazer or (God help us) Robert Evans, then now's your chance—click here for more information.
The Film Independent Producing Lab is open to any producer with a feature-length narrative project in active development or pre-production. We're here to help get your passion project across the finish line. Special classes and seminars? Got 'em. Elite instruction on the craft and business of indie production? Check and check. Guest speakers from the worlds of industry finance, legal and production? Yasss!
What's more, each Producing Lab Fellow is paired with a Creative Advisor to work with one-on-on to further their project, and each Producing Lab culminates in a daylong pitch session with established film executives.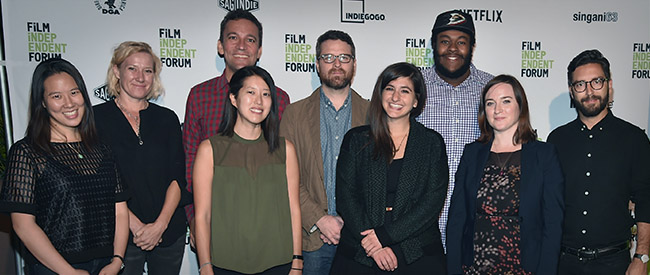 And, at the risk of sounding like some infomercial pitchmeister (RIP Billy Mays), it nevertheless behooves me to say wait, there's more! Producing Lab Fellows receive additional benefits, including free access to the Film Independent Forum, LA Film Festival and inclusion in our Talent Guide—not to mention year-round support from Film Independent and instant eligibly for production grants.
Our lab is for Creative Producers: the first person onboard, giving endless sweat equity to help bring the vision of their collaborators to life during development, and the last one out, dealing with accounting and residuals well after the premiere and/or acquisition of a film. The Producing Lab's focus is how to develop your career as a Creative Producer, and look at your project holistically, soup to nuts.
Let's face it: getting support for your project is hard. There's a lot to compete with out there, and even great movie ideas struggle for attention and resources. So why not circumvent the system and put Film Independent to work for you. We want to help you make your film.
Some of the films that have been through the Producing Lab include Chloe Zhao's Film Independent Spirit Award Nominated film Songs My Brothers Taught Me (which premiered in competition at Sundance and Directors' Fortnight at Cannes), Maryam Keshavarz's Circumstance, Morgan Stiff's Mississippi Damned, Sian Heder's Talulah (which premiered in competition at Sundance) and Clay Gifford's recent SXSW premiere Slash.
Good producers will do whatever's necessary to make their projects a reality. So really—what's one weekend? The beach will still be waiting for you in July.
The Non-Member deadline to apply for the 2016 Film Independent Producing Lab is June 27. The extended Member deadline is July 11. To learn how to become a Member of Film Independent, click here.