'BlacKkKlansman' Director of Photography Chayse Irvin on Imbuing Images with Metaphors
Movies are a mosaic of moving parts. But we don't always see which parts, or who's moving them. Each month in Detail Oriented, Su Fang Tham explores some of the more specialized areas—and career paths—related to film production.
***
Before collaborating with veteran filmmaker Spike Lee on last year's BlacKkKlansman, Canadian-American cinematographer Chayse Irvin was perhaps best known for his work on Beyoncé's 2016 Emmy-nominated visual album, Lemonade. Lee discovered the up-and-coming young cinematographer through his work with music video director Kahlil Joseph, which includes rapper Kendrick Lamar's short film M.A.A.D and the 37-minute short film companion to UK electronic soul artist Sampha's 2017 album Process.
Nominated for a Film Independent Spirit Award and earning four nods at last weekend's Golden Globes, Lee's outlandish crime drama is based on a series of unlikely real-life events in early 1970s Colorado. In the film, lawman Ron Stallworth (John David Washington)—the first African-American detective in the Colorado Springs Police Department—concocts a far-fetched scheme to infiltrate the Ku Klux Klan, posing as a prospective Klan member over the phone while his partner (Adam Driver, a Spirit Award nominee for Best Supporting Male) assumes Stallworth's identity face-to-face.
For many, a film shot on 35mm is a sign that the filmmakers want to evoke the feel of 1970s New Hollywood film. But Irvin rejects the singular association of analog methods with stories from that bygone era, saying he never likes to spoon-feed such easy cues to an audience. We recently spoke to the cinematographer about defying filmmaking norms, sticking to one's vision and his penchant for enriching images with metaphors.
CINEMATOGRAPHER CHAYSE IRVIN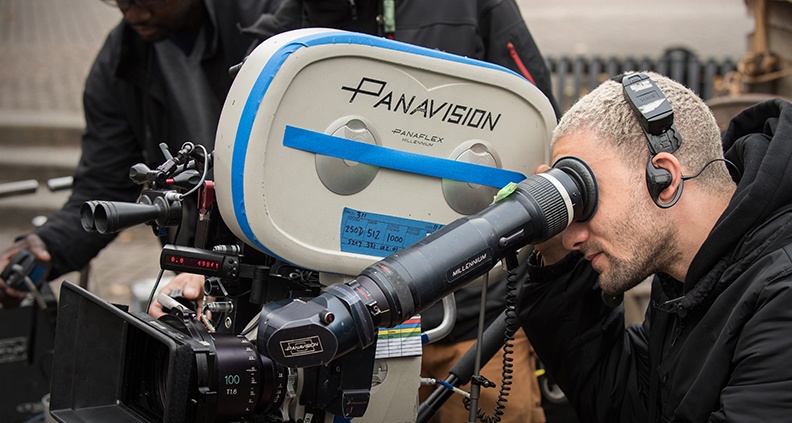 What was your first gig out of film school and how did you land that job?
Irvin: I couldn't get a job, so I decided to Direct/DP music videos. I shot videos for local Vancouver bands. It was the only way I could express myself. All the other work I was eligible for at that time didn't give me much room for creative expression.
What was the biggest think you learned working with music video director Kahlil Joseph? 
Irvin: Kahlil and I collaborated on four projects, including M.A.A.D and Sampha: Process and still photography exhibit Flypaper. He is looking to capture something fresh, he demands it. The way to access this is entirely through your intuition, being present and avoiding logic.
You're known for your free-flowing style on set. Rather than going into a project with any sort of preconceived masterplan, do you prefer to let what happens on set inform your choice of how a shot needs to be lit?
Irvin: I want to do something radical, but simple at the same time. Often when I'm collaborating with directors, I just have random ideas that pop into my head during prep; ways to create images that defy expectations, something that opens the spectator up and allows them to enter the film, taking their guard down. I do this by attacking their associations.
How did this work with Spike Lee?
Irvin: It worked really well, because of the way he works. He simply arrives before everyone so he has a chance to take it all in before the crew arrives. Once he knows what it is [he wants], I react to that—that reaction is my truth. I really believe anything is possible and I love to keep that energy on set with all my collaborators. The result is full of failures, but the film is always the sum of all the successes.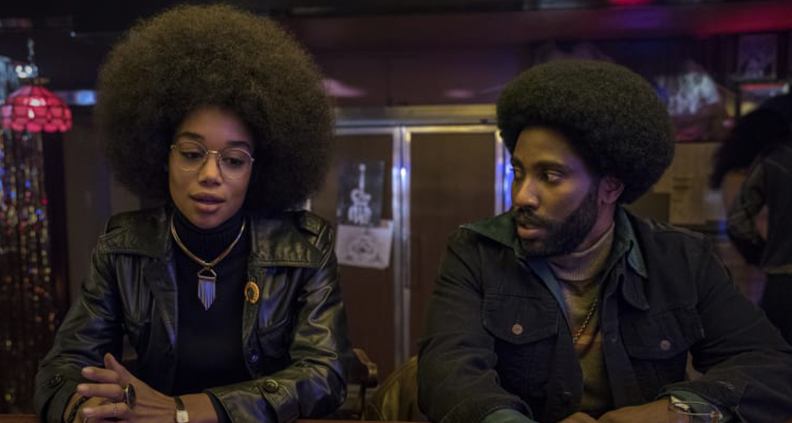 The film vividly transports viewers back to the 1970s. You did it by mixing formats, including Super 16mm, 35mm and even Kodak Ektachrome. Could you talk about which format was used for some of the key scenes and why?
Irvin: I found some Ektachrome, not really knowing where to use it. We only had four rolls, but we ended up using it on the scenes with Alec Baldwin in the opening [of the film]. On set, Spike and I just decided to give it a try. Luckily, that day we were planning on shooting camera tests for the film, so I had the stock there and a camera to use it with. We had only planned on shooting that section in B&W 16mm. But that's the way I like to work—using our intuition and having the tools there so that anything is possible. I'm always ready to rethink the whole idea. The only thing that matters is that it feels special. We used the last reel of Ektachrome on the last day of the shoot, when we did the double dolly shot.
In a recent interview with Focus Features, you talked about how you like to enrich your images with metaphors. What scenes in the film are examples of this?
Irvin: I think the heart of this idea is that I try to do things that have multiple meanings rather than a single notion, which allows the spectator to interpret the film using their own experiences. I'm presenting images as if they were questions rather than giving them the answers straight away. The most vivid example is in the end of the film, where the camera and characters begin to float. Who are they looking for? Is the camera flying? We are out of the window looking into a KKK rally, is this modern day? Or is it in the past?
Is there a particular cinematographer's work that you admire the most?
Irvin: There are so many! Christopher Doyle (In the Mood for Love, Chunking Express, Hero) comes to mind.
What's the best advice that you can give aspiring cinematographers?
Irvin: Shoot constantly, shoot anything. Don't do it for money, do it because you love it.
BlacKkKlansman is currently available on DVD, BluRay and to stream across a variety of platforms. To learn more about the Film Independent Spirit Awards, click here. The 2019 Spirit Awards, hosted by Aubrey Plaza, take place on February 23 at 5:00pm ET/2:00pm PT and broadcast exclusively on IFC.
To learn more, check out past Detail Oriented columns on our blog. Not a Member of Film Independent yet? Become one today. Subscribe to our YouTube channel and follow us on Facebook, Twitter and Instagram.