All-American Girl to Femme Fatale: The Styling of a 'Promising Young Woman'
"I have to give them the benefit of the doubt. It's every guy's worst nightmare, getting accused like that." So says college administrator Dean Walker (Connie Britton), defending herself to Carey Mulligan's Cassie when the latter confronts her about the alleged gang-rape of her best friend in writer/director Emerald Fennell's provocative revenge thriller Promising Young Woman. The film is currently nominated for three Film Independent Spirit Awards: Best Director, Best Screenplay and Best Female Lead.
Cassie's response is poignant, speaking volumes about the misogynistic culture in academia and beyond–"Can you guess what every woman's worst nightmare is?" Fennell's feature directorial debut is a transgressive male-comeuppance power fantasy–and emotional roller coaster!–as Mulligan's barista-by-day prowls for would-be date rapists at night, ready to teach them a lesson they won't soon forget. Still traumatized by her friend's suicide years after the assault, Cassie drops out of medical school and proceeds with only one goal in life: to dismantle a broken system, one bastard at a time.
The Herculean task of visually transforming Mulligan into the various versions of Cassie–for a quick shoot on a small budget–fell on Emmy-nominated Makeup Department Head Angie Wells (Mad Men, Black-ish) and Emmy nominated Hair Department Head Daniel Curet (13 Reasons Why, Pushing Daisies, Euphoria.)
We recently spoke to the duo to learn a little bit more about the styling and many looks of this extremely unforgettable Promising Young Woman.
ANGIE WELLS & DANIEL CURET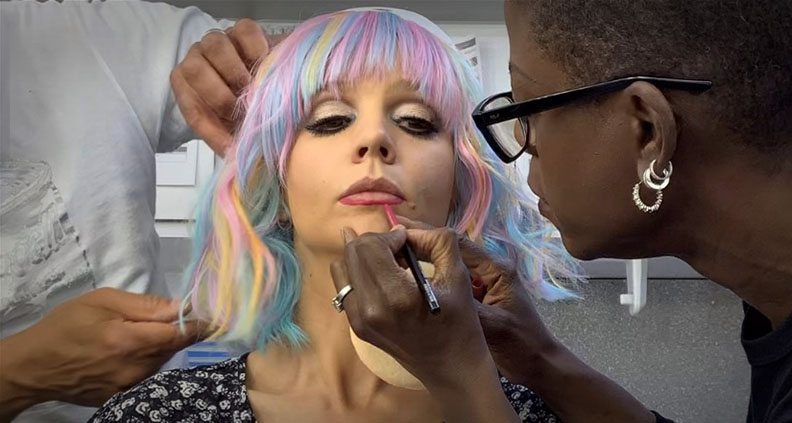 Cassie looks drastically different in almost every sequence, flip-flopping between her daytime and nighttime personas.
Curet: In the opening scene, she sports an evening look that's meant to look like she went to the club straight from the office. Here, the transitions had to be subtle but effective. And then you see who she really is when she's at home or working at the coffee shop. For part of the film we're almost lulled into a sense of security of knowing who she is. But soon after dating Ryan [played by Bo Burnham], she has an emotional breakdown when [SPOILERS!] she realizes he was part of the group of college boys who gang-raped her friend.
How did you design these starkly different looks?
Wells: The makeup was definitely influenced by wardrobe. We didn't have a lot of time for prep–I would see her wardrobe shortly before Carey was going to put it on. I tried to make her "everyday" look very clean, which left me with a blank canvas to craft her evening look. In her daytime look, everything was soft with neutral colors. Then for her late-night ventures, I used more intense colors, going with deeper or darker shades when it was time for her to do what I call her "hits." Besides the wardrobe, I also looked at the script notes and the type of locations she was going to be in.
Curet: We didn't have a lot of time to make extreme changes–it's kind of like that office-to-disco transition in the first scene. Cassie's nighttime hairstyles were based on the locations she was going to or coming from. When she picks up a guy at the hipster bar, she had feathers in her hair. Then when she's going to that nightclub with her high ponytail and her glam dress–sort of the Kardashian look–that was in the script. It went with the type of club she was going to. When she bumps into Ryan outside the bar as she was leaving with one of her "targets," the fact that she was all glammed up made it so much more tragic when she's rejected by both men in that scene.
You mentioned not having a lot of prep time. How far in advance were you able to do test sessions with Carey to make sure it fits what the director had in mind?
Wells: This was a fast prep and fast shoot. For instance, we weren't able to go back to the fully-stocked trailer to completely change someone's look–there was no time to drive back and forth between base camp and the set. So I had to pack everything I might need every morning for the day, which didn't leave a lot of time for second-guessing. Daniel, was it only a week beforehand?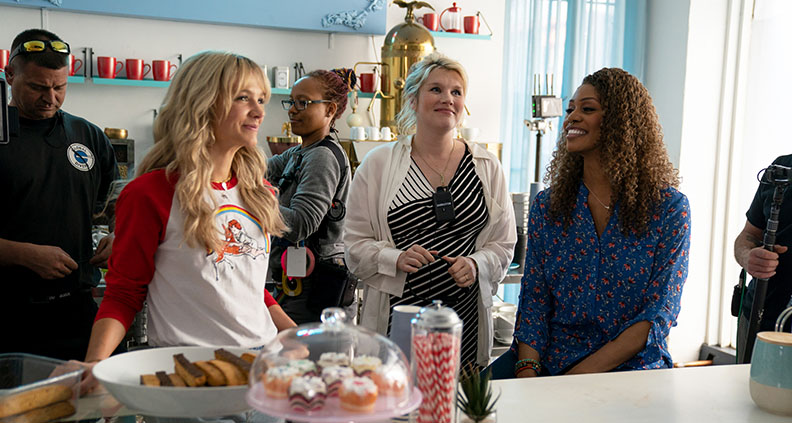 Curet: Yeah, I met Carey at the hair salon a couple of days before the shoot. I came with my bag of tricks and fine-tuned it once we figured out the longer hair extensions was the way to go. And I think we were shooting almost the next day. 
Wow, that doesn't leave you much time to design the various looks!
Wells: But very often, that forces you to be your most creative self–necessity becomes the mother of invention. We basically only had one meeting before we started shooting.
Curet: For a movie, I try to keep in mind that it's going to come out at least a year later. I try to pick looks that aren't specific to that moment, so when the movie comes out, it won't look dated. On some TV shows that will go on air within a week or a month, there's less of that concern. This movie was filmed in 2019 and came out in December of 2020. It could have looked very dated: the looks we picked were very of the moment when we were filming, it was a very au courant movie, but thankfully it held up. I think contemporary makeup is often overlooked, but I always say the contemporary styles of today are going to be the period hairstyles of tomorrow.
Did you have more time to try out different looks for Cassie on the set?
Curet: Not really, because Carey was in just about every scene. So, it was quite impossible to get her in between scenes to try out certain looks. Sometimes it was simply a gut instinct of "Oh! This feels right!" when we tested different looks. Angie and I would be working on Carey at the same time to squeeze in any changes needed between scenes, and that's something we probably wouldn't be able to do now with the COVID-19 safety protocols in place. As far as having her look mapped out, they were mostly variations of her own hair. Cassie disguises herself with her hair–her longer styles felt like what she would have had when she was still in med school. Since she hasn't moved on from that phase in her life–mentally, she's still stuck in that time, so we matched her hair to that aspect of her personality. Most of the styles were mapped out with Emerald ahead of time.
For more on how Wells and Curet tackled the nurse/stripper look for the finale sequence and why Cassie sports a mismatched pastel manicure, check back tomorrow for Part Two!
The 36th Film Independent Spirit Awards, hosted by Melissa Villaseñor, will be broadcast exclusive on IFC Thursday, April 22 at 10:00 pm ET. Check out all of this year's nominees here.
The Film Independent Spirit Awards are presented by Premier Sponsors Genesis Motor North America and IFC. Bulleit Frontier Whiskey is the Official Spirit. FIJI Water is the Official Water. Getty Images is the Official Photographer. We are also honored to be partnering with the Association of National Advertisers' (ANA) SeeHer, the leading global movement for gender equality in media, advertising, marketing and entertainment and AMC Networks to further celebrate and act as a catalyst for accurate and meaningful representation in storytelling.
Film Independent promotes unique independent voices by helping filmmakers create and advance new work. To become a Member of Film Indepenent, just click here. To support us with a donation, click here.
More Film Independent…