Directors Close-Up Recap: Directors Tackle Low Budgets and Lunacy to Build Something Great
There's some amount of lunacy required to make an independent film today. This is not a theory in need of proof, but rather a cold, hard fact ascertained by the panelists of Film Independent's February 24 Directors Close-Up panel, The Independent Spirit—A Directors Roundtable.
It was the fourth DCU panel of the 2016 series. You can find recaps of this year's previous DCU panels here, here and here.
Four writer/directors from some of this year's most lauded films—The Diary of a Teenage Girl, It Follows, Songs My Brothers Taught Me and Krisha—came together to discuss what it means to make an independent film in this industry. Or as Film Independent President Josh Welsh, who moderated the conversation, said, "How do you fully utilize the resources that you have in the most creative way possible?"
For Marielle Heller, director of The Diary of a Teenage Girl, this meant "basically willing the film into being." Adapting Pheobe Gloeckner's graphic novel of the same name, Heller used the project to address one of her pet peeves: underdeveloped ideas in mainstream cinema of what being a teenage girl is actually like.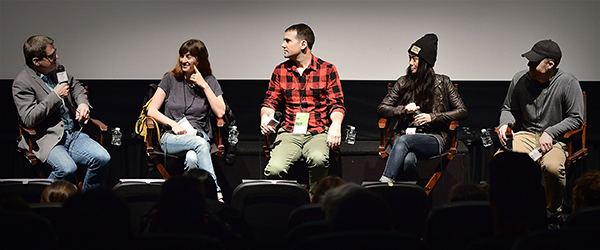 For Heller, the lunacy of independent filmmaking was reflected in the choices she made right at the beginning of Girl, which went against Film School 101 budget-friendly rules: she made a period piece, cast underage kids and shot on location in San Francisco. When it came to shooting a scene wherein actor Bel Powley's lead character is on acid and literally (via fantasy sequence) flying, Heller only started planning the day before. The solution, with no stunt coordinator at hand, was simple. "We put her in a rock climbing harness and had two strong guys lift a big steel beam," she explained.
David Robert Mitchell made It Follows with one million dollars,"when really it should have been two," he said. Born out of the director's recurring childhood nightmare of being inexplicably followed, Mitchell wanted to make a horror film that referenced past classics, but in a modern way. Mitchell put all of his effort into pre-production work, sorting out details to decide how to proceed and compensate for the production's lack of money. "It's painful to watch," he said, recalling how some scenes could have been totally different had they had the money for it. Still, Mitchell recommended that budding auteurs also make peace with the idea of being a film's producer. "I always want to understand how the money is being spent so I can have a say," he said.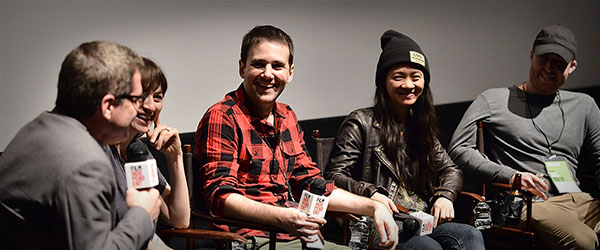 Chloé Zhao, director of Songs My Brothers Taught Me, explained that she wanted to make a film about "belonging"—a desire informed by her own experience of being from China and always considering herself "a drifter."
"At the Pine Ridge Reservation in the South Dakota Badlands, they have a different idea of what it means to belong," she said of her Songs' distinctive location, further explaining that she wanted to show the audience this unique world. But there were setbacks. Zhao managed to recover from losing her initial funding, as well as having her Bushwick apartment broken into and losing all of her gear.
Zhao decided to throw away her initial script and start from scratch. "The days of sitting in a director chair and giving directions are over," she said. Ultimately the film was completed by Zhao and a crew of just five people, with a budget of $100,000. This meant same-day location scouting and no real idea of what each day would bring. She used non-professional actors cast from looking at high school yearbooks—with some actors going in and out of prison. She even wrote one of her leads into the movie at the last minute simply because she liked the actress' presence and wanted her in the film. "Truth was the only thing we could afford," she said.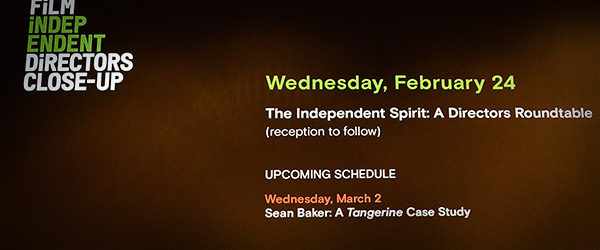 For Trey Edward Shults, director of Krisha, the experience of making his film went from "nervous breakdown to incredible experience." The story was personal: his father dealt with addiction throughout his life, as does his film's titular lead character Krisha. In 2012, he shot a short film based on the same story, but at the time it didn't really take shape. "We were shooting stuff but I knew it wasn't a movie," he explained. Cue nervous breakdown. Still, he tried again several years later, this time with a more clear idea of what he was going for and working with his best friend as a producer. He cast his mother as the lead, shot it at her house in Austin and filled most of the other roles with friends who happened to be actors. His grandmother, also featured, wasn't even aware they were shooting a movie in the first place. "I had to make bad stuff [in order to arrive at Krisha]," he said.
The lunacy, it seems, has paid off. Shults was awarded the John Cassavetes Award at Saturday's Film Independent Spirit Awards and Heller received the Best First Feature award. Songs received two nominations and Mitchell three. Looking to the future, the directors expressed a commitment to remaining independent. "I'll continue as long as I can create things that I care about," Mitchell said, and the rest of the group followed with unwavering nods.
---
Watch Heller's acceptance speech for The Diary of a Teenage Girl's Best First Feature win:
Watch Shults' acceptance speech for Krisha's John Cassavetes Award win:
---
Film Independent's Directors Close-Up returns to the Landmark on Wednesday March 2 with A Tangerine Case Study featuring a discussion with writer and director Sean Baker about his critically acclaimed and groundbreaking film.
Passes for tonight's final edition of the 2016 Directors Close-Up series can be purchased here. Don't delay—time is running out!
For more information about Film Independent, please visit our website or subscribe to our YouTube channel. Learn how to become a Member of Film Independent by clicking here.