Farm-to-Table Filmmaking: Film Independent Launches its 2016 Directing Lab
For as long as independent film has existed the idea of the fully formed filmmaker sprouting up from out of nowhere—creative vision already 100% in place—has been a seductive fantasy. In reality, great art is rarely created in a vacuum.
In many ways, fostering the careers of emerging film directors is a lot like growing vegetables in a neighborhood garden. It takes the care and attention of an entire community with the experience and insight to know what they're doing.
Extending the farm-to-table analogy, Film Independent is proud to announce the latest "crop" (see what we did there?) of participants invited to be part of our 2016 Directing Lab, which officially launched this Tuesday, February 2.
Now in its 16th year Film Independent's Directing Lab is an intensive eight-week program designed to support emerging independent film directors in the prep and shooting of their feature film projects.
This year, Film Independent has invited eight filmmakers to participate, who will be joined by an esteemed group of mentors and advisors to help develop their projects. Under the guidance of these mentors and advisors, Fellows will select short scenes from their scripts to flesh out through group workshops.
Fellows will then shoot these scenes in collaboration with top Hollywood casting directors, cinematographers and editors and ultimately the final versions will screen for their Directing Lab peers and advisors, as well as an audience of Film Independent Staff and Fellows.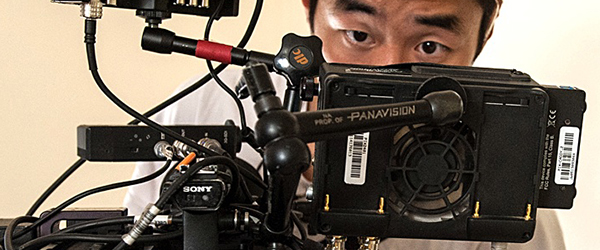 But no neighborhood garden can achieve the verdant sprout of its full potential without the oversight of experienced greenthumbs providing helpful advice to the inexperienced novice tentatively hovering over the topsoil, unsure where to begin.
Luckily, 2016's class of Directing Lab Advisors boasts an acclaimed selection of indie film vets including Creative Advisors and directors Daniel Barnz (Cake, Phoebe in Wonderland), Catherine Hardwicke (Twilight, Thirteen) and James Ponsoldt (The End of the Tour, Smashed). Other industry participants include Casting Consultants Meg Morman and Sunday Boling, producer Joan Scheckel (Beginners, Transparent) and Editing Advisor Darrin Navarro, ACE (Talullah, The End of the Tour).
But which filmmakers (and films!) will be the recipients of this star-stuffed group's advice and instruction? Well, here are your eight 2016 Directing Labs Fellows:
Jules Nurrish, director of Clinch, an intense drama following a gifted boxer who risks both career and his family as he sets out on a love an affair with another man.
Blaise Godbe Lipman, writer and director of In the Shadows of the Rainbow, which follows a strung out 23-year-old Manhattan club kid on her journey back home to a rural pot commune.
Danny Jacobs and Darren Grodsky, writers and directors of Midwestern, the story of a travel agent who attempts to restart when he's erroneously declared dead and attempts to collect on his own life insurance.
Roja Gashtili and Julia Lerman, writers and directors of Rita Mahtoubian Is Not a Terrorist, a fractured romance wherein our titular character becomes the object of desire for a wayward homeland security agent.
Maggie Kiley, director of Skin Deep, which tells the story of two teenage girls who cast a spell, which causes them to become incrementally more attractive—but only when they hurt other people.
And Rani DeMuth, writer, director and producer of Up with the Joneses, the story of a family who struggles to find meaning with their lives when their eccentric mother leaves to pursue a career in performance art.
"We're thrilled to welcome this group of visionary directors into the Lab," said Film Independent Director of Artist Development Jennifer Kushner, adding, "We look forward to championing their work throughout their careers."
Past Film Independent Directing Lab Fellows include Sian Heder (Tallulah), Andrew Ahn (Spa Night), Sheldon Candis (LUV), Cherien Dabis (Amreeka) and Robbie Pickering (Natural Selection), among others.
Congratulations to this year's Fellows! We look forward to seeing your films take root and grow.
For more information on Film Independent's 2016 Directing Lab, please read our press release or visit our Artist Development page.
To learn more about Film Independent please visit our website or subscribe to our YouTube channel. Learn how to become a Member of Film Independent by clicking here.
Matt Warren / Film Independent Digital Content Manager