Fiscal Spotlight: Environmentalists, Activism and Africa's Hip-Hop Scene
Welcome to Fiscal Spotlight, a special monthly round up of projects—at all stages of production—working their way through Film Independent's Fiscal Sponsorship pipeline.
***
The natural world is in a precarious state at the moment. And, if you didn't believe that climate change was an urgent (or real) issue before, our late-summer surge of wildfires, hurricanes, floods and more have hopefully shown you otherwise. The good and bad news is that where the environment is concerned, little things can make a big difference, in animal populations ranging from tiny insects, to small rodents and beyond. Your middle school science teacher wasn't lying—everything is interconnected, with minor ecological disturbances amplifying and wrecking havoc in both directions up and down the food chain.
In this month's Fiscal Spotlight, we're touting three great feature-length documentaries taking a look at the interconnectedness of ecologies and the creatures that inhabit them—human or otherwise—spanning the globe from African forests to guinea pig rescues in modern-day London. The projects are taking advantage of Film Independent's 501(c)3 nonprofit status to obtain institutional grants and tax-deductible donations via Fiscal Sponsorship:
This month's projects include Professor Doctor: Shamanism in the Anthropocene, Weeping Rocks and The Keepers of the Pigs. Keep reading to learn more—including how you can lend your support.
PROFESSOR DOCTOR: SHAMANISM IN THE ANTHROPOCENE
Project type: Documentary Feature
Project status: Development
Director/Producer/Cinematographer: Colin Scott
Director/Producer/Lead Researcher: Abby Snyder
About the project: In 2015, the West African nation of Togo was named "unhappiest" in the world by the World Economic Forum—yet Togolese subsistence farmer, Voodoo priest and aspiring rapper "Professor Doctor" manages a high-level of happiness through his interconnected relationship with the land. But decades of clear-cutting and erratic climatic patterns have devastated crop yields and biodiversity rates, and the distressing reality of climate change threatens to eradicate every aspect of Prof Doc's identity. With much in flux at home, Prof-Doc has aspirations of pursuing his music career in the neighboring nation of Ghana, where local artists can explode into superstars. But will a successful hip-hop career—and material wealth—replace what's been lost? Or are the actions of the developed world, which disproportionately contribute to climate change, forcing those in developing countries to seek other means of existence, lowering levels of happiness due to a loss of culture?
Meet the filmmakers: To learn more about Professor Doctor and how to support the project, click here. Filmmaker Colin Scott is an accomplished writer/director/producer for Tony Stone's Heathen Films. Following work as an Alaskan fishing guide, wildland firefighter and Salt Lake City paramedic, Colin completed an MFA from the University of Texas in Screenwriting. He has directed, produced and lensed a number of highly acclaimed documentaries in some of the world's most remote backcountry settings. Filmmaker Abby Snyder is a Yale University Master's graduate, Fulbright Scholar, Environmental Defense Fund Climate Corps Fellow, World Wildlife Fund Corporate Partnerships Singapore Fellow and Peace Corps Volunteer with 10 years of professional experience in international agricultural sciences and sustainable development.
WEEPING ROCKS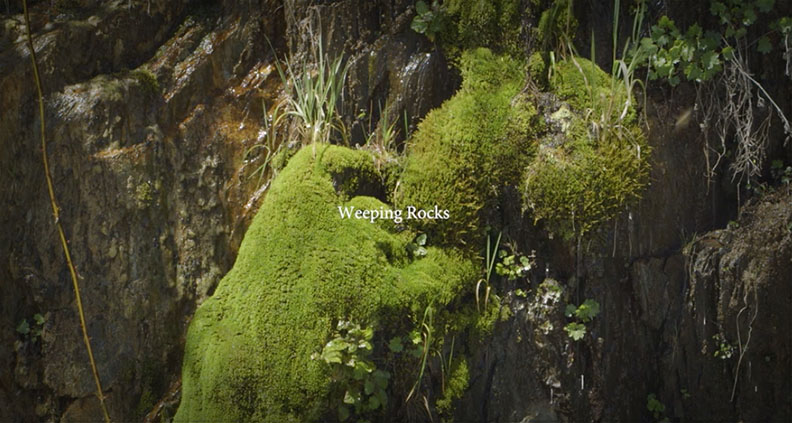 Project type: Documentary Feature
Project status: Production
Director: Karlis Bergs
Cinematographer: Alexey Kurbatov
About the project: Weeping Rocks is a quiet but powerful feature-length documentary that strives to sound a silent alarm on the decimation of the insect population and its devastating effects on the future of humanity. By observing the lives of three scientists and their commitment to researching the world's tiniest creatures, Weeping Rocks hopes to unearth the humanism behind the scientific community and prove one urgent theory of survival to be true: that a species willing to cooperate with other species is the one that survives in the long run. From a scientist who has been counting butterflies for the past 48 years to a farmer-owned cooperative that grows millions of beneficial insects per day, Weeping Rocks is an investigation of both the macroscopic ramifications of climate change and the microscopic obsession, dedication and borderline madness of the unsung heroes behind the fight.
Meet the filmmakers: To learn more about Weeping Rocks and how to support the project, click here. Director Karlis Bergs is a Latvian-born filmmaker based in Los Angeles, CA. He received an MFA in Photography & Media at California Institute of the Arts in 2020. Bergs is a recipient of the prestigious Allan Sekula Social Documentary grant in 2020. He spent a year studying at The School of Art Institute of Chicago then transferred to Brighton University in the UK for his BFA. Producer Jackii Chun recently obtained an MFA in Film/Video at CalArts (2019) and has since cast and produced several projects including Hoosier, which premiered at NewFest, and music videos for The Dodos and The Dirty Knobs. Her film, Space Ètude, No. 1, was an Official Selection of the Blow-Up International Arthouse Filmfest Chicago in 2019.
THE KEEPERS OF THE PIGS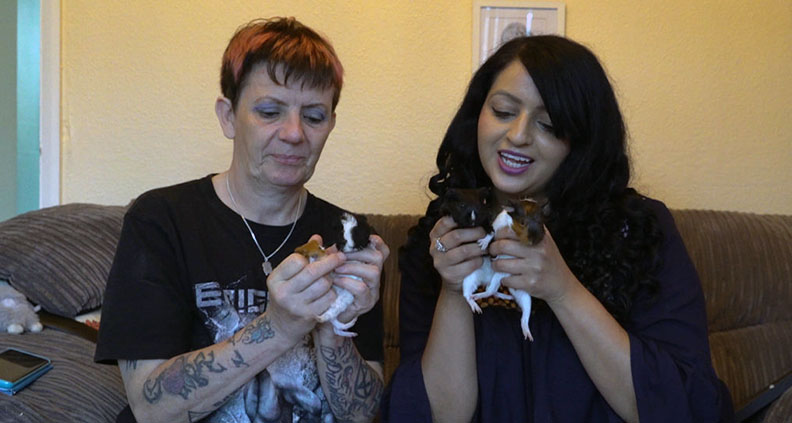 Project type: Documentary Feature
Project status: Production
Director: Sharon Walia
Executive Producer/Distributor: Pamela Martinez Martinez/Limonero Films
About the project: They're one of the world's oldest domestic animals: Guinea Pigs. They helped establish modern germ theory, were one of the first animals sent to space and even featured in Amazon's multi-award winning Fleabag series. Nevertheless, guinea pigs are also one of the world's most misunderstood and mistreated animals. The documentary will be filmed on three continents. It will primarily follow journalist and guinea pig owner/enthusiast Sharon Walia and activist Shaz Kelly, whose home doubles as the Avalon Guinea Pig Rescue for hundreds of rodents. The documentary will be hard-hitting in parts (lab testing, animal auctions) with story arcs are themed around Shaz's rescue, inundated with mistreated pets and on the brink of closure. The film will show the growing popularity of "guinea dads"–aka men who breed and or keep piggies.
Meet the filmmakers: To learn more about The Keepers of the Pigs and how to support the project, click here. Sharon Walia is a documentary maker, Journalist and Scriptwriter. She recently wrote, directed and edited her first feature documentary The Movement (2018), which follows the everyday heroes saving refugees on land, at sea and from air. Sharon also received a Royal Television Society nomination in the Diversity category for her refugee focused news reports. Her other area of expertise is wildlife/nature filming.
To learn more about Fiscal Sponsorship, including its benefits and eligibility requirements by visiting our website. See which projects are currently being supported via our Sponsored Projects page.
Film Independent Artist Development promotes unique independent voices by helping filmmakers create and advance new work. To support our work with a donation, please click here. Become a Member of Film Independent here.
Keep up with Film Independent…
(Header: Weeping Rocks)