Fiscal Spotlight: Three Types of Queer Goodbyes
Welcome to Fiscal Spotlight, a special monthly round up of projects—at all stages of production—working their way through Film Independent's Fiscal Sponsorship pipeline.
***
'Tis better to have loved and lost than never to have loved at all. So wrote Alfred Lord Tennyson, which we definitely knew off the top of our heads and did not need to Google. But what Tennyson (whose whole thing we definitely know tons and tons about) neglects, in this perennial yearbook quote of his, is that loss is in fact an inextricable part of loving. Anything held dear can only be held for so long; separation invariably looming, courtesy of divergent pathways, a faltering of affections or—barring all else—the inevitable creep of death and aging.
Such tales of love and loss (for people, identities, communities, etc.) can acquire an additional level of melancholy—but also nobility—when compounded with Queer Experience, which leads us to the three projects singled out in our first Fiscal Spotlight column of 2022. Here, we have three films featuring LGTBQIA+ subjects navigating sudden loss.
A reminder that all of these projects are supported by Film Independent's Fiscal Sponsorship program, which enables creators to solicit tax-deductible donations and seek organizational grants in partnership with. Film Independent
January's projects are I'll Miss You Later, Riley and Love, Barbara. Learn more about the films—including how to support them—below:
I'LL MISS YOU LATER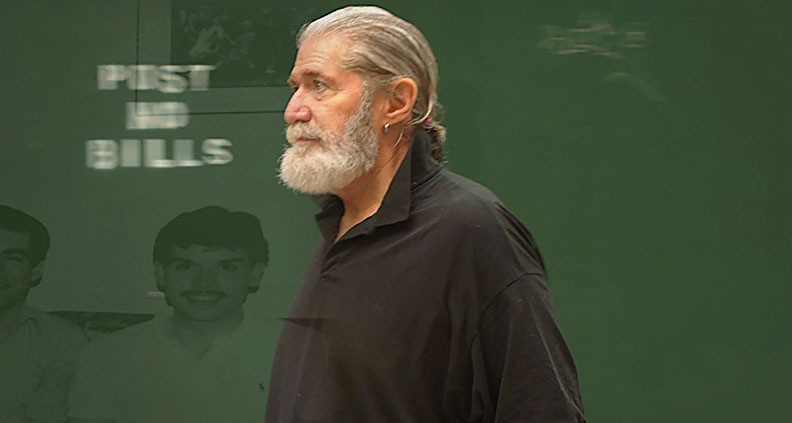 Project type: Documentary Short
Project status: Production
Director/ Producer: Annie O'Neil
About the project: During the long months of COVID lockdown, many people found themselves cleaning out their homes. Poet Jim Gaynor sure did; he found an old notebook, tattered and full of scribbles and old phone numbers. Inside that modest flipbook he discovered notes on the 38 memorial services he oversaw during 11 years of the AIDS crisis in NYC. He noticed that some of the entries also had stars on them, which he realized meant that he had written poems on those particular memorial services, friends or events surrounding their passing. He assembled 20 of those poems into his latest book of poems, I'll Miss You Later. Three decades later, he has some perspective on how to deal with grief and pandemics, through the poems he stumbled upon in that well-worn notebook.
Meet the filmmaker: To learn more about I'll Miss You Later and how to support the project, click here. Annie O'Neil began making films in high school. In 2009, she walked the Camino de Santiago as a featured subject in the award winning documentary Walking the Camino: Six Ways to Santiago. In 2014, she began shooting Phil's Camino, a short documentary about a man with Stage Four cancer who dreamt of walking the Camino. That film was nominated for a Grand Jury Prize at SXSW in 2016 and went on to win 20+ festival awards.
RILEY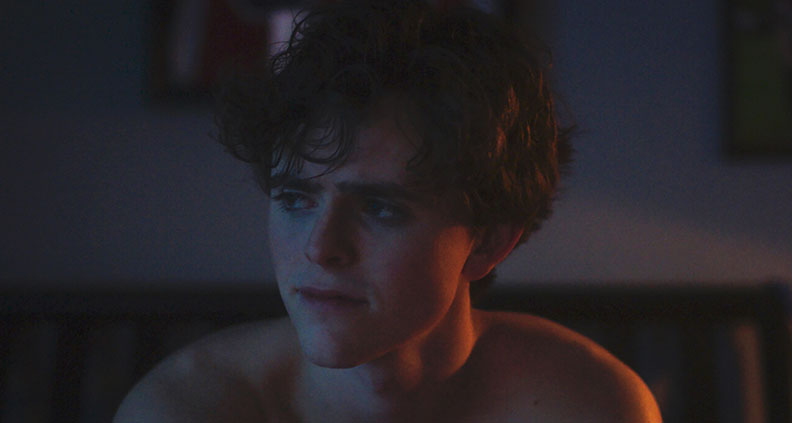 Project type: Narrative Feature
Project status: Development
Director/ Writer/Editor: Benjamin Howard
Producer: Laura Scarano
About the project: An ambitious high school football player begins cracking under the pressure of his father's legacy when his sexual curiosity starts manifesting in new ways. Sixteen-year-old Dakota Riley has big aspirations to play collegiate football—and, like his father before him, he has the potential to reach them. But when he acts out on the advances of a gay classmate one afternoon, his plans are thrown for a loop, the incident setting off a chain of events that leave him struggling with his sexuality and identity. To begin coming to terms with himself, Dakota must navigate the disciplined world of high school football—and the expectations that come with it.
Meet the filmmaker: To learn more about Riley and how to support the project, click here. Filmmaker Benjamin Howard is an Emmy-recognized writer, director and producer. Benjamin's narrative projects often explore personal themes related to sexual identity. His undergraduate thesis project Deviant was recognized with a Student Emmy Award in 2019. Producer Laura Scarano earned a B.A. in History of Art & Design from Pratt Institute and today produces films in Los Angeles and New York.
LOVE, BARBARA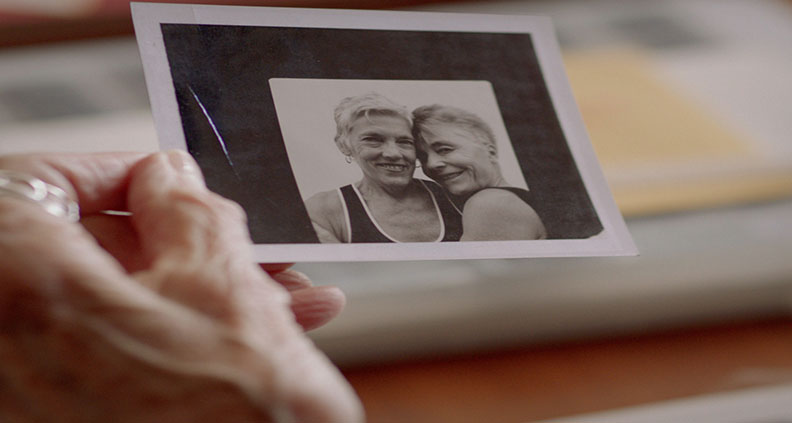 Project type: Documentary Short
Project status: Production
Director: Brydie O'Connor
Producers: Myriam Schroeter, Ani Schroeter
About the project: Love, Barbara is a short documentary about Barbara Hammer's legacy as it lives on though her partner of over 30 years, Florrie Burke. As the Executor and Arts Administrator of the Hammer Estate, Florrie not only carries out Barbara's legacy, but also gets to experience it in new ways through the genius of Barbara Hammer's art and archive. Love, Barbara blends cinematic imagery and elements of Barbara Hammer's personal archive to explore the process of Florrie simultaneously carrying out and newly discovering the legacy of her late partner. In a heartfelt conversation in her and Barbara's shared home, Florrie discusses her process of finding a collection of work Barbara left behind, unseen to both her and the public. Further, we return to a movie theater that has screened Barbara's work throughout her career to view personal and art videos about inspiration through her love for Florrie. Love, Barbara will be a cinematic moving collage that encapsulates the legacy of Barbara Hammer unraveling before us, and ultimately exist as a visual love letter.
Meet the filmmaker: To learn more about Love, Barbara and how to support the project, click here. Director Brydie O'Connor is a Kansas-bred, New York based filmmaker. Her award-winning directorial and producing work spans the documentary and narrative fields with a specific focus on women, queer, trans and non-binary stories. Producer Myriam Schroeter is an award-winning producer whose work spans the commercial and narrative realms. She co-produced the acclaimed film The Light of The Moon, which won the Narrative Feature Audience Award at the 2017 SXSW Film Festival.
To learn more about Fiscal Sponsorship, including its benefits and eligibility requirements by visiting our website. See which projects are currently being supported via our Sponsored Projects page.
Keep up with Film Independent…
(Header: Riley)