Fiscal Spotlight: Using Cinema and Surrealism to Express Anxious Identity
Filmmakers have many remarkable superpowers. The ability to create kaleidoscope fractals of terrifying credit card debt. The ability to turn any friendship into a stark transactional binary. The ability to blot out the very sun itself with the G&E crew's interlocking vape exhalations.
Most impressively, filmmakers have the ability to take some abstract, internal element of the human experience and physicalize it into something photographable and dramatic. Sure: sometimes a cigar is just a cigar. But sometimes in movies, a cigar is actually the memory of your dead father, a metaphor for America's self-immolation, or—occasionally—a penis.
Of course, a reliable way to transmute emotions and anxieties into something tangible, visible and narratively propulsive is to lean on metaphysics and the supernatural. Just look at the prestige horror boom of the last 15 years, which has turned grief and despair into ghosts and haunted houses so often it's become cliche. But the three projects below—out November 2023 Fiscal Spotlight picks—are anything but cliche.
Each project features a female protagonist from an ethnic or mixed-race background struggling with their identity, those struggles represented through surreal cinematic tropes.
These three projects are all currently being supported by Film Independent's Fiscal Sponsorship program, which enables filmmakers to solicit tax-deductible donations and organizational grants in partnership with Film Independent. Here's how:
This month's Fiscal Spotlight projects are No Escape, Chatter and Lucia & The Invisible Wife. Learn more about each project—and how to lend them your support—below:
NO ESCAPE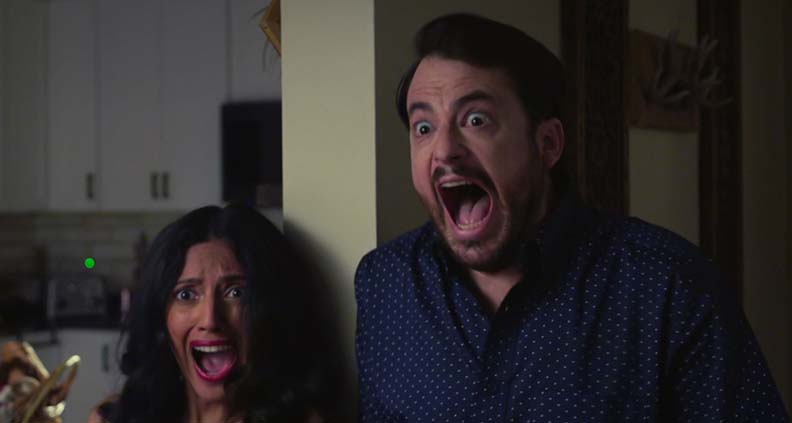 Project type: Fiction Short
Project status: Post Production
Writer/Director/Producer/Lead: Leena Kurishingal
Producer: Timothy Farrell
About the project: Nisha and Jim brave the spookiness of the woods and harrowing storm to finally enjoy the highlight of their new relationship—a weekend away together in an awesome cabin. But one omen after the next makes Nisha worry something weird this way comes… Between trying to get it on with Jim and intense paranoia, Nisha discovers that her worst nightmare has followed her into the wilderness (complete with whacking ladle and sensible shoes). The couple tries to evade this cultural specter. In the end, Nisha must face her fate all—well, not quite alone. No Escape uses classic film noir imagery and campy horror tropes, reimagined to include a new audience in the conversation. In what has typically been a white male-dominated genre, we center on Indian-American Nisha, who is at odds with her identity(ies). Chaos ensues with her conflicted Caucasian boyfriend, conservative monster mother, ghost dad and elderly AirBnB owner who just wants to make sure they have enough TP. This project is an expansion of a staged sketch celebrating India's Independence Day in 2019, exploring the concept of what it means to be Indian, in all its varied history and embodiments.
Meet the filmmaker: To learn more about No Escape including how to support the project, click here. Leena is a SAG-AFTRA performer of 17 years appearing on stage, screen and more, with a film degree from Columbia College Chicago. She crossed into writing thanks to a diversity scholarship from the Upright Citizens Brigade LA, where she studied improv, sketch and characters. This led to collaboration with the all-WOC sketch group, Soul Sista Comedy. She also wrote, directed and produced a one-hour sketch variety show pondering Indian identity for stage called "India & You: And Me. And Everybody." She has since received the UCLA Phyllis Gebauer Scholarship for TV Writing, pitched short form content for Bite-Size Horror under FOX Digital, and become a WAVE Grant recipient for emerging female directors.
CHATTER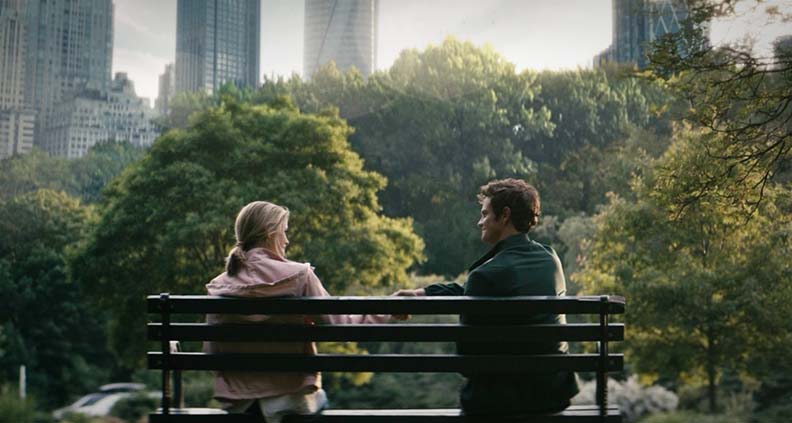 Project type: Fiction Short
Project status: Development
Writer/Director: Jessica Sherif
Producer: Jessica Carlson
About the project: Sparks fly when Samia meets Charlie. But their anxieties—who are somehow able to communicate with each other—aren't sold on this coupling just yet. Unemployed photojournalist Samia is in a bit of a rut. Like all of us, her inner monologue won't fail to remind that she doesn't feel so great about herself. To complicate matters, Samia is an Arab-American who grew up in France, which means that her inner chatter is split between her blue-eyed blonde all-American anxiety (Phoebe), her poised French logic (Victoire) and her compassionate Arabic courage (Yumma). When she meets Charlie, his straightforwardness and humor lights a genuine and immediate spark in her. Phoebe, however, isn't as taken by Charlie. She's even more shocked to discover that Charlie's inner voices Thomas, Brody and Ning, can hear and see her, Victoire and Yumma. As these two attractive, earnest and loquacious millennials wander around Central Park, they flirt, joke, bicker and confess their way into a startling yet tender romantic epiphany.
Meet the filmmaker: To learn more about Chatter including how to support the project, click here. Jessica Sherif is an Algerian and French-Canadian writer/director who was born and raised in Spain and who channels her multi-cultural background to tell engaging and impactful character-based stories that resonate across different perspectives and cultures. Jessica's latest project, the Netflix documentary series about the Women's World Cup—which she co-created and executive produced—will premiere in November. Before that, she co-created, directed and executive produced the A&E Network documentary series Right to Offend. Jessica's narrative feature screenplay Third Culture Kids was also selected to be a part of the Tribeca Creators Market. She has directed many short films that have screened at over forty film festivals combined, and won awards at Hollyshorts, Tallgrass and more.
LUCIA & THE INVISIBLE WIFE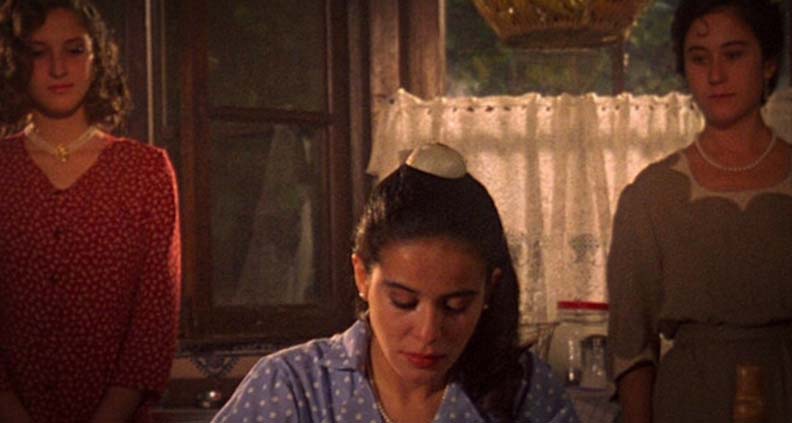 Project type: Fiction Short
Project status: Development
Writer/Director: Karine Benzaria
Producers: Julia Kennelly
About the project: Lucia & The Invisible Wife is a quirky dark comedy that explores what happens to a woman (Isabel) and her family when she inexplicably becomes invisible. Overwhelmed by grief and trapped by the emotional limitations to express it, her husband (Tonio) resorts to replacing her with a new bride (Lucia). What no one foresees is that the woman brought in to replace his missing wife is the only person who can see her. The film explores how Isabel and Lucia connect, differ and evolve. Tonally, it aims to explore the oft sacred and complicated relationships between women, using magical surrealism and dark humor. Influential films include Like Water for Chocolates, Volver and The Lobster.
Meet the filmmaker: To learn more about Lucia & The Invisible Wife including how to support the project, click here. Filmmaker Karine Benzaria's production experience includes Apple TV's Hello Tomorrow, Amazon's Jack Ryan and Netflix's The OA. As a producer, most recently the 2023 SXSW-nominated film "Breaking Fast" with a Coca-Cola and 2022 SXSW nominee, Clare. In 2017, she co-founded production company Dream City with Julia Kennelly and Daisy Zhou. There, she produced Marcy Learns Something New, the winner of 2020's Vimeo Staff Pick's "Best of the Year" Award. She is a 2023 Film Independent Project Involve Producing Fellow and recently won a 2023 Wavelength Grant.
Learn more about Fiscal Sponsorship, including its benefits and eligibility requirements, by visiting our website. Check out our Sponsored Projects page to see the projects that are currently being supported.
Celebrating 30 years, Film Independent Artist Development promotes unique independent voices by helping filmmakers create and advance new work. Become a Member of Film Independent today. Support us with a donation here.
Keep up with Film Independent…