On Demand: Ramy Youssef Tells Ayten Amin about His Faith, Family and Filmmaking
Missed the 2020 Film Independent Forum when it happened live? Don't worry—the full 2020 Forum Toolkit is now available On Demand through October 31, packed with panels, workshops and in-depth discussions featuring acclaimed artists, filmmakers, industry leaders and more. Visit our how-to page to learn how to access.
***
Here at Film Independent, we're lucky to be able to interact with a lot of very cool people—filmmakers, festival programmers, the occasional freshly scrubbed celeb. That sort of thing. Rarely, though, do we get a chance to geek out as much as we did August 4 to kick off Day Five of the 2020 Film Independent Forum. Why? Because, like a lot of people out there (including Emmy voters), we're big, big fans of the Hulu original series Ramy—created by and starring Egyptian-American writer, director and comedian Ramy Youssef.
That's why Tuesday morning's "From the Motherland to the Diaspora," was such a kick—featuring yet another one of our favorite people, Global Media Makers Fellow Ayten Amin in conversation (from Egypt) with the titular "Ramy" himself.
A Venice, Berlinale and TIFF-minted filmmaker based in Cairo, Amin was eager to speak to Youssef, whose largely autobiographical series revolves around a first-generation American Muslim coping with issues of race, family and spirituality in politically-divided, post-9/11 New Jersey; a deft mix of comedy and drama.
"It's really hard to make anything—it's almost impossible," began Youssef. "And then there's [the fact that] we haven't seen an Arab-Muslim family before [on TV]." It was important to build a show, he said, "really centering the story around this Muslim character who's really trying to figure out his faith." That made the pitch even more unlikely Youssef said, noting that Hollywood is typically reluctant to make pretty much any sort of faith-based story.
Amin noted the specificity of Arabic cultural references in the show—something she's never really seen depicted on an American TV show before, and asked Youssef if his writers room was majority Arab-American. "It's a mix," said Youssef, estimating the demographic number of Muslim writers to non-Muslim writers to be at about 50%. "The writing process is very much in finding the right ideas that support that"—referring to the show's themes.
"The way we collaborate is really fun, because there are people in the room I can relate with, and there's people who don't know. And in explaining to them, we're figuring out how we're going to explain it to an American audience. So there's value to having people in the room who don't share the same background."
Before the show premiered Youssef made sure to prepare his family for the honesty and candidness of the show representing the Muslim immigrant experience, telling his parents in no uncertain terms: "You're going to hate it." But to his surprise, they responded positively. "They've been really excited, just from a filmmaking level. They love how the show is made," he said. "They like that the show isn't attacking the faith or culture—it's just taking a look at people who are struggling."
Youssef stressed the claim that he's not at all trying offend or provoke with his show's frank depiction of 20-something, 21st-century American Muslim life, and that overall the response from the Arab-American community has been positive—including from two-time Oscar winner Mahershala Ali, a big fan of Ramy's first season, who reached out to Youssef about his admiration for the show, which later led to him appearing in Season Two. The result: Ali's current Emmy nomination for Best Supporting Actor in a Comedy.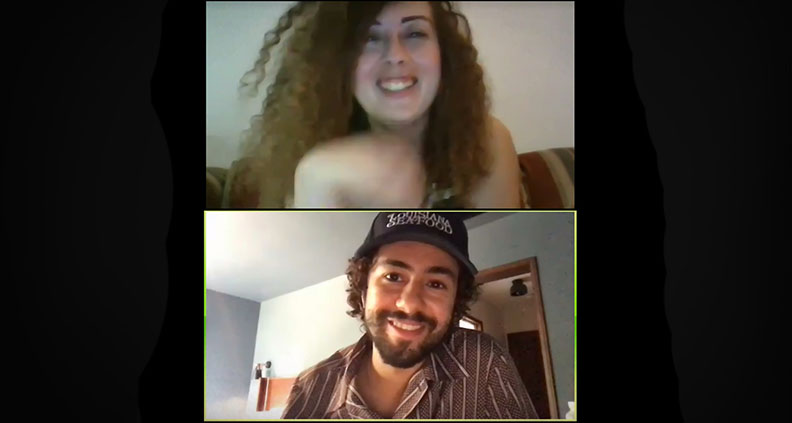 Turning to the event's audience watching live on Zoom, Amin opened the floor to some interactive Q&As, including one that asked for Youssef's opinion on so-called "cancel culture."
"When it comes to comedy, it's really important that you earn any joke that you're making, making sure it's coming from an honest place. A lot of jokes that get people in trouble are because they take something that's hurting people in a real way and try to make it funny, but they don't account for the true emotion of it."
When will Season Three be out? With production still in a "weird place" due to coronavirus, Youssef said that a new season of Ramy likely wouldn't shoot until Spring 2021. Amin asked if Youssef planned to shoot in Egypt again. Youssef said he'd love to do something that, "from top to bottom is a full Cairo production," saying that for Ramy's field trip to Cairo in Season Two, only the show's DP was imported from the US; the rest of the crew was hired locally.
"I always suffer from those big Cairo crews," Amin laughed, after Youssef pointed out how many people seemed to be on set in Egypt. "That's how they tell me they do it in Hollywood!" she added.
Amin asked Youssef if many people from Egypt had watched the show. "Yeah, I've been surprised. It seems like a lot of Egyptians watch it," he said. "They seem to be very excited about it, which has been really, really cool. I expected that there would be a lot of resistance to some of the things we talk about in the show, but overwhelmingly people have been like, thank you for talking about this."
Next up for Youssef? The 72nd Primetime Emmys—whatever form it may take this year—to compete for Best Lead Actor in a Comedy Series. Then the (virual) Ramy writers room, followed by… who knows? As always, Ramy Youssef is willing to see where the journey takes him.
The 2020 Film Independent Forum was supported by Premier Sponsor SAGindie, and University Partner Loyola Marymount University School of Film and Television.
Film Independent promotes unique independent voices by helping filmmakers create and advance new work. Become a Member here. To support our work with a donation, click here.
More Film Independent…