Freedom From Tradition: Mindy Kaling on Why 'The Mindy Project' Offers a Fresh Change
On December 15, TV fans gathered at LACMA for an intimate evening of conversation with multi-talented writer, executive producer and actor Mindy Kaling, creator and star of fan-favorite Hulu sitcom The Mindy Project.
With white wine on the stage, best friend-ship established and an adoring audience ready, Film Independent at LACMA curator Elvis Mitchell spoke to Kaling about her prolific career and the qualities necessary to achieve her craft and success.
After 11 years on network television—including working on NBC's The Office and introducing The Mindy Project on Fox before its cancellation last year—Kaling has now found a home for her show on Hulu.
Overall, Kaling is enjoying the freedom from traditional network sitcom parameters including time restrictions and tone limitations.
"This episode [the mid-season finale, which aired prior to the conversation] is 28 minutes long, which we never could have on Fox."
No spoilers, but the latest Mindy Project episodes on Hulu boast a stronger tension between jokes and emotion, which Kaling imagines network execs might respond to by saying, "We want people to, like, go to Target, not want to kill themselves."
Asked by Mitchell what she had to fight for during her network run, Kaling cited the entire conception of her character, Dr. Mindy Lahiri.
"The idea that the first Indian-American lead on a show would not be this naïve, plucky Mary Tyler Moore character, but that she was going to be selfish, and have the confidence of a white man" threw execs for a loop that didn't make the process any easier.
So how has Kaling moved beyond those expectations? "I don't focus on my character's 'otherness,'" she explained.
By refusing to focus on fitting into other people's idea of a character played by a person of color, Kaling has channeled her passion into creating a confident, complicated and—most of all—resilient female lead.
Kaling finds power in the "blind confidence" of Dr. Lahiri. "Often girls [of color] are told 'no one thinks I can do this, my parents don't think I should pursue acting or writing.' I'm always like, I hope they won't listen and that they have some of this resilience that this character has."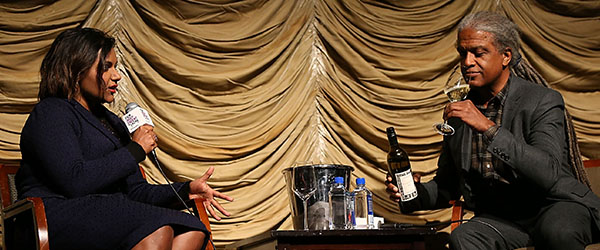 The romcom format on which The Mindy Project is modeled gets a twist from Kaling's nontraditional strategy of valuing relatability over likability, thereby allowing the complexity of her female character's flaws and desires to put her on an even level with male counterparts.
"We've long since forgotten that in [older movies] a man and woman who were in love were equally funny and great, formidable people who were a great match. Now it's just like, handsome, sarcastic guy and blond woman."
Adding to Dr. Lahiri's fun and funny workplace setting on The Mindy Project is the cast, including Ike Barinholtz, who Kaling notes is "not afraid to act the fool. That is such a rare gem in a sea of actors that want to be Al Pacino." Surrounding herself with a troupe of comedy players is nothing new to Kaling, who often works with the same group of creatives onscreen including director Nichoals Stoller and actor James Franco. "I've always been part of troupes…it becomes easy to improvise and easy to act with everybody."
While this makes for a comfortable set, Kaling explained, "The truth is, for someone who's like me and who looks like me, I don't get called in for a lot of parts. My surest bet is to just be friends enough with people that they'll put me in things. It's a nice little scam I've got going."
Luckily, Kaling assured us "I love writing for myself" and had, as recently as the afternoon of the event, finished the outline for a new feature she plans to write and direct.
And what if anyone attempts to hold Kaling back from telling the stories she wants to tell, with the characters she thoughtfully creates? Don't worry—the resilience her characters show clearly comes from within, and won't be stopped.
For more information at upcoming Film Independent at LACMA events, click here, and for more information about becoming a Member of Film Independent click here.
Jasmine Teran / Film Independent Online Community Manager