Strength and Humor: 'Queen Mimi' Documentarian Yaniv Rokah Builds Trust (on a Microbudget)
Yaniv Rokah certainly wasn't the only Los Angeles barista working part time while chasing his full time dreams. As an aspiring actor and filmmaker, Rokah was logging time at a Santa Monica café when he met an extraordinary 89-year-old woman named "Mimi"—soon to become the subject of Rokah's feature documentary debut.
Unaware of Mimi's status as a minor local celebrity with ties throughout the community (including some well-known Hollywood actors), Rokah learned that his new acquaintance was actually homeless and living at the Laundromat across the street. But soon a legitimate friendship began to grow between the two, leading to the (all but accidental) creation of Rokah's directorial debut.
Now over five years later, Rokah's heartwarming bio-doc Queen Mimi is finally in limited release, garnering acclaim from critics and delighting art house audiences.
Regular Film Independent contributor Chris Lombardi recently spoke to Rokah about the film's origins, the experience of making his first documentary and what Queen Mimi—and Mimi herself—can teach us about the importance of perseverance.
---
How did you first meet Mimi, and at what point did you decide you wanted to make a documentary about her?
I got to know Mimi while working at Caffe Luxxe in Santa Monica, right across the street from Fox Laundry, where Mimi used to live for 18 years. I noticed that this elderly woman was spending her nights—and days—inside the Laundromat. It made me wonder who she was, what had happened to her and how she managed to stay there. So I befriended Mimi and found out that despite her circumstances she was so full of life, strength and humor. Mimi simply mesmerized me. Given her age I felt a strong need to document and preserve her unique personality, so I started filming short videos of Mimi on my iPhone. It was only after I found out more about Mimi's incredible life story, and after the footage grew and grew, that I realized that our journey together had become a documentary.
You shot the film over a period of five years and on a very modest budget. Did you plan on shooting for that long, or were there financial factors that delayed production?
It took time for our friendship to grow before Mimi felt fully comfortable opening up to me. It was crucial to build trust, especially because of what she [Mimi] has been through. Mimi's philosophy is not to dwell on the past, which is a real challenge when you're trying to make a documentary film about someone's life story. It explains why I found out only after five years—and by chance—that Mimi had children. Financial factors never delayed production. I paid for this project until my savings ran out and we had to hire a professional editor. That's when our Kickstarter campaign along with the help of the local community really made the difference to bring the documentary Queen Mimi to life.
What was Mimi's immediate reaction when you said that you wanted to make a film about her? Do you think the two of you shared the same idea of what you hoped viewers would take from the final product? 
At first Mimi didn't quite understand the meaning of me following her around and recording her [all the time] on my iPhone. In fact, Mimi kept introducing me to people as her "photographer". It was only after I started showing Mimi some footage that she fully realized that she was being documented forever. She then started filtering herself more, which made it really challenging for me at times to interview her. However, our friendship always came first and this is why Mimi trusted me to tell her story. A lot of people knew Mimi, but nobody really knew her whole story. So I felt compelled to tell her story the right way. It's been so rewarding to see Mimi's story inspire audiences around the world. One of her famous Mimi-isms is, "Yesterday is gone, leave it there!" Mimi's spirit made her survive and overcome 30 years of homelessness. Queen Mimi makes everyone reconsider the meanings of home, family and life.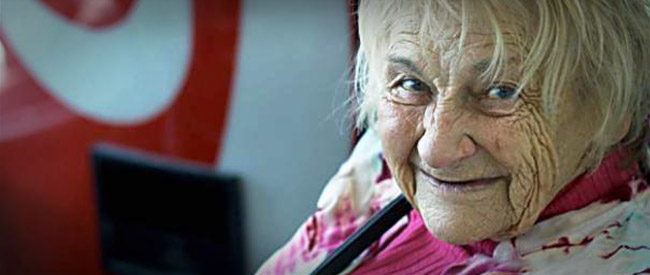 How did Zach Galifianakis and Renée Zellweger [who each appear in the film] end up getting involved? Did Mimi help you get in touch with all of her celebrity friends?
Mimi invited me to be her date to one of Zach's movie premieres. We had a limo pick us up from the Laundromat, and that's when I met Zach for the first time. He was super nice. I later approached his reps to try to arrange an interview with Zach for the documentary, but I never heard back from them. One day I asked Mimi if she could ask Zach for me. Mimi called Zach and left him a message, "Zach, I want you to be in my movie". And to my total surprise, a few days later I got a call from Zach to come over to his house to do the interview. We had a blast. And I had met Renée before at Caffe Luxxe. Renee helped Mimi furnish the apartment that Zach got for her.
Can you tell me a little bit about your production? I know you shot on a microbudget while working as a barista. How big was your crew? It seems liked you were involved in almost every aspect of production.
Thanks for noticing! [laughing] As a first-time filmmaker, it was challenging to wear all the different hats. It definitely started as a one-man show, operating the camera, checking lighting and sound and interviewing all at once. Of course I made many mistakes, sometimes even forgetting to turn on the mic. The project became my personal film school. Queen Mimi has rawness as a result, just like the story it tells. As the documentary grew, I called my friend and producer Elliot V. Kotek and he helped me get professionals on board. After our Kickstarter campaign we were really lucky to be able to hire Ally Garrett (Angry Birds) as our editor. Together, we turned 60 hours of footage into a 77-minute film. Queen Mimi is a fast-paced documentary.
Has Mimi seen the film? If so, what did she think?
When Mimi saw the film for the first time, she yelled at me a few times. She was startled that I had obtained old photos of her and her family, so she said, "Where did you get that from? You need to take that out!" I think that it was overwhelming for Mimi to see her entire life unfold in front of her eyes. Not to mention that she did not want me to speak with her daughter at all. But I was patient with her. After Mimi finished watching the whole film, she seemed to finally realize how precious life is and how important it is to share your story. The most important thing to me is that Mimi is happy with the film and its message. She's now proud to tell everyone, "They made a movie about me! He did a nice job."
What's something you'd do differently on your next project now that you've made your first feature?
Collaborate from the start. You can't do this alone. The more you collaborate, the better the project becomes. You learn so much and grow from working with everyone. Just make sure that you like the people you're going to work with, because you're going to spend a lot of time together.
---
Queen Mimi is now playing in select theaters, and is scheduled to hit VOD platforms in July. For more information, visit the film's website or Facebook page.
To learn more about Film Independent, subscribe to our YouTube channel. You can catch up with the rest of our blog here. To learn how to become a Member of Film Independent, just click here.