Global Media Makers: Ayten Amin Conquers TV, Crushes Cannes and Keeps on Going
Egyptian filmmaker Ayten Amin has always done things her own way, chasing her passions and trusting her instincts to lead her in the right direction. The Cairo-based writer/director fell in love with cinema at an early age, yet initially pursued a career in finance. Unfulfilled, she hit the reset button on her life in a big way—studying film and helming several critically acclaimed shorts, before hitting it big as co-creator of the hit Arab world TV series Seventh Neighbor.
Made alongside filmmakers Heba Yousry and Nadine Khan, Seventh Neighbor premiered outside of the Arab world's big-ticket Ramadan TV season. Telling the interconnected stories of a group of neighboring apartment-dwellers, the ultra-realistic, character-driven series satisfied a widespread hunger for the sort of grounded stories not typically a part of the region's entertainment landscape.
Though urged to continue on in TV, Amin next set her sight on features. As one of our earliest Global Media Makers Fellows, Amin participated in the 2018 Film Independent Screenwriting Lab through a Global Media Makers fellowship and became a regular part of Fi's International Programs teams, traveling to speak and mentor at Film Independent workshops worldwide.
Recently, Amin's debut feature Souad—a drama about a young woman's quest for answers in the wake of her sister's suicide—was accepted into this year's Cannes Film Festival. Currently, Amin is eyeing a 2021 release for the film.
We recently caught up with Ayten to discuss her circuitous career journey, her many unexpected successes, staying true to one's artistic impulses and more:
AYTEN AMIN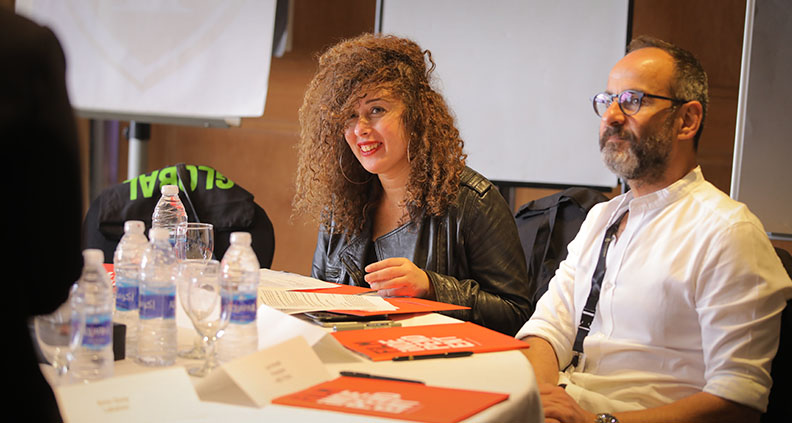 You started off as a banker. What led to the decision to make the transition to film? Is that something you always wanted to do?
Amin: I was very interested in film from an early age. But my father was a banker and I went the traditional way. I finished college, studied in the Faculty of Commerce and started working in the bank when I was 20—so very young. I wasn't fulfilled, and then two or three years later I started to get interested in film. I didn't know exactly what I wanted to do, so I studied film criticism. Then I started writing—I didn't pursue it. I just wrote for a workshop and then it ended. Two or three years later, I started this Diploma of Filmmaking. At the beginning, I didn't tell [the school] that I wanted to be a director; I told them I wanted to be a writer. But when I started doing the projects, doing the shots and planning the story through the shots, I felt that I was really more interested in directing.
Your breakout was the short Spring '89. What are some things you learned on that project that you've carried forward in your career?
Amin: My first short was actually Her Man, in 2007. My second short was Spring '89. My first short was based on a story by an Egyptian writer, but written in English. It was from a book of short stories about her childhood. It was my first time to write. It was my first time to do anything. I learned everything in filmmaking during that first film. I was doing art direction, costumes, I found locations. At that time, I didn't know that I wasn't supposed to do all of this. It was good because when I evolved to do features I knew the details about every department.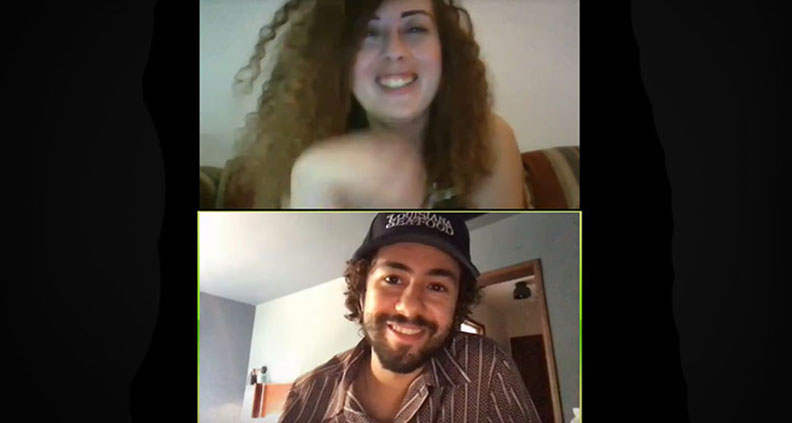 So you began as a writer and then decided to direct. What did you find different about those two things?
Amin: I'm better telling the story visually more than writing it. I understand the drama—the characters, the conflict—and how to create them. When I write, I always write for myself. When people see it, they go, "I don't know." My writing, you feel it when you see the film, not when you read the script.
Working with our Global Media Makers Fellows, I've become more aware of the system of Ramadan TV in the Arab world. But your series Seventh Neighbor became a phenomenon outside of this normal way of doing things. Could you describe how the show happened?
Amin: Three female directors directed the series. They were my friends and we were all involved with the writing of the series. The project started out with Heba Yousry. She had the idea, and I started to develop the idea with her. Because we had a lot of episodes, we had the idea of each of us directing a limited number of episodes. This is something that is not usually done here. I know that in the US you always have a lot of directors on a show. But here you have one director for the whole season—always one. And [the show] was not a format. Because sometimes they buy "formats," like Jane the Virgin, and they do it here. They change some details, but it's the same show. Seventh Neighbor was not like this; it was all original and made for the season outside of Ramadan.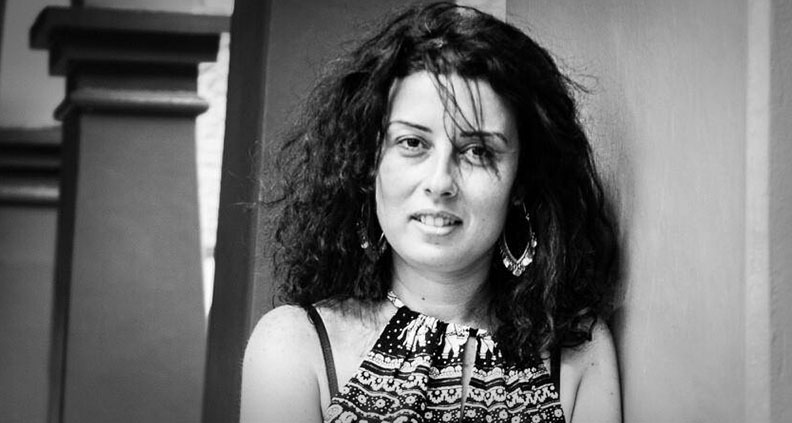 It became a very big hit because it was about the daily life of neighbors in a building. There were no big plot twists or conflict or drama. The producer who was working with us, when he watched the first two episodes he was sure it was going to fail because he felt that nothing happens. But actually, it became the biggest success in the last five years here. The series was character-driven. That's why it became a big hit.
Let's talk a little bit about your involvement with Film Independent and Global Media Makers. I think it's unique because you've been on the Fellows side, but you now travel with our international programs as an instructor and Mentor yourself. What do you think is the key to a successful mentor/mentee relationship?
Amin: When I first went to Los Angeles for the Screenwriting Lab, it was very good because we don't have these labs [in Egypt] to develop your feature film. All of the Fellows were American and they were always talking about the craft of writing, which is something we don't usually talk about. So I learned a lot from this Lab and afterwards I got involved, beginning when [Film Independent] went to Saudi Arabia to do a workshop. I was working with Jeff [Stockwell], who was my Mentor. I was still working on my script at the time and I kept writing and sending it to him, and he kept reading and sending me notes. It was really good working with him. I started to analyze the scripts from the perspective of our part of the world. I love mentoring people who are directing shorts—it actually benefits me when I'm doing this. You start thinking about the rules again and you get them refreshed in your mind. It's very good to discuss with people who are fresh and who have nothing to lose and are still starting out [because] they take more risks. It keeps you updated with what's happening and it keeps you alert with how writing can go. So it was very good for me to do this.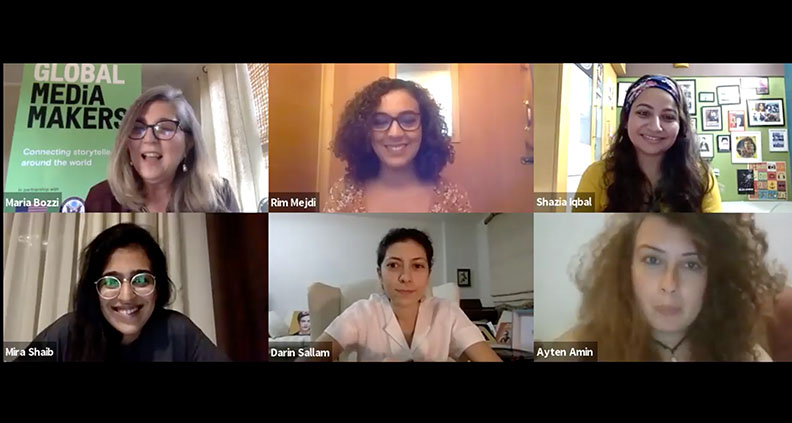 You've had a lot of success at festivals this year. What's your advice for how people can make the most of these experiences, going to Cannes or Venice or something like that?
Amin: When we got selected to Cannes we did not have a sales agent and that is not the norm. A lot of people told me here not to apply to Cannes. The film was getting rejected a lot because the film is original, it's not what [people] are expecting from this part of the world. But we did it anyway and got selected and they [Cannes] understood it very well. From my experience, when I made all the artistic choices that I wanted to make it was really appreciated. I want people who are making their projects from the Arab world to stick to what they want to make.
So—what are you working on next?
Amin: People here wanted me to continue working in TV series, and I didn't want to do this—I wanted to make my film. A producer told me this is not the right choice, but I don't regret it at all. With Souad, it took us three years for someone to produce it and finance it. But at the end it was a success. I hope next time it would be easier [laughs]!
To learn more about Global Media Makers, click here. To learn more about Ayten Amin, check out her entry in our Film Independent talent guide.
Watch Ayten Amin discuss Spring '89 as part of the Q&A following our recent Global Media Makers screening, The Female Gaze:
Film Independent promotes unique independent voices by helping filmmakers create and advance new work. To become a Member of Film Independent, just click here. To support us with a donation, click here.
More Film Independent…