Global Media Makers Update with Jordanian Filmmaker Asma Bseiso
Earlier this year Film Independent and the U.S. Department of State partnered together to launch Global Media Makers, an innovative mentoring initiative connecting visual storytellers from around the world with leading U.S. entertainment professionals through specially tailored mentorships, workshops and master classes.
The program is ongoing, and throughout the next couple of months we'll be catching up with some of our 2016 Fellows to see how their projects are advancing, as well as recap what they learned during their May 2016 residency in Los Angeles.
***
Jordanian writer and director Asma Bseiso began her career in 2007 making several short films, which received high festival praise at a number of local and international film festivals. Shortly thereafter her feature-length documentary, I am Gaza, was the opening night film at the Amal Film Festival in Spain as well as the Arab Film Festival in Oran (the film eventually went on to screen in more than 13 countries). Bseiso has also worked with numerous TV stations such as France 24, ARTE ad MBC and has partnered with multiple NGOs, including the UN and Care International.
In 2010, Bseiso started offering workshops for beginning filmmaker and in 2012 was awarded a scholarship to study Directing at the El Instituto del Cine Madrid. Her most recent documentary, Aisha, follows the story of a young girl abandoned by her family and raised in the orphanages in Amman, tracking her titular subject's life over the course of four years, from 2010 to 2014. The film recently won the Best Documentary Award at the Malmo Arab Film Festival.
Through Global Media Makers, Bseiso has been developing her first narrative feature Mangoes With Nostalgic Flavor—about a young woman who returns to Gaza to seek out her childhood love. During her Global Media Makers residency in LA in May, Bseiso worked to develop the script with program mentors, and workshopped a scene from the film in the Global Media Makers Directing Lab. Learn more about the process here.
Since returning home from Los Angeles, Bseiso has been busy. She's taught a filmmaking workshop to Bedouin kids in the desert of Wadi Rum and has been traveling to various festivals with Aisha. Between all of this, she's been working on yet another short film and has continued to rewrite Mangoes.  She also attempted an adventurous, although unsuccessful, trip to Gaza, which she documented in a moving video which she shot on her iPhone.
Film Independent recently reconnected with Bseiso to see what she's been up to, and to learn a little more about her time in Los Angeles and with Global Media Makers. Here's what she had to say: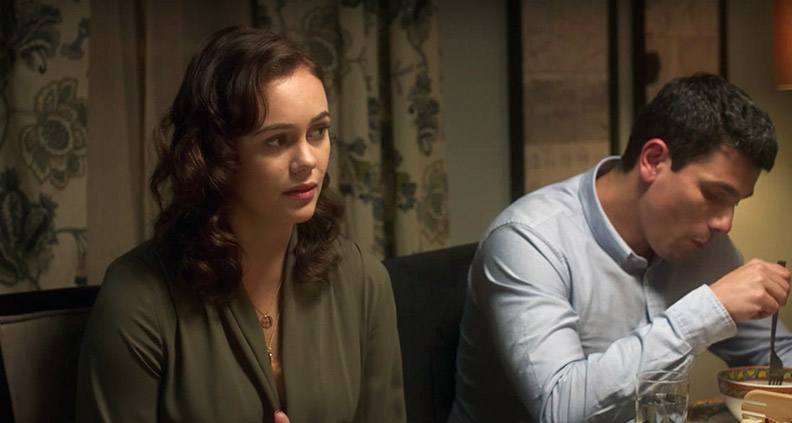 So! Bring us up to date with what you've been doing since you returned from Los Angeles.
Since I came back, I've been working on the Mangoes script, applying to film funds and looking for a Jordanian producer. I tried to go to Gaza to develop the script but due to the political situation in Egypt I couldn't make it, so I went back to Jordan. I'm also working on a short film for an NGO to help the Syrian Refugees in Jordan. My film Aisha is going to festivals—I'll be attending one this weekend in Palestine, Film Lab Palestine. The film also received the Best Documentary award at Malmo Arab Film Festival.
Anything new to report about your Global Media Makers project?
As for Mangoes with Nostalgic Flavor, it might become Chili with Nostalgic Flavor instead [laughs]. We were talking about this lately, since chili is more popular in Gaza than Mangoes. I will keep working on the script, but from now on with the help of our producer, we will continue to apply for film grants and look for co-producers. We might need to shoot the film somewhere else due to the situation in Gaza. That's plan B.
Let's talk about inspirations. What are some of your favorite film? 
My favorite Jordanian films are The Council for Yahya, Abdullah and Theeb. My favorite American films are Taxi Driver, Being There and Once Upon a Time in America.
What are some things about Jordan that film lovers should know? Also, what are your tips for shooting a movie in Jordan?
Jordan has hosted a lot of Hollywood films, like The Martian, Lawrence of Arabia and many films that relate to Iraq. The people of Jordan are so hospitable, welcoming and generous and the weather is lovely in spring and autumn. There are many stories here, since Jordan is a big host for refugees over history. Palestinians, Iraqis, Syrians. It's a safe country, relatively speaking. It has one of the Seven Wonders of the world, Petra. We have the Red Sea, one of the only seas in the world where you can find corals and enjoy snorkeling without having to go too far into middle of the sea. Wadi Rum in the desert is miraculous—you can go there and enjoy the sunset, a sky full of stars and spend the night with the original Bedouin people of the area.
What's your single favorite memory of your time in Los Angeles?
One of the greatest memories I have is hanging out with the actors who were in my scene. They took me on an excursion in nature. We went to one of the deserted beaches, where the waves were enormous and extremely beautiful, and then to high green mountains somewhere close to Malibu to watch the sunset. I was invited to an old typically American restaurant (The Old Place-Cornell)—I loved the idea that it used to be a post office. We had one of the best Sirloin steaks. Yummmmm…
What's one thing you learned during the Global Media Makers Directing workshop that you incorporated into the scene you filmed? 
I learned how much difference it creates if a director doesn't know exactly who's scene it is, how confused the audience will be if the shots cover everyone in the scene without focusing on the one character whose story I really want to tell. And it was nice to work on an American set and with an American crew.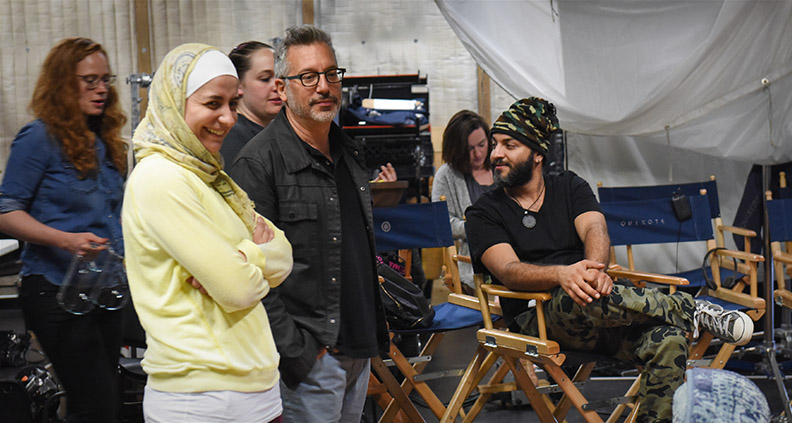 What were some other important things you learned from your Directing Lab experience? 
Shooting the scene really helped me develop my entire script, because from that single scene I knew that there are many scenes in the film that didn't say anything and that I had to remove. When I had the first draft of the scene, ( our Mentor) Jeremy (Podeswa) asked: what does this scene tell us about the character? What does it add to the story? Then I knew that it added nothing really, so I changed it entirely. When I went back to the original script, I removed scenes and added others in a way that served the story. Another thing I learned from Jeremy is how to deal with the crew, that the director must be firm and tough on set. The film is the only thing she should care about, and that the director must not give up easily on what she wants. No compromises must be done if they are crucial to the director's vision.
---
To learn more about Global Media Makers, please visit the program page on our website and check out the Global Media Makers archive on our blog.