Guest Post: Screenwriting Lab Miguel Nuñez's Big Story Solve
The non-Member deadline for the 2023 Film Independent Screenwriting Lab is coming up fast: August 28, just ten short days from today! Of course, Members of Film Independent still have until September 11. So maybe you might wanna consider joining? Just a thought. In the meantime, we reached out to 2018 Screenwriting Lab Fellow Miguel Nuñez to help learn what the experience was like for him, and how the Lab directly contributed to the production of his second feature, Hombrecito.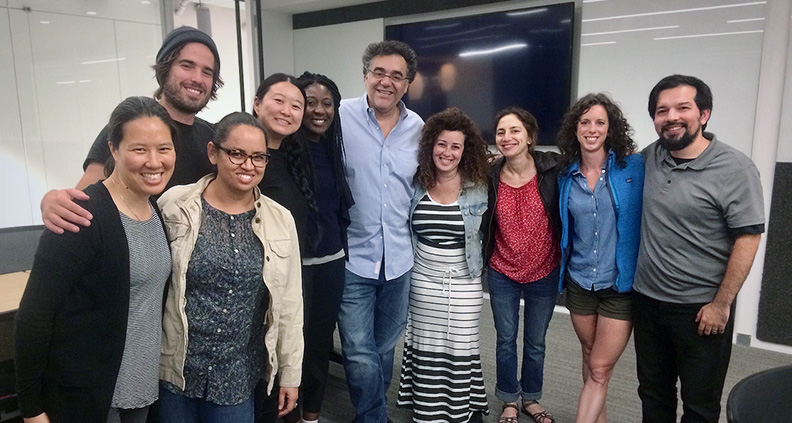 There are formative moments that shape us as filmmakers. In my case, attending Werner Herzog's Rogue Film School was fundamental to developing my vision and philosophy. After that, I was able to take the leap into writing and directing my first feature film. By the time I wrote my second feature, I applied to Film Independent's Screenwriting Lab. Luckily, I made it through the interview process and a couple of weeks later, I was selected as one of the writers in the program. The Lab not only became a source of knowledge and inspiration, but it also played a crucial role in the development of my film, Hombrecito (Little Man).
Film Independent Artist Development puts together an impressive program. Sessions included special guests, screenwriters and agents, a writing workshop, creative advisors for each of the Lab fellows, and a retreat where we all pitched our projects to industry professionals. Before giving away details about my mentor or guests, I want to talk about the biggest surprise in the Lab, which had the greatest impact on my screenplay. Without a doubt, it was the camaraderie and feedback from my fellows: Jenny Halper, Li Lu, Ayten Amin, Ellie Foumbi, Margaret Hedderman and Joshua James Richards.
During the lab, we got to know each other, learned about the films we found meaningful, shared in fun, personal anecdotes and read each other's scripts. By the time I got my peer feedback forms, where my fellows analyzed my screenplay, I received honest and detailed criticism. Without hesitation, their feedback gave me a direction to follow on the upcoming revisions: the Chinese characters took on a bigger role, dialogue was rewritten and the motivations of all the characters were clarified, down to the smallest roles.
Besides the objections, it was helpful to know that I was going in the right direction with comments such as "strong humor, reminiscent of the theatricality of spaghetti westerns and surrealism of Jodorowsky." In retrospect, the different backgrounds of my fellow writers offered diverse points of view that had a positive impact on my screenplay and me as a writer.
In the Screenwriting Lab, my peers and I were in such depths, and it took a whole expedition to write our way out. We would learn from each other's writing approaches during the Screenwriting workshop with Ruth Atkinson and at the sessions with our creative advisors.
I was fortunate to have writer/director Rodrigo Garcia (Nine Lives, Last Days in the Desert, Mother and Child) as my advisor. After reading Hombrecito, he suggested that I read the picaresque novel The Life of Lazarillo de Tormes and of His Fortunes and Adversities and envision the protagonist, who gets around through harsh and comedic circumstances, as the protagonist in my script. The novel was published in 1554, which gave me a perspective on the kind of narrative I was trying to create. Further, during our one-to-one meeting, he also shared some advice on working with actors.
Film Independent's Artist Development Screenwriting Lab provided the fellows with a complete and one-of-a-kind experience. At its completion, I knew where my screenplay needed to go. The final version of Hombrecito script was co-written with my comrade, Aidan Stone. The film is currently in post-production.
Film Independent promotes unique independent voices by helping filmmakers create and advance new work. To become a Member of Film Independent, just click here. To support us with a donation, click here.
More Film Independent…
(Header: Hombrecito)