How Art House Theaters Across the Nation Are Getting Creative During COVID-19
NOTE: the following blog originally ran on May 1 and reflects theater info that was available at the time. For programming updates and other news, please check out the theaters' websites.
***
Do you miss going to the movies? We certainly do. And at this point our umpteenth week under COVID-19 safer-at-home orders, we even miss some of the more obnoxious. Oh what we wouldn't give these days for the texting teens and sticky floors. Pre-show trailers programs that last longer than an entire episode of Law & Order: SUV? Bring 'em on! Fact is, we miss everything about going the movies—and can't wait to go back.
We especially miss going to our local art house cinemas—which, in addition to their work as programmers and exhibitors, also regularly serve as physical hubs for their local arts communities. Over the past year, we've been trying to shine a light on great art houses all throughout the country in our regular Theater Crawl series. And as you can probably guess, all of these theaters have had to reinvent their businesses, in one way or another, in order to continue servicing their mission in these weird, wild times.
So! We decided to take a quick survey among a handful of our previous Theater Crawl subjects to see just how they're coping with the coronovirus shutdown—as well as what surprising new opportunities this challenge has produced. Here's what they said:
How has your theater been impacted by COVID-19? What have you done to maintain engagement while theaters are closed?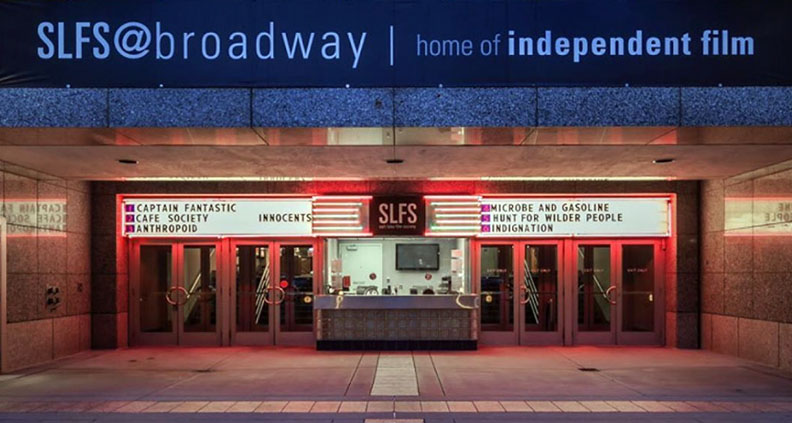 It is unprecedented for theaters to close. SLFS shuttered our Broadway Centre Cinemas and Tower Theatre on March 13. SLFS is reliant upon ticket and concessions revenues, so closure eliminated two very important parts of our financial health—approximately 50% of our budget. In order to continue to employ 34 individuals and remain operable, we had to think quickly. We chose a strategy to pivot to a virtual screening room or virtual cinema model by launching SLFSathome.org, as a way for SLFS supporters and donors to "attend" a movie on their own laptop or preferred digital device. It also gives our donors and patrons an active way to support SLFS recovery, by donating any amount in addition to their ticket price. It's a great way for people to not only support SLFS, but also to have some in-home entertainment when they do. We are fortunate to continue our Media Accelerator Studio program MASTstudio.org, which continues to foster our artists and do online labs in technology-enabled and animation film spaces. (Tori Baker, President/CEO, Salt Lake Film Society, Salt Lake City, UT)
The state has closed all theaters and issued a stay at home mandate, so naturally that includes us. We've been offering weekly viewing suggestions through our email list and social media. (Barry Kryshka, Director, The Trylon Cinema, Minneapolis, MN)
We voluntarily closed on March 15, which turned out to be just a bit ahead of a local government-mandated shutdown of all theaters in our city. Our in-theater programming was 100% shut off at that point, without any real advance planning on exactly what we were going to do without a physical cinema to work with. Luckily, a number of our great film distributors quickly came up with streaming options for new films that arthouses could promote and rent to their audiences. This allowed us to almost immediately have income-generating programming, and allowed us to continue our mission as a nonprofit arthouse to bring a wide and diverse range of new films to our audience. By Friday, we were already virtually "opening" four new releases. We're also creating our own in-house streaming content (livestream movie parties, staff picks videos, film talkbacks, etc.) to keep our audience engaged during our temporary closure. While the transition from the physical to the virtual world of film exhibition has been stressful on many levels, the small silver lining is that it's forcing us to be creative and innovative in coming up with new programming ideas that a couple of months ago we never would have even dreamed of doing! (Jeff Yanc, Program Director, The Loft Cinema, Tucson, AZ)
We've been dark because of COVID-19 since March 16, after having been open every single day since we opened in November 2013. It's a huge blow, but our community has rallied in support, showing up for movies and discussions in our Virtual Screening Room and supporting our weekend FilmScene at Home concessions bundles, which we deliver to cars curbside on Friday nights. (Andrew Sherburne, Executive Director, FilmScene, Iowa City, IA)
We've been highly impacted by COVID-19. Our historic Oriental Theatre has been closed since March 14 and will remain so until further notice. Our staff has been working from home since mid-March as well. We gave our Members the option to extend their memberships for the duration of the theater closure, and when distributors began to make new films available in the virtual space, we created a new portal to bring all of these options together. Our concept is called Sofa Cinema, and we are programming it just about as we'd program the Oriental Theatre— making roughly the same number and mix of films available to our audience, with new films "opening" on Fridays. The response has been tremendous so far; it's a mix of people looking for a curated cinema experience and really wanting to support Milwaukee Film. (Karina Henderson, Marketing Director, MKE Film, Milwaukee, WI)
What was the last screening you held before your theater had to suspend programming?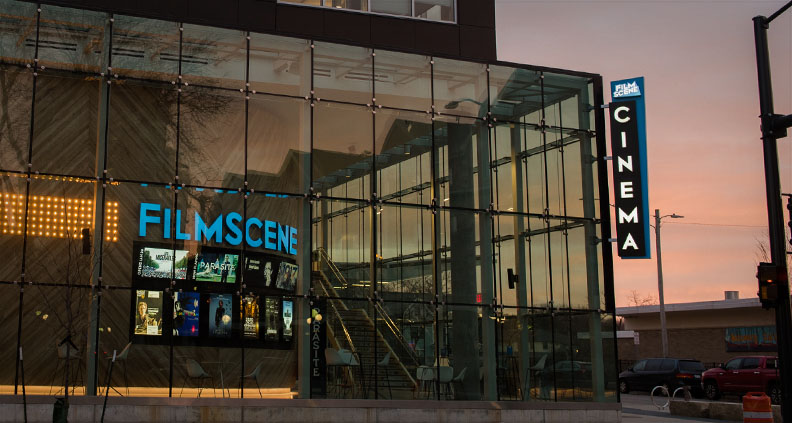 Salt Lake Film Society had all our theaters operable, with titles ranging from Emma to Ordinary Love. The decision to close came swiftly, and films slated to be released in the April timeframe like Extra Ordinary and Booksellers became our focus for our new online virtual experience. (Salt Lake Film Society)
Funny thing is… I don't remember! Ha. It was a Sound Unseen partnership, and it sold out. (Trylon Cinema)
The weekend we closed, we were showing a number of first-run films on our three screens: Portrait of a Lady on Fire, Parasite, Saint Frances, Wendy and Extra Ordinary. And perhaps as a harbinger of bad luck to come, our Cult Classic that weekend was a 4oth anniversary engagement of Friday the 13th. (The Loft Cinema)
We opened Portrait of a Lady on Fire and played it for three days. Our programming team and our patrons had been eagerly awaiting that film for a long time, so we were both glad a few people could see it, and sad that it didn't get a well-deserved multi-week run. (FilmScene)
We had a 10:15 p.m. screening of Parasite on Friday, March 13. We made the decision that evening to close the theater starting the next day in order to best serve our staff and our community. (MKE Film)
Have you partnered with any other arts organizations or local businesses for support during this crisis?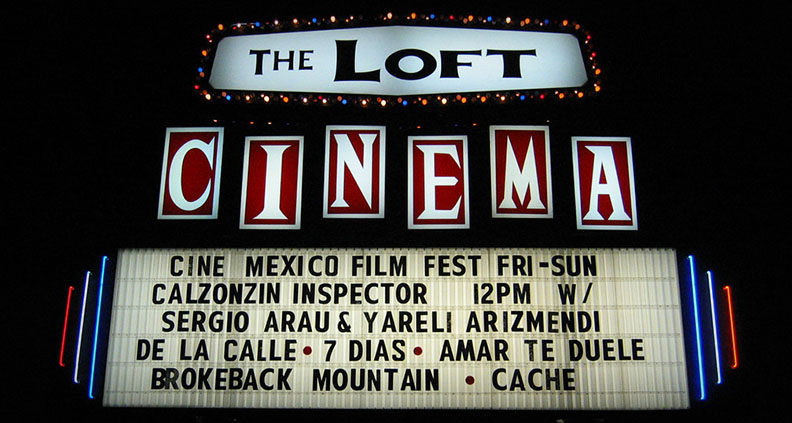 For SLFSathome.org we are partnering with our East Coast peers, the Coolidge Corner Cinemas, and hope to partner with even more cinemas soon. We serve on the membership committee at the National Association of Theater Operators and have encouraged the art houses in America to join that trade organization and benefit from the hard work that team is doing. SLFS assisted in founding the National Art House Convergence, and that group has been a lifeline during the crisis. The ability to create a conversation on a daily—sometimes hourly—basis with your industry peers has been essential in making fast decisions and pivoting the business. SLFS attends weekly webinars/town-hall meetings with the Chamber, Downtown Alliance, and the University of Utah School of Business. We are in contact with our county Zoo, Arts and Parks program and its group of arts executives, as well as Utah Museums, Utah Nonprofits Association and other various local supporting groups. (Salt Lake Film Society)
Yes, The Loft Cinema partnered with a number of other local arts organizations to promote a Virtual Earth Day celebration here in Tucson—in honor of the 50th anniversary of Earth Day—with different groups offering a variety of eco-related online activities. The Loft is, of course, offering a couple of new environmental documentaries that people can watch, as Earth Day has always been a big deal here. (The Loft Cinema)
Yes. In fact, our community banded together to launch a new alliance, the Iowa City Downtown Arts Alliance, a consortium of arts nonprofits in our central cultural district that are all jeopardized by this outbreak. (FilmScene)
We've always had a tremendous network of support from local businesses and other nonprofits throughout the city. The support in the last month has been going both ways. We partnered with Associated Bank—our presenting festival sponsor and proud supporter of the Oriental Theatre—to add their support on Sofa Cinema. But we've also been highlighting local nonprofits, restaurants, retail and other partners to send some support their way. We have not been doing an urgent ask for donations of our own, so we wanted to make sure to direct our supporters to places that can help the community. (MKE Film)
What has your organization's social media strategy/messaging been during this time?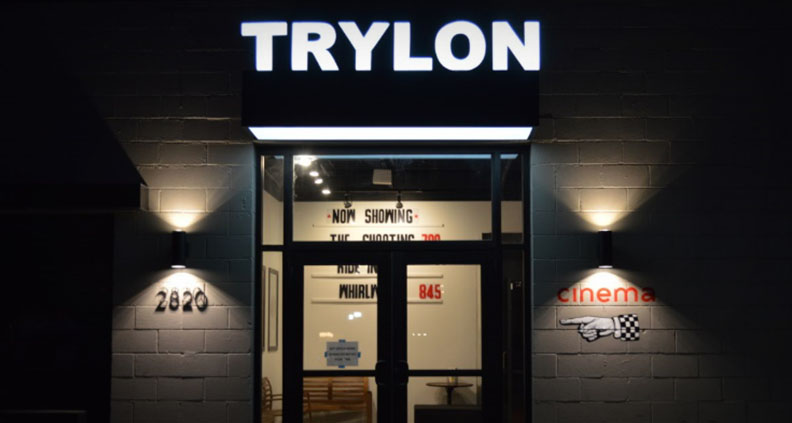 One: We're still here to help you choose what to watch. Two: We could use your help during this thing. Three: If you can't help, don't worry, we'll come through it. (Trylon Cinema) 
We've been careful to be sincere and upbeat, yet realistic and informative, with our messaging during the closure. And also trying to be clear that we're part of a larger community that's traveling a hard road right now, so that's it's not just all about our own theater. The community-building messaging is really something we practice year-round. Our current physical marquee message, which simply states, "We'll Get Through This Together," has received a lot of enthusiastic support online. (The Loft Cinema)
We're focusing on maintaining our passionate community through shared screenings, staff spotlight, fun at home activities for kids and much more. (FilmScene)
When we launched Sofa Cinema, that gave us a chance to have a touch of normalcy in our communications. Showing films is what we do best, and so that's been pretty consistent with how we always interact with our supporters. We're diving into a campaign to increase our digital engagement that we call "Together in Film." We'll use our digital channels, including social media, to highlight what brings us together in film, in our city and in our programs—plus keep an eye toward the future. (MKE Film)
How are people able to support your organization during this time?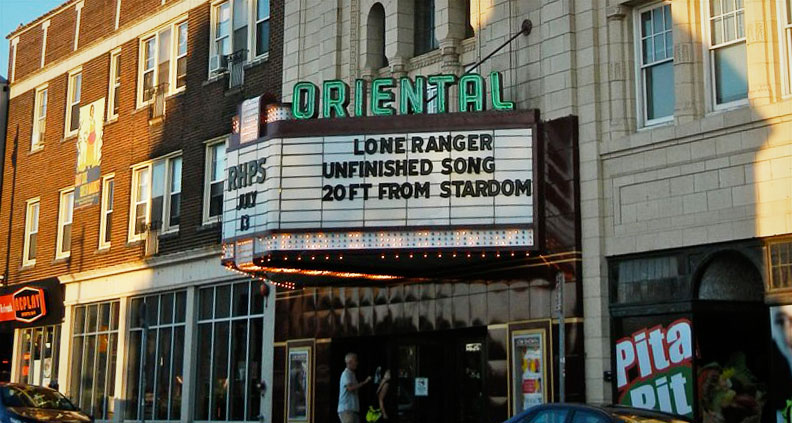 The AHE/CI Northern Trust has given Salt Lake Film Society a challenge grant for $200,000—so every donation that any individual makes at SLFS.org will immediately be doubled. This includes Red Carpet Club memberships, which also have thank-you benefits and make a donor part of our donor community of film goers. In addition to direct donation for a matching opportunity, supporters can watch movies on SLFSathome.org each week. We open at least two new films each Friday, so make "Friday night at the movies" a thing, in support of SLFS. Lastly, there are various ways to support SLFS continually including choosing SLFS as your charity at Smith's grocery stores, making us your Amazon Smile, and through choosing us as a matching charitable contribution if your employer matches donations. (Salt Lake Film Society)
We've been selling 5-admission cards, sort of like gift cards, and have had a very strong response. (Trylon Cinema)
One of the best ways for the public to support us during the closure, and to help us generate much-needed income to support our staff (all of whom we are committed to keeping on the payroll during the closure) and other essential operating expenses, is to purchase or renew a Loft Cinema membership, buying gift cards and making donations are also great. And of course, renting some of our streaming titles is a real help, and that way you get to see a great new film, so it's not just charity—it's an actual transaction.   All of this can be done through our website. (The Loft Cinema)
There are multiple ways: donations are always welcome, memberships are being extended during closure, virtual screenings are shared with us and take home concessions bundles are a hit! (FilmScene)
The two easiest ways for people to support us are to watch our Sofa Cinema films using this link, or to consider becoming a Milwaukee Film Member. (MKE Film)
Give us one stay-at-home streaming recommendation that perhaps previously played at your theater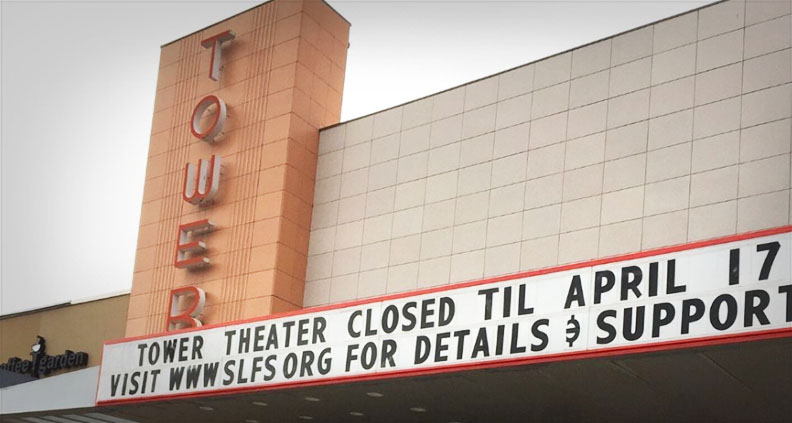 We of course must recommend a SLFSathome.org title! And of the titles we have opened, there's something for everyone, but I highly recommend that people watch the Lee Grant film series. We have one double feature a week playing through the next couple of weeks, and you can still tune into the charming A Father… A Son… Once Upon a Time in Hollywood, about Kirt Douglas, his family and their legacy. (Salt Lake Film Society)
We've partnered with other programmers to share their suggestions, and the first two episodes are online: Dan Halsted at the Hollywood Theater and KJ Relth at the UCLA Film and Television Archive. (Trylon Cinema)
One great recent film to stream is the 2019 documentary, Linda Ronstadt: The Sound of My Voice. It's a very insightful look at the career of one of the most successful music artists of the 1970s, as well as a commentary on the specific issues female artists face in the music biz, still relevant today. And of course, it's full of great music. This film was our #1 top-grossing film of 2019 here at The Loft, and Ronstadt herself is a Tucson native, so the major success of this film at our theater was a real testament to art houses' ability to program films that speak directly to their communities. (The Loft Cinema)
In these trying times, thank goodness there CatVideoFest, guaranteed delight at a "name your price" bargain. (FilmScene) 
April 14 was Milwaukee Day (an homage to our 414 area code) so I have to recommend a local title. We currently have the Milwaukee-made "Give Me Liberty" available through Sofa Cinema. It's a must-watch, especially during a time when many of us feel so disconnected. It played at Cannes and Sundance, then had its Milwaukee premiere at the Oriental Theatre before playing the Milwaukee Film Festival. It very deservedly won the John Cassavetes Award at this year's Film Independent Spirit Awards. If anyone reading hasn't seen it yet, there is no time like the present. (MKE Film) 
Film Independent promotes unique independent voices by helping filmmakers create and advance new work. To support our work with a donation, please click here. Become a Member of Film Independent here.
Keep up with Film Independent…