"It all comes down to the script": How a Little Indie Film Won Over a Big-Budget Casting Director
As a casting director I get sent lots and lots of scripts. Producers, writers and directors are hoping to get me involved to help them get talent attached to raise financing for their project. Whenever I get the call (or these days, the email), I have such high hopes. I hope that the screenplay I'm about to read is good, really good.
I love the indie film world and truly admire indie filmmakers. The playing field has changed so much in the last several years. If you can get your film made through the financial hurdles and the fickle marketplace, I raise my glass to you. That said, I find myself disappointed a lot these days. I receive scripts that aren't quite "fully baked" so to speak; they're not ready to hatch yet. When I read a script and I get to page 30 or 40 and nothing has happened yet to grab my interest, I can't continue. When I get to that point and I've waded through typos, grammatical errors, I think, "Is this the best you can do? Do you really want this to represent you in the marketplace?" More importantly, do I want to partner up with you and represent your project if you're sending out material without thinking of the big picture?
Never was I more thrilled to read The Sublime and Beautiful screenplay.
An actor I'd become acquainted with a few years ago (as he appeared on a web series I produced), Blake Robbins, made a very simple statement on Facebook. He said something along the lines of,  "I'm very excited to announce that next winter I will be shooting my first feature film as writer, director and star." Robbins later confessed, "It was a public declaration that I made in order to force myself to live into it. And fortunately people like you came along for the ride."
I responded with another simple statement. "I'm here for you if you need anything. Let me know how I can help." I think it took all of five minutes for him to respond and send me his script. Again I had the hope. It rose in my heart as I started to read his script. You see, I'm always looking for a project to get involved with as a casting director and producer that inspires me and makes me think, "I have to do this film!" Not only was his script good, it was great. It grabbed me emotionally from the moment I cracked the first few pages. Good writing does that. It even made me forgive all the typos and grammatical errors (sorry Blake!).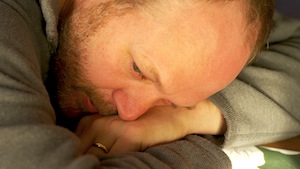 We met and I remember being charmed by Blake in the most organic way. I felt like I would follow him anywhere and wanted to help him make this dream become a reality. Another key element (besides having a great script) was that he had his ducks in a row. He had done a budget, which was meager—more on that later—and had a location lined up (Lawrence, Kansas). Blake's mother is from Kansas and he'd also shot several films there with a local producer, so they had access to local crews and equipment. He had chosen an amazing Director of Photography, Lyn Moncrief, who was willing to work with only natural light to tell this very raw story (which eliminated two departments—sorry grip and electric!), and had a few actors lined up to play the lead characters. I cast a couple of roles from L.A. and we cast the rest on location in two days seeing over 200 actors and non-actors. Since I just had minor surgery, I was unable to attend but was able to oversee the auditions remotely on videotape so that we could make our choices.
You might wonder how a little indie filmmaker can afford a veteran casting director like me who normally does movies in the multi-million dollar range? It's the script. For me, it all comes down to the script. Truth be told, he bought me an iPhone as payment for my services. There is some back-end, but it's small.
We quickly realized that we could probably get more bang for your buck if I came on as a producer as well and thus began our relationship in late 2011. He's taught me that integrity and passion go a long way in this business.
On the budget: Here's the amazing feat we pulled off. When you finally see the film you'll understand just how amazing it was. We mounted a Kickstarter campaign that seemed to really click with people. If you take a look at the video you can see what I mean about Blake's organic charm. We reached our goal on the Kickstarter campaign and raised the rest through family, friends and outside sources. We used the SAG-AFTRA Ultra Low Budget Contract for our actors. As you'll see, a little goes a long way when all the people involved are there for the right reasons.
We've been accepted into The Slamdance Film Festival in January 2014, where we'll be making our world premiere and in competition in the narrative film category. As we head into the upcoming festivals (we've been accepted into a few more that I can't share just yet), I'm very grateful to have been a part of this journey.
By Marci Liroff / Producer, Casting Director / Guest blogger
For more from Marci Liroff, go to her website.
For more info on casting, visit the Casting Society of America online.