Live Read Recap: Jason Reitman Gets Personal and Says Goodbye with 'Thank You For Smoking'
As the crowd gathered at LACMA's Bing Theater last Thursday for the latest edition of Jason Reitman and Film Independent's signature Live Read series, it was clear that there was something more meaningful to the night than usual.
The subject of the April 21 performance was Thank You For Smoking, Reitman's own 2006 satire—the first script in the Live Reads series that was Reitman's own (adapted from the 1994 Christopher Buckley novel of the same name). But that wasn't the only reason to be sentimental: after more than 40 readings over the past five years, Reitman surprised the crowd by announcing that the evening's Live Read would be the "last one"… for now.
Reitman said that he wanted to end the series (which will include two more editions in New York in October and next month, May 13, with guest director Olivia Wilde—read all about it here) with his own debut feature, itself celebrating a 10-year anniversary this year. The original Thank You For Smoking starred Aaron Eckhart, William H. Macy, Maria Bello, David Koechner, Robert Duvall, Katie Holmes and Reitman regular (and Live Reads vet) J.K. Simmons.
The crowd gasped at the news, but Reitman replied: "I have to make my own movies, guys."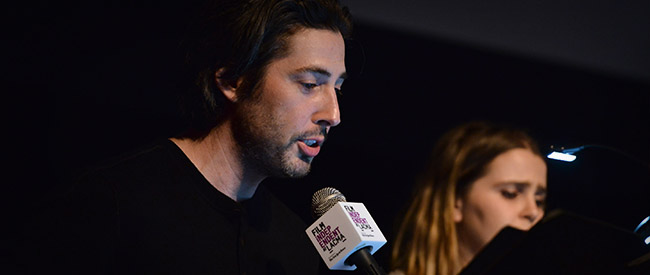 Film Independent at LACMA curator Elvis Mitchell had more to say than usual before bringing Reitman to the stage. Mitchell spoke about the Live Reads glowingly, commenting that it was "another level of experience" for movie lovers, adding: "There's nothing like [it] out there—it's a hard series to copy." It was a chance not only to look back on the past decade of Smoking, but also reflect on all the amazing performers and scripts that have been a part of Live Reads over the years.
Reitman shared some memories of his college days and his longstanding desire to adapt Buckley's biting satire for the big screen. At that point, Mel Gibson had already bought the rights to the novel for himself to star in as the slick, amoral tobacco lobbyist Nick Naylor.
Because of the extremely satiric nature of the book, turning Buckley's original text into a script proved challenging. Reitman independently wrote a draft for Gibson, which managed to keep Buckley's biting political perspective intact. But inevitably, the script couldn't get funding and studios weren't interested. For a while, Thank You For Smoking's chances of ever being made were—to borrow another Reitman title—up in the air.
Luckily, Smoking was eventually funded independently…by the creators of PayPal. Reitman laughed and said that the film's executive producers were Max Levchin, Elon Musk, Peter Thiel and David O. Sacks—aka the folks behind Tesla, Facebook, Affirm and Yammer.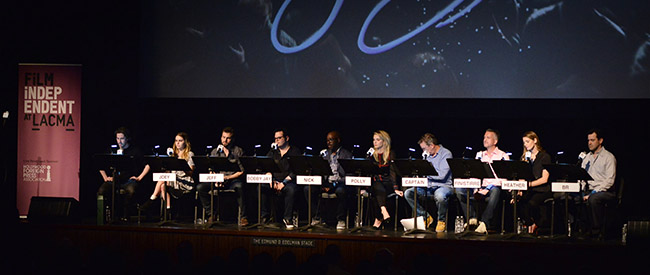 Thank you for Smoking wasn't just any script—it was a small glimpse into Reitman's past, as well as an example of the independent filmmaking spirit at its most dogged. It would take a stellar cast to bring the script to life. Luckily, the night did not disappoint.
Reitman cast the great Courtney B. Vance (fresh off his acclaimed performance as Johnny Cochran on FX's limited series The People vs. O.J. Simpson) as Naylor—originally played by Aaron Eckhart. Vance's delivery was just as delightfully obnoxious. Throughout, Reitman chuckled at lines such as, "My job requires a certain… moral flexibility" that recalled Vance's turn as the late litigator Cochran.
Per Live Reads tradition, Reitman handled the reading of stage direction. This time, though, he apologized for his own "juvenile" depictions of sex. As Vance and co-star Ashley Green (in the role originally played by Katie Holmes) reached said love scenes, Reitman couldn't keep a straight face. He bowed his head into his hands and blushed with embarrassment.
Together, the ensemble turned in a performance full of humor, sadness and satire. The complete cast for the evening was as follows:
Courtney B. Vance as Nick Naylor, originally played by Aaron Eckhart
Josh Gad as Bobby Jay Bliss, originally played by David Koechner
Bill Simmons as Senator Finistiree, originally played by William H. Macy
Mae Whitman as Naylor's son Joey, originally played by Cameron Bright
Tommy Dewey as Jeff Megal, originally played by Rob Lowe
Rob Livingston as B.R., originally played by J.K. Simmons
Rhea Seehorn as Polly Bailey, originally played by Mario Bello
Ashley Greene as Heather Holloway, originally played by Katie Holmes
Tim Allen as The Captain, originally played by Robert Duvall
The Live Reads are known for its surprises and their intimate readings. But on April 21 the main attraction was Reitman sharing part of his past. Reading through the script, it felt as if the director was sharing a special memory.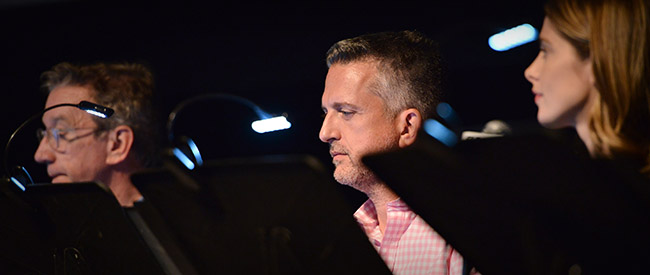 As is customary, the evening was not recorded and will never be performed again. It was an unforgettable night for the select few who could be there to celebrate, and we now look forward to whatever Film Independent at LACMA and Reitman have in store next.
---
For more information about Film Independent at LACMA, click here. For more upcoming event, click here. To read recaps of previous Live Reads, click here.
Follow Film Independent on Twitter, Facebook and Instagram and see what else we're up to by subscribing to our YouTube channel. To learn how to become a Member of Film Independent, click here.