Member Lens: The Many Passions of Sonia Machado-Hines, from Ancient Rulers to Alfa Romeos
In our Member Lens series, we're spotlighting a cross-section of current Film Independent Members to see how they got where they are now, what they hope to do next and what being a part of Film Independent means to them.
***
Cuban-born Director and Producer Sonia Machado-Hines (short films Hapshepsut, Karbouj and LA, It's Contagious) came by her film career via a rather unlikely route. She had already been a successful career and life coach for many years before she was inspired to step behind the camera. With her coaching business focused on entertainment professionals–and the fact that her husband is actor Terence Bernie Hines (The Secret Life of Walter Mitty, Marcus in Motion)–she soon found herself thinking about getting into the business as well.
Born in Havana and now based in Southern California, the exuberantly passionate filmmaker started with the dramatic short Karbouj in 2017 and prefers to be very hands-on with every aspect of a project whenever possible.
Her ardent love for independent filmmaking also extends to philanthropy; both she and Terence are proud supporters of Film Independent through their Arts Circle Membership, while Sonia is also an active fundraiser for Women in Film.
Recently, we had the opportunity to chat with Machado-Hines on the early lessons from her first projects and how investing heavily in pre-production makes feats like a five-day shoot with a lot of moving (car) parts possible.
SONIA MACHADO-HINES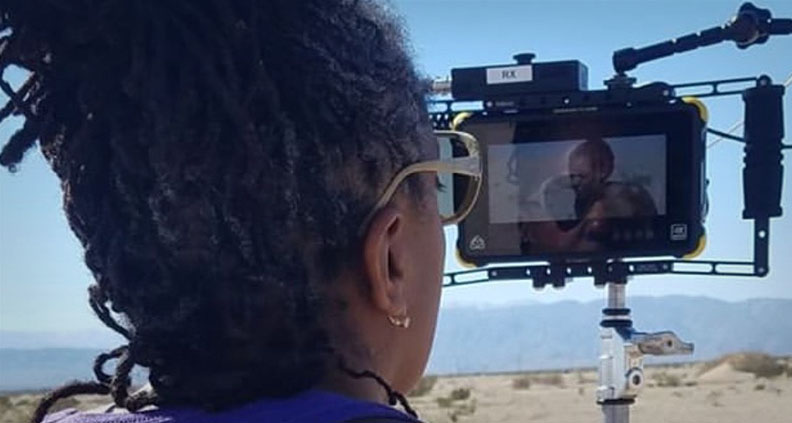 Tell us about your background. When film and cinema come into the picture?
Machado-Hines: I've been a career and life coach for over 20 years, and a few of my clients are entertainment professionals–that's how I got inspired into filmmaking. My husband is an actor as well. It was watching his career unfold, and it was also our interactions with some of Film Independent's Board Members that got me thinking more about it. A close friend of mine is Dylan Leiner, he's the Senior EVP for acquisition and distribution at Sony Pictures Classics, and it was all those relationships that made a good cake; the cake was: "I can make a movie!" So I started my own production company with the help of Power Lawyer Lisa Callif, of Donaldson and Callif. I was inspired by people around me who are terrific storytellers. For example, Dylan sent me off to watch some of the world's most amazing films, such as the Oscar-winning Searching For Sugar Man. And when I learned more about how films were made, I thought these were stories that were in me all along, but I just didn't know that I had a vehicle to tell them.
What led you to create your production company?
Machado-Hines: I really wanted to tell stories but didn't want anyone telling me what I can or can't do. I was born in Cuba; kinda' born a rebel and am still a rebel [laughs]. With the exception of one project, every film I've made, my husband and I have self-financed. The only one where I did some fundraising was the short film and Egyptian period piece, Hatshepsut.
What were some of your earliest projects? What lessons did you learn from those earlier efforts?
Machado-Hines: My first one was Karbouj, which is a story of a cookie that's popular during the Haj and Ramadan in the Middle East. It takes two or three days to make this cookie. I was intrigued by that and wanted to tell that story because I also love to cook. I went to the Middle East, drove all over Lebanon and managed to get a bakery in Tripoli to let us in. We couldn't film anything inside the bakery but I could take notes. I learned to follow my instincts. If I'm inspired by something, I don't second guess myself and put it aside. Ideas come up for a reason. In the two years that it took for me to edit that short film, the lesson I learned was: know before you go. I could have done more on pre-production. So for every film since then I've worked very diligently on pre-production. The pre-production on Hatshepsut took me six months, but we shot it in five days with 73 cast and crew. My hair went gray during that week alone!
Five days! How is that even possible?
Machado-Hines: It's a 25-minute short film. We had four locations in Southern California. We created Egypt in a house out of Irvine and shot in the Salton Sea. A friend of mine moved into a hotel and let me use his mansion, and I reinvented his house with my own materials. I designed all the costumes with the help of two couture designers–one from Spain and the other from Chicago–and reached out to anyone I knew who could sew. In fact, we just won an award for Best Costume Design, which was really nice and very validating.
You have this amazing enthusiasm and passion for all your projects. Tell me about the one with the car that you just showed me.
Machado-Hines: It's a 1974 Alfa Romeo Spider in mint condition with three owners and 74,000 miles. I have a friend that was its owner, so I decided to tell a story from the Red Shoe Diaries perspective–about a woman's love affair with a car! I took the opportunity to mentor a new filmmaker and included him in the project as its Director, Ayden Johansen.
Cars are so cinematic, especially a nice classic one.
Machado-Hines: Yeah, it's very sexy. It's mostly shot in Redondo Beach and the Palisades. The car really comes alive in those amazing shots.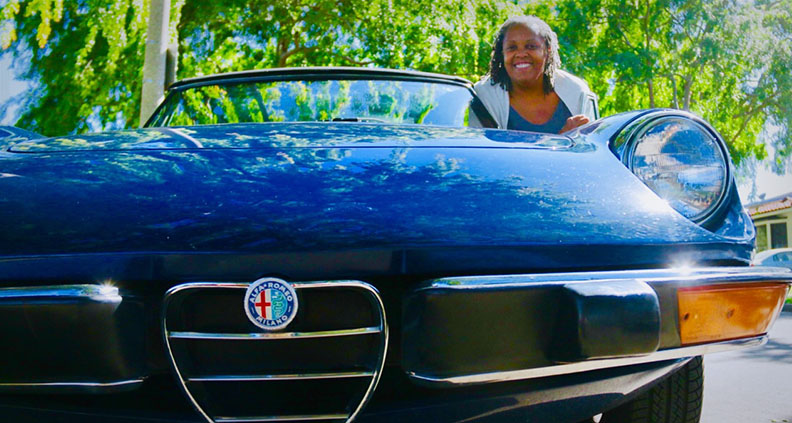 It sounds like you're very hands-on with all aspects of your films. Is it due to budgets or more of a preference?
Machado-Hines: For me, it is important to touch every aspect. But on Hatshepsut, I had a production designer, Brian Barrios, who was impeccable. I knew exactly how I wanted the costumes to look and worked with two couture designers. We had an amazing Cinematographer, Will Turner, on it too. But I am very mindful of the budget. When Will came to me and asked for more budget for some screens, I told him it would only work if he could do it for half the price. When it comes to budget, I've got this to say: look at how much money and time is spent on some of the big studio productions. As an independent filmmaker, I can make a "Hollywood" film for less than half the cost. Why? Because we're going in with passion; we're not going in with waste. The purpose is to envision the story and put it out into the world in a cost-effective way.
Is there a certain project that was the turning point for you, either creatively or just in your production career so far?
Machado-Hines: The one that looms largest is Hatshepsut, because it came with so many working parts. The minute I got the story, I had to secure the story rights. For the budget, I had a fundraiser and a launch party. For the jewelry, my husband I went to Spain. Then I had a crew in Egypt, which I ran on Zoom. I didn't have the budget for Egypt at all, but that's where the crew was, and they were amazing. Somehow, we also got Ben Wilkins, the sound designer on Whiplash, through mutual connections. And I got it all done within my budget–it was unbelievable. I was so enlightened by the process. So for me, that was my thesis project in filmmaking.
When did you first became aware of Film Independent?
Machado-Hines: It was actually through Dylan Leiner. I did a fundraising with him for NYFest during Tribeca one year. It's a soccer tournament that's an outreach program for kids and when Dylan decided to extend to LAFest he suggested that I reach out to Film Independent for the promotion. I think we had 60 teams, all from entertainment-related organizations, playing at the Home Depot soccer field in Carson. I personally hosted five teams; it was such a great day. For Hatshepsut, I did all my casting and screening at Film Independent. It was awesome and worked out really well. I would never do it any other way.
Why do you think supporting an organization like Film Independent is a good investment?
Machado-Hines: Independent filmmakers usually don't have the support of the mass media and big studios, but I think we should support opportunities to tell stories that would otherwise never be told. Many terrific stories never get the attention because they don't get made. We should allow stories that need to be told to be told by whatever means necessary. That's why my husband and I are Arts Circle members–it was the only donation we made in 2020; it was a tough year and we did it anyway. It's where we wanted to spend the money.
What is your next project coming up?
Machado-Hines: My big dream project is to make the feature version of Hatshepsut. The feature is already written by Quendrith Johnson, Hessam Nowzari and the late Gore Vidal. It's going to be a very costly project. I have a great script and the support, but I'd have to do more extensive casting, since I did limited casting for the short film. It's an epic story about a female Pharaoh who ruled as a man to bring Egypt into a Golden Age, but lived and loved as a woman. It's an exceptional story and a passion project that I can't let go of; it'll always be there brewing for me to make it, while I tell my other stories along the way.
Sonia Machado-Hines is currently in post-production on a documentary entitled #Hiplet, about the hip-hop-on-toe ballerinas of Chicago's Multi-Cultural Dance Center. To become a Member of Film Independent—and possibly be featured in a future edition of Member Lens—click here.
More Film Independent…
(Header: Hatshepsut)