The Must-List: 5 Great Horror Titles that Still Scare Us Silly
Here at Film Independent, we're still deep in the demonic grip of Halloween fever. Office productivity has slowed to a lumbering, monster-like crawl as our staffers struggle to answer emails with fingers slippery with pumpkin innards, straining to see laptop screens with eyes still puffy and irritated due to allergy-triggering costume-party greasepaint. But still, we soldier on.
And of course, one of the biggest things on our mind is horror. Horror movies are the death-defying roller coasters of the film world: an excuse to trick our bodies into releasing the flood of adrenalized relief that comes from testing the limits of fear. Horror movies are also an essential sector of the independent film world, often acting as the proving grounds for some of today's top indie auteurs.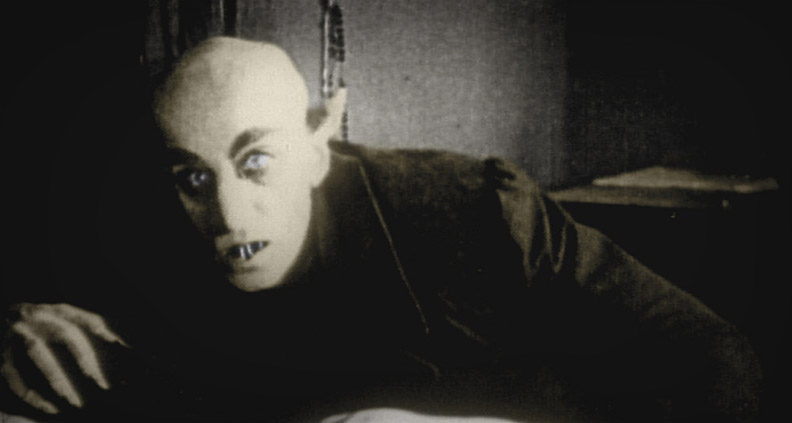 And while newer horror movies are frequently every bit as artful and terrifying as older genre classics, it's a perennial fact that horror movies are the most effective when you're a kid. It's a Catch-22: scary movies are usually better when the viewer is technically too young to be watching them. Of course, we'd never officially encourage younger readers to seek out extreme pieces of content they might not be able to handle… but its conceivable the filmmakers might.
For this week's special, Halloween-themed Must-List, we asked our staff to tell us what movies utterly terrified them growing up. So pull up the covers and grip that flashlight tight. It's going to be a long night.
---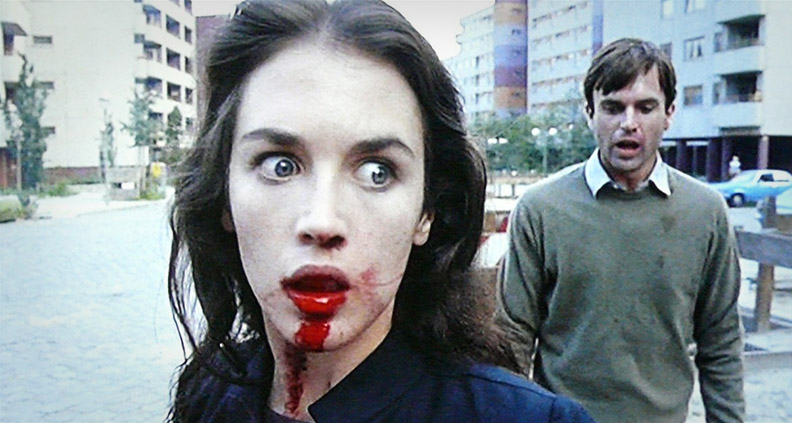 Possession (1981, dir. Andrzej Żuławski)
Andrzej Zulawski's Possesion is the type of WTF film that makes you leave the theater wondering did I really just see that? In it, Sam Neill and Isabelle Adjani push their acting talents to the extreme, playing a married couple with deep obsessions and who deal with them with great emotional excess. Isabelle Adjani is no stranger to roles in which her character falls into the tentacles of psychosis, (see: Camille Claudel, The Story of Adele H). But here, otherworldly forces influence her self-abusive behavior. Set in West Berlin in the early 1980s, the unraveling of a broken marriage turns mysterious when Anna (Adjani) decides to leave Mark (Neill). Mark assumes that Anna has been unfaithful and has her followed by a detective, only to discover that her secrets can be deadly. What follows is something that I would not dare to spoil but I assure you: it's horrific.  
-Cristhian Barron, Accounting Manager
---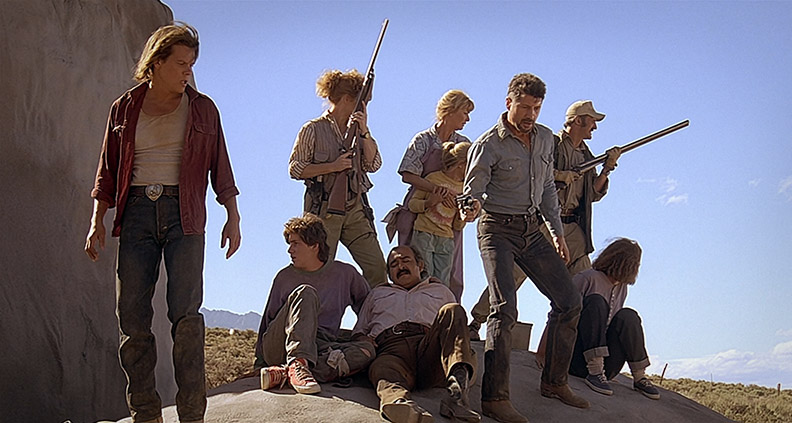 Tremors (1990, dir. Ron Underwood)
When I was 10, I saw Tremors. I was living in the Arizona desert where there are lots of strange and dangerous creepy crawlies and snakes, so I was constantly aware of what was under and around my feet when I was outdoors. What's more, finding these living things in our house was not unheard-of. So seeing Tremors' giant, man-eating worm convinced me that it was completely possible that something like that was hiding somewhere in the desert behind my house, waiting for me to step off a rock onto the earth. Years later, I'm still not entirely convinced that they're not out there…
-Kate Walker D'Angelo, Director of Institutional Giving
---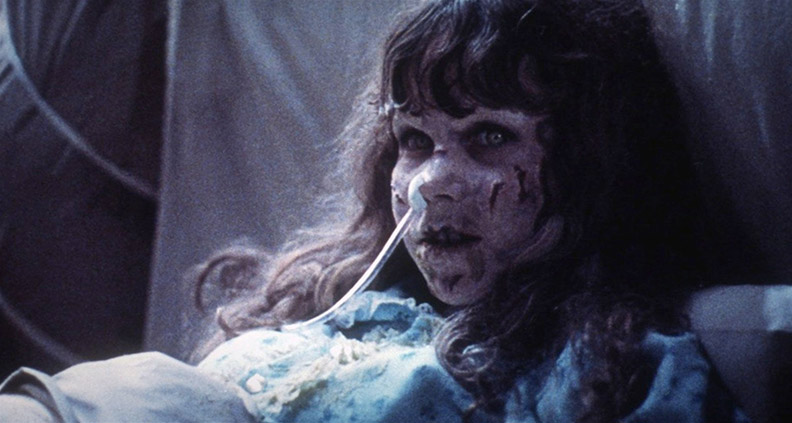 The Exorcist (1973, dir. William Friedkin)
To me, The Exorcist is the end-all-be-all of classic scary movies. I remember like it was yesterday: I was eight-years-old and my grandparents were babysitting. Like many kids, I took advantage of their leniency and got to watch whatever I wanted, in this case The Exorcist. I don't know how I managed to sit through the entire thing, but when it ended I was petrified. Afterwards, my grandmother told me, "This is what happens to little girls who misbehave." I slept with one eye open for at least a week, terrified that my "mean" older sister would become Linda Blair's demonically possessed Regan. Needless to say, it was the movie that made me continue to fear all supernatural films to this day.  
-Marvel Zamora, Corporate Sponsorship Associate
Maybe it's a trite choice, but The Exorcist never ceases to terrify me. Whether the religious elements of the story strike home with you or not, it's still bone-chilling to watch Linda Blair's young Regan descend into a vessel for Pazuzu, the demon that possesses her. Ellen Burstyn's desperate and human Chris pulls us into her horror as she continues to seek the daughter she knows still exists somewhere within the terrifying creature. Jason Miller's Father Karras is raw and relatable as the tormented priest, seeking personal redemption in trying to save Regan. Max von Sydow, as the unrelenting lifeline staying Regan from madness or worse, is not just there to save Regan, but the viewer as well. Metaphors for themes like drug addiction or mental illness can be applied, but moreover, what's unsettling is the fear of losing someone you love to something you cannot understand: the abyss of the unknown.
­-Evan Ward-Henninger, Associate Director, Membership
---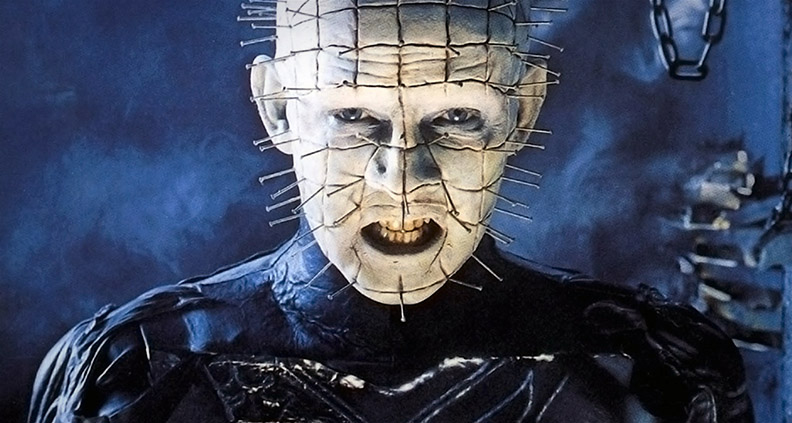 Hellraiser (1987, dir. Clive Barker)
Author Clive Barker is one of the undisputed masters of modern horror, not to mention a black-belt expert at weaponizing perversion. Hellraiser, Barker's first-and-finest foray into cinema, is probably the best film about kink that's ever been made, horror or otherwise. It's the kind of weird, gross, totally outrageous 1980s gore movie that even as you're watching it seems like some sort of terrifying wet dream. What's that, you've never seen Hellraiser? Well, the movie is equal-parts dark fantasy thriller, haunted house fable, slasher movie and erotic romance. The details aren't important, but suffice to say there's an undead masochist trying to escape from hell in order to steal his estranged brother's A) wife, and B) skin—but not if Pinhead and his undead cenobite brethren have anything to say about it. Too bad for the poor American expat (Ashley Laurence, the Bill Paxton to Heather Langenkamp's Bill Pullman) caught in the middle. Hellraiser is what all scary movies should aspire to be: a place without safe words. 
-Matt Warren, Digital Content Manager
---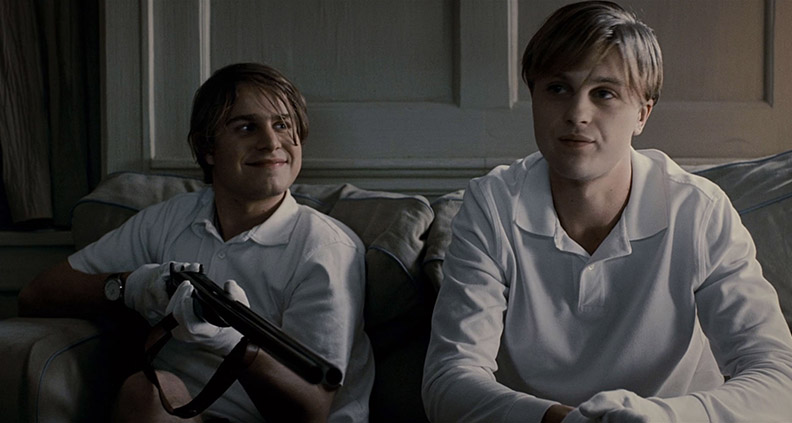 Funny Games (2007, dir. Michael Haneke)
I have a confession to make… I'm a murderino. What's that, you ask? A "murderino" is a person who is infatuated with learning the details of true crime. Naturally, I'm terrified of kidnappings, serial killers and random acts of violence. However, to me there's nothing more frightening than a home invasion, because for the most part the only people who ever truly know what happened are the victims and the intruders. When the crimes eventually makes it to the news, it's left to us to imagine what transpired, no matter how incomprehensible.
Michael Haneke's Funny Games (2007)—a remake of his own Austrian film of the same title from 1997—supplies the gruesome specifics of exact how two clean-cut young men (Michael Pitt and Brady Corbet) end up at the vacation home of George (Tim Roth), Ann (Naomi Watts) and Georgie (Devon Gearhart). The young men are disturbingly passive-aggressive as they enter the home and begin to terrorize the family dog. Not only are the sadistic games they play with the family creepy, but what makes this one of the scariest movies of all time is Pitt's continuous breaking of the fourth wall. Doing so implicates us in their game, blurring the line of reality and fiction. Haneke argues that if we see it then it's real, similar to how 911 calls are disturbing. Beyond capturing raw fear, they act as proof by incorporating us into the realness of the crime. Funny Games makes the audience part of the horror by making us participants in the antagonists' less-than-funny games.
-Rebecca Cavallari, Assistant, Corporate Sponsorship
---
So let us know. What movie terrified you as a child, or that still continues to terrify you even as an adult? Let us know in the comments, or share your (spooky!) picks with us on Facebook and Twitter.
To learn more about Film Independent, subscribe to our YouTube channel. You can catch up with the rest of our blog here. To learn how to become a Member of Film Independent, just click here.