Spirit Awards Mania: Six Past Winners That Became Box Office Hits
With all the nominees for the 2023 Film Independent Spirit Awards now official – following this Tuesday's TV nominations announcement – we have eleven weeks until the 38th iteration of our grandest fête of the year! The annual awards ceremony is set to return in-person to the beach at the Santa Monica Pier on Saturday, March 4, 2023.
To vote for the winners, become a Member by December 20, 2022 to receive full voting benefits, including access to the much-anticipated nominee screeners (or make sure your membership is current as of the same date). To learn more about attending the Spirit Awards ceremony, please click here.
In the meantime, as we ease into the end of the year, let us fill your holiday season watchlist with six Spirit Awards winners that have achieved stunning success at the box office. Without massive budgets behind each of these films, it goes to show you don't always need a sizeable budget to come up with a top-quality crowd-pleaser.
GET OUT
Spirit Awards Stats: 2018 Winner for Best Feature and Best Director; nominated for Best Male Lead, Best Screenplay, and Best Editing
Production Budget: $4.5 million
Worldwide Box Office: $256 million
Director: Jordan Peele
Cast: Daniel Kaluuya, Allison Williams, Bradley Whitford, Catherine Keener, Caleb Landry Jones
Why we love it: Director Jordan Peele's psychological horror was a breath of fresh air when it was released in the winter of 2017: the film began with his desire to write a movie that he hadn't seen before. Jolting audiences with its complex, witty, and sharp observations on the ugly facets of human nature, Get Out is a racially charged social satire that grips our attention from fade in to fade out. Kaluuya – who garnered a Spirit Awards nod for his performance – plays black photographer from Brooklyn, Chris, who is head over heels in love with (white) girlfriend Rose (Williams). Even though she has not told her parents – played by Whitford (The West Wing, The Handmaid's Tale) and two-time Spirit Awards nominee Keener (Please Give, Capote) – about their relationship, Chris doesn't think twice about visiting them in Upstate New York for the first time, until a series of menacing encounters unfold ….  With its stunning box office and remarkable reviews (still at 98% Tomatometer score almost six years after its release!), Peele's feature directing debut reportedly scored a net profit of $125 million, as calculated by Deadline's Anthony D'Alessandro.
SILVER LININGS PLAYBOOK
Spirit Awards Stats: 2013 Winner for Best Feature, Best Female Lead, Best Director, and Best Screenplay; nominated for Best Male Lead
Production Budget: $21 million
Worldwide Box Office: $236 million
Director: David O. Russell
Cast: Bradley Cooper, Jennifer Lawrence, Robert De Niro, Jacki Weaver, Brea Bee
Why we love it: Based on Matthew Quick's 2008 novel by the same title, Russell's (I Heart Huckabees, American Hustle) offbeat romantic dramedy received massive critical acclaim right out of the gate, winning the People's Choice Award when it premiered at the 2012 Toronto International Film Festival. After eight months in a psychiatric hospital, bipolar disorder patient Pat Jr. (Cooper, nominated for his role) is released and moves back in with his parents, Pat Sr. (De Niro) and Dolores (Weaver). His first priority is to win back his unfaithful ex-wife Nikki (Bee), except for the little problem of a restraining order. He meets young widow Tiffany (Lawrence, who won Best Female Lead for her performance) – with her own myriad of issues – who offers to deliver a letter to Nikki if he agrees to be her partner in an upcoming dance competition. The two-time writer-director was interested in the story partly due to his own son, who has struggled with bi-polarity and OCD. Perhaps the highest praise for the film as a crowd-pleaser might be best summed up by Kate Muir's review for The Times: "This is a date movie that caters to the needs of both men and women: American football and comedy, ballroom dancing and romance. Silver Linings Playbook covers all those bases — and rises above them too."
BROKEBACK MOUNTAIN
Spirit Awards stats: 2006 Winner for Best Feature and Best Director; nominated for Best Male Lead and Best Supporting Female
Production Budget: $14 million
Worldwide Box Office: $178 million
Director: Ang Lee
Cast: Heath Ledger, Jake Gyllenhaal, Michelle Williams, Anne Hathaway
Why we love it: Based on a short story by novelist Annie Proulx, one of the most visually arresting and heartrending romantic dramas ever committed to film is two-time Spirit Awards winner Ang Lee's neo-Western set in 1960s Wyoming. The late Heath Ledger played Ennis – a role that won him endless accolades – a Wyoming ranch hand/sheepherder who meets rodeo cowboy Jack (Gyllenhaal, Spirit Awards winner for Nightcrawler) on a summer job herding sheep through grazing pastures on the titular Brokeback Mountain. They fall in love but are forced to adhere to the social norms of the time, both parting ways after that summer to marry and start their own respective families. However, true love does not stay suppressed for long, and the men reunite four years later, continuing to meet up on 'fishing trips' over the years as each man's marriage suffers. This agonizing story of genuine love denied forever shines through with the impeccable performances by Ledger and Gyllenhaal. One of the integral characters in the Taiwanese director's drama is undoubtedly Gustavo Santaolalla's hauntingly heartbreaking score, which accentuates the immensity of the suppressed emotions, and their sense of hopelessness and resignation to the realities of their time.
SIDEWAYS
Spirit Awards stats: 2005 Winner for Best Feature, Best Director, Best Screenplay, Best Male Lead, Best Supporting Female, and Best Supporting Male
Production Budget: $16 million
Worldwide Box Office: $110 million
Director: Alexander Payne
Cast: Paul Giamatti, Thomas Haden Church, Sandra Oh, Virgnia Madsen
Why we love it: Adapted from Rex Pickett's 2004 novel, Fox Searchlight's Pinot Noir and Merlot-filled road-trip buddy comedy walked away with six (!!) trophies at the 2005 Spirit Awards, including acting prizes for both male leads. Depressed unpublished writer Miles (Giamatti) and has-been actor Jack (Church) go on a road trip to the Santa Barbara wine country before Jack's upcoming nuptials. While the former prefers to relax with good food and wine on this excursion, the latter is dead set on having one last fling before he bids farewell to his bachelor days. Garnering widespread critical acclaim, the film was also a crowd-pleaser – honestly, how can you go wrong with the gorgeous vistas of the wine country and many wine tastings worked into the storyline! Aside from the Santa Barbara Visitors Bureau having a Sideways filming locations map for legions of fans who have flocked the region over the years, the film also famously resulted in an IRL impact on the wine industry: as reported by NPR, Merlot sales dropped approximately 2% in the three years since Sideways was released. In the film, during one of his rants, Pinot Noir devotee Miles screams "I am not drinking any f***ing Merlot!"
CROUCHING TIGER, HIDDEN DRAGON (Orig. title: 臥虎藏龍 or 'Wo Hu Cang Long')
Spirit Awards stats: 2001 Winner for Best Feature, Best Director, and Best Supporting Female
Production Budget: $17 million
Worldwide Box Office: $213 million
Director: Ang Lee
Cast: Chow Yun-Fat, Michelle Yeoh, Zhang Ziyi, and Chang Chen
Why we love it: Another film by director Ang Lee – who was previously nominated for Chinese-language dramas Eat Drink Man Woman and The Wedding Banquet – this visually captivating Chinese-language wuxia film scored him his first Spirit Awards win in 2001. Starring the who's who of Hong Kong cinema at the time, the multinational co-production from Columbia Pictures was a surprise box office success Stateside, becoming the first foreign language film to break the coveted $100 million threshold in the United States. Also nominated for 10 Oscars (winning four!) – a huge feat for a foreign language film at the time – the action drama is set in 19th century Qing dynasty China. Impressing Western audiences with Chinese wuxia martial arts action, the film features kinetic rooftop chases and the now-famous gravity-defying sword-fighting sequence between Li Mu Bai (Chow) and Jen Yu (Zhang), hovering above a bamboo forest. The film was so successful that it spawned a universe of other entertainment offerings, including a video game, a series of comics, and a 34-episode Taiwanese television series.
PULP FICTION
Spirit Awards stats: 1995 Winner for Best Feature, Best Director, Best Male Lead, and Best Screenplay; nominated for Best Supporting Male
Production Budget: $8 million
Worldwide Box Office: $214 million
Director: Quentin Tarantino
Cast: John Travolta, Samuel L. Jackson, Uma Thurman, Harvey Keitel, Bruce Willis
Why we love it: Winning four Spirit Awards and regarded as one of writer-director Tarantino's masterpieces, the Los Angeles-set crime drama wowed audiences with its irreverent alchemy of humor and intense violence. The nonlinear narrative is told through seven chapters that follow three main plots, each with a different protagonist: hitman Vincent Vega (Travolta), aging boxer Butch Coolidge (Willis), and Vincent's business partner and hitman, Jules Winnfield (Jackson). Previously nominated for two Spirit Awards for Reservoir Dogs, Tarantino's inspiration for this film stems from the old movies he came across while working in a video store (remember those? There was a time before Netflix and streaming galore!). With its $8 million budget and $10 million in marketing costs, the film is billed as the first independent film to break the $100 million mark in the domestic box office. One of the ultimate classics on many critic's lists, Pulp Fiction was selected to be included in the United States National Film Registry by the Library of Congress in 2013.
Box office and budget data source:
Worldwide box office and production budget per Box Office Mojo
Supplemental production budget data per The Numbers
Join. Watch. Vote. Become a Film Independent Member today to get exclusive access to watch the 2023 Spirit Awards nominees and vote to determine the winners!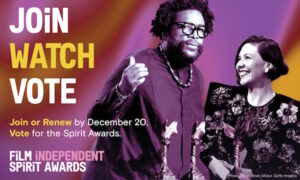 Keep up with Film Independent …
[Header: Daniel Kaluuya as Chris Washington in 'Get Out.']