The New Wave: 'Pose' Creator Steven Canals Puts Trans, Black and Brown Stories Up Front
2019's inaugural edition of The New Wave seeks to honor the work of cultural change-makers, spotlighting bold and innovative content creators with three action-packed days of screenings, conversations and unique community events (plus: food trucks!). And what better way to kick off our Opening Night than with Steven Canals, co-creator—with Ryan Murphy and Brad Falchuk—of acclaimed FX drama Pose, which brings to life the ball scene of 1980s New York, putting front-and-center a diverse cast of LGBTQ+ characters and storylines.
Gathered amid stylishly intimate lounge-style seating inside The Geffen Contemporary at MOCA's warehouse in Little Tokyo, attendees learned from Canals about his roots as a storyteller, which started with an afterschool film program but was interrupted by a 10-year career in higher education before the Bronx-born writer fully re-committed to a career in television with the pilot to what would eventually be Pose. Speaking to Film Independent Artistic Director Jacqueline Lyanga, Canals shared his long—often serendipitous, frequently arduous—career journey.
At first a mere consumer of film and television, "I never really considered being a content creator, because there were no [role] models," Canals said, adding: "I guess I came to film late." But formative experiences as a high school sophomore in early-1990s New York sparked something in the eventual Pose creator. "This was in the early '90s, the crack epidemic had sort of ended and then came violence in my south Bronx neighborhood," he said.
He continued: "Some classmates and I decided that we were going to highlight that experience through an after school program, and through this program we were able to work on a documentary short, which was funded by HBO Family." And so Canals and a group of student peers spent seven months learning about the filmmaking process, entering the community to interview individuals impacted by the ongoing gang violence in the area.
"A week before we completed the edit [for] that piece, one of my classmates, who was a producer on this documentary, was shot and killed," Canals said. "So we went from highlighting the experience, to having the experience." For Canals, the combination of creating a short paired with his friend's death, in his words: "launched me into the career and the storyteller that I am today," he said.
And so Canals' passion for storytelling was established. "I knew I wanted to be a storyteller, that I wanted to spend the rest of my life lifting up the lives and the voices of marginalized people who often aren't provided a platform to do so," he said, poignantly.
But what made Canals push back against the rejection faced by so many aspiring creators (and particularly queer creators and creators of color) and continue to write? "We live in Hollywood, which is a very risk-averse industry. And there was no precedent for a show like Pose," he said. "There were a plethora of no's before I heard the most important yes."
Speaking to his education as a college administrator prior to pursuing a film/TV career, Canals said: "What I was taught from the very first day working on my graduate degree in student affairs was, any campus you step foot on you must assess the landscape." So identify where the gaps are, and fill those gaps, he explained.
"So when I moved to Los Angeles [in 2014] I did an assessment of the television landscape, and at that time we were seeing this glut of straight white male cisgender roles—it was your Mad Men's and your Breaking Bad's," Canals reflected that those shows were great, but "I [didn't] see myself or my story or the story of my community reflected in those shows." Here, Canals identified the gaps in the industry and was inspired, looking to the page to help fill them.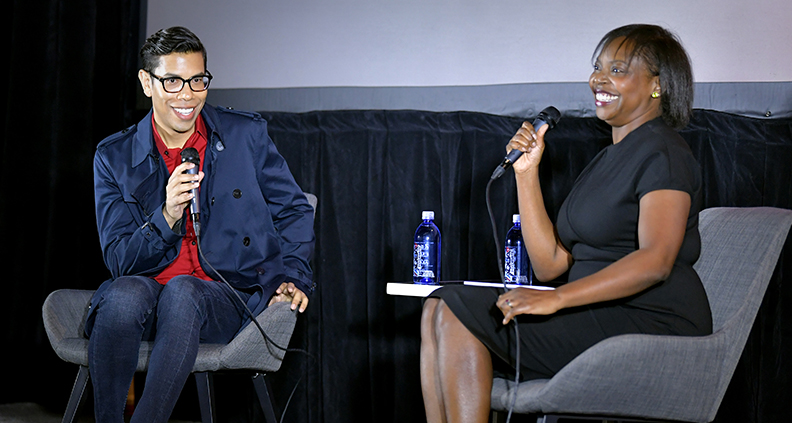 Before moving into education, Canals' undergraduate degree was in cinema, where he studied the experimental films of Stan Brakhage and Maya Deren. But when a visiting professor introduced Canals to the cult classic 1990 drag ball documentary Paris Is Burning, "it was like a breath of fresh air," he said, noting, "I loved Paris Is Burning. At the time I wasn't out, I was still stepping into my queerness and hadn't really seen any representation up until that point of queer or trans black or Latin people onscreen," he said.
Canals said that his parents grew up in Harlem, around the corner from the Harlem balls of the 1960s and '70s. Struck by the connection to Paris is Burning, Canals was blown away. Of the film, he said: "Seeing all these resilient and intrepid black and brown people living their authentic truth, it was very inspiring to me. Especially as someone who grew up in New York in the '80s, to see them being so resilient and to see this community exist, just so full of love and support."
Canals recalled a vivid memory of walking back to his dorm room, thinking to himself that would be a wonderful television show, but never imagining he would be the one to make it happen. "I remember thinking I'd watch that one day. Cut to 2004—10 years later—I'm now sitting in a pilot writing class at UCLA and I'm doing my assessment of the TV landscape and it's like, how has that story not been told yet?" Canals said.
So he told it. And thanks to Canals and his vision, we finally get to see a mainstream American TV show with black and brown queer and trans people featured front-and-center. A true "New Wave" if ever there was one.
The New Wave program consists of keynotes, conversations, panels, community events and spotlight programming from Film Independent and KCRW, along with free admission to official host venues MOCA Grand Avenue and The Geffen Contemporary at MOCA. The New Wave continues Saturday, October 19 and Sunday, October 20.
The New Wave is produced by Film Independent, in partnership with KCRW and sponsored by official host, The Museum of Contemporary Art (MOCA). Supporting Sponsors are Easterseals Disability Services, Hulu, LA County Department of Arts and Culture, National Endowment for the Arts, Netflix, SAG-AFTRA, SAGindie, Warner Bros. and Writers Guild of America West.
Follow Film Independent…