Top Screenwriters Reveal How To Avoid the Pitfalls of Film Adaptation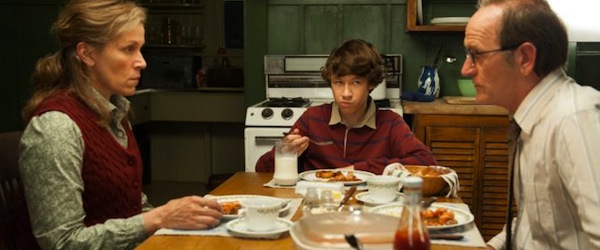 When a journalist once told James M. Cain that Hollywood had ruined his book, the novelist famously replied, "They haven't done anything to my book. It's right there on the shelf."
Writer-director Robin Swicord, who has adapted such novels as Little Women and Memoirs of a Geisha for the screen, quoted Cain at last month's Film Independent Writers' Salon discussing the process and pitfalls of film adaptation. Swicord moderated the conversation, with screenwriters Jane Anderson (How to Make an American Quilt, HBO's Olive Kitteridge), Scott Neustadter (The Fault in Our Stars, (500) Days of Summer) and writer-director Gina Prince-Bythewood (Love & Basketball and this month's Beyond the Lights)—all were there to share insight and anecdotes about converting prose into cinema.
Swicord shared Cain's quote when the conversation had turned to the adaptation screenwriter's fear of "ruining" a beloved novel. "You can ruin it by opening it up too much, so that cheapens it," Anderson offered, "or you can flatten the damn thing by only covering plot points to stick to [the existing] structure. We've all ruined it in our first drafts, right?" Anderson asked her fellow panelists. "Don't all of us start out adapting a novel by adding too much voice-over?" Prince-Bythewood and Neustadter agreed; their first drafts are all voice-over and straight lifted dialogue. "Don't let [voice-over] be your first resort," Neustadter said, especially in cases of novels with a lot of psychological interiority. "See if there are other ways you can give a flavor of it."
Anderson, whose HBO miniseries Olive Kitteridge premiered last night, said she had just come off a bad day of writing when she came into the Film Independent office that evening. "I think it's good that you see me on a day like this," she insisted, "because it is part of the process." When she began work on Olive Kitteridge, she felt some pressure that led to an awful early draft: "HBO wants you to be hip and edgy," she explained, "and the book Olive Kitteridge is very quiet… It's about a miserable woman in Maine who's just a pain in the ass." She tried to rearrange the novel's chronology to make her miserable woman in Maine as hip and edgy as premium cable demands. "Finally I begged my executive producer, 'can I just tell the story?' But I had to go through that edgy, tear-it-all-up, start-it-in-the-end [process]," Anderson recalled. "I wasted a good four months." (She then retracted her use of the word "wasted"—bad drafts are an important, if painful, part of building a screenplay's foundation.)
Prince-Bythewood said one of the biggest pitfalls she's encountered is expecting it to be easier than writing an original screenplay: "everything is laid out—the structure, the characters—I don't have to do much work!" She shook her head. "You have to do the same work that you do for something in your head." Prince-Bythewood had a similar problem to Anderson's when she adapted and directed The Secret Life of Bees in 2008. Her producers wanted her to make a major plot point—essentially the novel's premise—into a shocking revelation later in the film. "I wanted to honor the book," Prince Bythewood said, "and also I felt like, it's a bestseller. Everybody knows [that plot point]." Prince-Bythewood fought them on it and they relented; then, during editing, some new producers came on and suggested the same ridiculous idea. After fighting the same battle twice, she eventually won out.
While Prince-Bythewood fought to honor and protect the integrity of the novel that she loved, at the same time, it's important to recognize that no film adaptation can truly be the same as the book on which it's based. To go back to what Cain said, no matter what Hollywood does, the novel itself actually remains untouched—and that's important to keep in mind, in order to get through the initial "paralysis," as Prince-Bythewood called it. "I think for me the number one pitfall is the expectation that the viewing experience and the reading experience are the same," Neustadter said. "Let's enjoy them as two separate entities."
Swicord added, "Sleeping Beauty is a ballet, and it's a cartoon, and it's a doll. These are all kinds of adaptations." And is any one more right than the other? The panelists all agreed that it's important to remember that a screenplay can be an adaptation of a book, but a film is an adaptation of a screenplay. It's like a high-stakes game of telephone between artists of different media. "A film director needs the freedom to create from your script, and it's the same thing that we as adapters need the freedom to create from the novel," Anderson said.
Neustadter and his screenwriting partner, Michael H. Weber, will often share their drafts with the writers of its source material. "Movies are collaborations anyways," he said, "so having an author to honor or defend or protect is just another good tool, another good voice." When they wrote the screenplay for The Fault in Our Stars, Neustadter and Weber were confident until, Neustadter recalls, they found a Twitter account posting a "tweet of the day" about the film, mostly people's favorite quotes from the book, many of which were not in the script. "You realize that people are tattooing [these quotes] on their body," he said of the YA mega-hit's devoted fans. They added some of the tweeted lines to the screenplay.
Swicord faced an incredible challenge, too, when she adapted Little Women—arguably one of the most beloved American novels ever written—but she felt surprisingly little stress about igniting the rage of Louisa May Alcott devotees. "That process of going underneath it and knowing it in your bones is something that you don't always have the time to do," she said, but if you do have the time, it's invaluable. Swicord had read Little Women over and over, and was "so convinced as a reader that I knew what this book was about, that I didn't worry about [audience reaction]." She recalled seeing old film adaptations of it when she was a little girl: "My experience watching them was, someday when I grow up, I hope that there's a movie that's like the book," she said, "because all of those movies reflect their culture, which was: who are these girls going to marry? And that's not what the book is about. The book is about female ambition."
Getting to the core of what a book is truly about is the key to adaptation, all of the writers agreed. "Once you know your theme and who you're meant to follow, then it becomes very clear," Anderson said, and it's easy to choose what to cut and what to develop. "You have to decide, as a dramatist—how do I want to tell this story?" Swicord said, "An actor can get up and say that line so many ways, and a novel can be adapted [so many ways, too]. What's right for the character? What's right for the story?"
Finally, Swicord posed the question: What makes a great adaptation? "I think a great adaptation is any film that moves you," Anderson replied, "and you walk out of it and you feel that you've been taken somewhere marvelous."
Mary Sollosi / Film Independent Blogger