Unapologetic: Boots Riley on His Feature Debut 'Sorry to Bother You'
Since 1991, Bay Area rapper/producer Boots Riley has been hustling—diligently creating an artistic portfolio full of provocative, socially conscious material, most frequently as the frontman of the Oakland, CA hip-hop band The Coup. But if you've heard his name lately, it's probably been as the writer and director of the Sundance hit Sorry to Bother You, the filmmaker's incendiary new sci-fi/comedy/satire starring Atlanta's Lakeith Stanfield. Distributed by visionary indie imprint Annapurna Pictures. The film opens today, July 6.
In the film Stanfield plays Cassius "Cass" Green, an unemployed denizen of a cracked-vision, semi-futuristic Oakland. Out of options, Cassius takes a cold-calling gig at a local telemarketing firm and soon discovers that in order to make sales, he must use his "white voice" (provided by David Cross, courtesy of some intentionally surreal ADR), to great success. Soon, Cassius ascends the ranks of the Byzantine telemarketing hierarchy—and cedes his soul, bit by bit.
On June 28 Film Independent Members were privy to an early look at the film, as our final Film Independent at LACMA event, finally capping the long-running screening series after an over six-year run. (To revisit some of our favorite Film Independent at LACMA moments, click here.)
Following the screening, Riley joined Film Independent Curator Elvis Mitchell to discuss his transition to filmmaking, working with actors and the specificity of his Sorry to Bother You vision. Don't hang up yet—here's what we learned: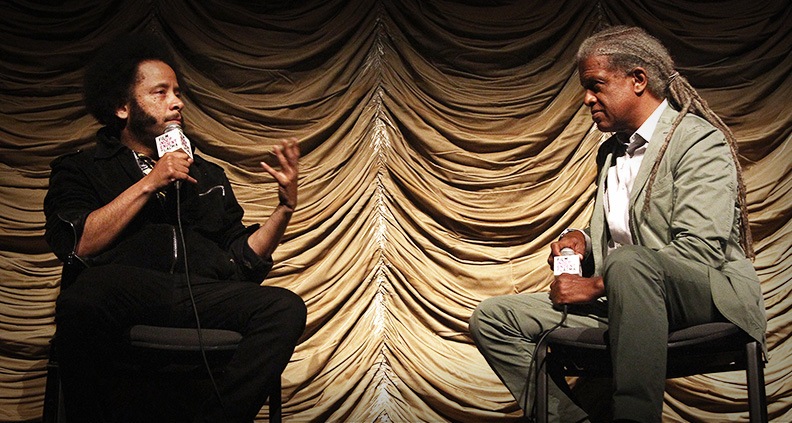 Let's get physical. Riley said that homing in on Cassius's physicality and body movement was critical. Working with Stanfield to build the character, "We charted out [his] posture. Lakeith and I were very interested in the physical theater aspect of this." He said that at the beginning of the film, "[Cassius] moves in a way where you know he doesn't belong. He can't claim his space, and it's all there in his physicality—you just know that's the way it is."
Not *quite* the future. Mitchell took note of the film's unusual setting—a not-quite-futuristic alternate-universe version of a nonetheless recognizable Oakland. "It's not supposed to be the future," he observed. "It's supposed to be the world now." Said Riley: "To be clear, it's not this world, but it's not the future. Part of it was determining how you push the world and where to push it." The director cited Terry Gilliam's Brazil as one early inspiration for the movie's off-kilter vision of reality, while Mitchell pointed to the influence of Being John Malkovich.
Clothes make the man. "Often people don't understand what wardrobe does, but it's so important," Mitchell noted, "Cassius wears a lot of patterns and ties that don't really match at all. Throughout the movie, people who were more confident or successful in communicating are wearing very simple outfits." Riley joked: "A lot of his clothes were mine, but I wouldn't have put them together that way." He elaborated, "It goes back to that aesthetic that's pushed about what's 'nice' or 'clean'—the lack of detail that's supposed to symbolize not having problems."
Lose yourself. Said Mitchell: "It seems the possibility of somehow losing yourself is a primal fear for you." Said Riley: "What I put on the paper—all of those characters—are different parts of my brain. There's the artist who's trying to make a statement with their art but who maybe isn't doing anything. There's the organizer who does the things, there's the joker who tries to deflect. There's the guy trying to make his life mean something, thinking about what it's all for."
#VoicesSoWhite. Mitchell asked about Riley about his strategy of having Caucasian actors dub his black characters whenever they go into code-switching mode. Both Cross and Patton Oswalt were up for the role of the lead Cassius's "white voice," with Cross ultimately edging out his fellow stand-up. Speaking to Oswalt, Riley said, "'I explained to him, look, I need Cassius's voice to be the whitest voice that we have ever heard [and] David's a little whiter than yours.'" Upon hearing Cross in the roll, Riley says Oswalt agreed: "He was like, "Ohhh, yeah. His voice is whiter than mine." Oswalt would eventually dub the white voice for Omari Hardwick's Mr. Blank, with Downton Abbey's Lily James subbing for the vocal chords of Tessa Thompson's Detroit.
Sorry to Bother You opens this Friday, July 6 nationwide. For more information, check out the film's website. Follow Boots Riley on Twitter here.
Upcoming screenings at Film Independent…
To learn more click here. Not a Member of Film Independent yet? Become one today.