Wheel Life: 'Breaking Away' Live Read Coming Next Week, On Sale Now
A quick question, for all you Italophile readers out there: ti piace il classico film in bicicletta, "Breaking Away"? If the answer is sì, then good news! Next week, you'll have a chance to experience Peter Yates' beloved coming of age classic like you've never seen it before, courtesy of the cycling-helmet-clad minds behind one of 2020's most hotly anticipated indies. That's right: Film Independent's popular Live Read series returns next Tuesday, February 25 with an onstage read-through of Steve Tesich's Academy Award-winning original screenplay.
First released in 1979, Breaking Away performed modestly at the box office despite great reviews. No less than Robert Ebert called the film "a wonderfully sunny, funny, goofy, intelligent movie" and "a treasure." And, in the 40 years since its premiere, the cycling-obsessed teen dramedy has become a perennial cult favorite, ranking eighth on AFI's "100 Years" list of the best sports movies ever made—not bad for a little bicycle movie filmed in Bloomington, Indiana.
Now, Tesich's semi-autobiographical tale of four recent high school graduates (all navigating their options for the future far less steadily than they do their beloved bikes) returns as a February 25 Live Read, to be guest-directed by 2020 Film Independent Spirit Award Best First Feature nominees Michael Covino and Kyle Marvin, whose upcoming The Climb is similarly obsessed with ideas of maturity, friendship and pedal-pumping. Just check out the poster: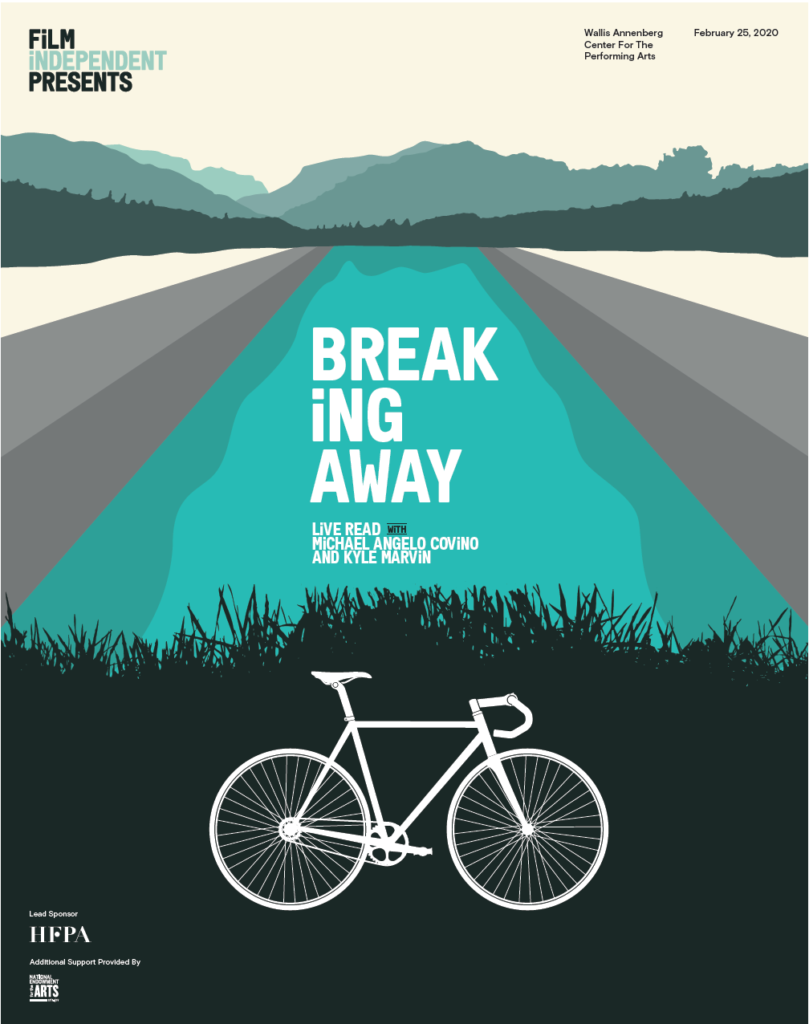 In keeping with other recent Live Read—such as last year's irreverent spin on My Dinner With Andre with Nick Kroll and John Mulaney, or Randall Park's all-Asian When Harry Met Sally—Tuesday's event will take place at The Wallis Annenberg Center for Performing Arts in Beverly Hills. Want to come? Get tickets now.
BREAKING AWAY
Born in Serbia, screenwriter Steve Tesich (whose other credits include 1982's The World According to Garp and 1985's American Flyer) immigrated to America with his family to America at age 14—landing in Bloomington, Indiana. Tesich attended the local University of Indiana, where he befriended a rabid bicycling enthusiast and Italy-obsessed classmate, Dave Blase, whose life would largely inspire the conception of Breaking Away protagonist "Dave Stohler," played by Dennis Christopher, who earned a Golden Globe nod and a BAFTA as "Most Promising Newcomer" for his memorable work in the film.
Dave and friends Mike, Cyril and Moocher (Dennis Quaid, Daniel Stern and Jackie Earle Haley, respectively) form a quarter of young townies—or "cutters," in the parlance of college town Bloomington's university population—faced with the daunting unknown of life after high school. Their vague plans include everything from enlisting in the military to the pull of a steady gig at the local quarry to (in Dave's case) dreams of competing on the international cycling circuit.
Throw in Dave's romantic pursuit of pretty Hoosier sorority girl Katherine—in which the overcompensating Indiana-bred boy pretends to be an Italian exchange student—and you have an easygoing hangout comedy subtly touching on a wide range of weighty themes: class division, identity, insecurity economic anxiety, family pressure and, naturally, growing up.
MICHAEL ANGELO COVINO & KYLE MARVIN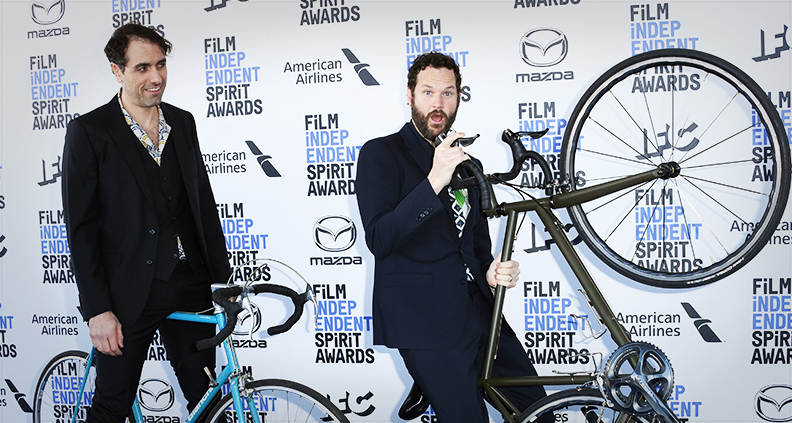 Fresh of their nomination for Best First Feature at the 35th Film Independent Spirit Awards for their upcoming Sony Pictures Classics release The Climb, director/producer/co-writer/star Michael Angelo Covino and co-writer/star Kyle Marvin have been hitting the promo circuit hard, and even occasionally on top of literal bicycles—as was the case with their Spirit Awards arrival on February 8. As with Breaking Away, The Climb is a tale of friendship, betrayal and personal growth, prominently featuring a relationship-reorienting bicycle outing.
The difference? The Climb's protagonists are grown men. But in this case, age hasn't necessarily led to wisdom or better decision-making. Covino and Marvin star (appropriately) as "Mike" and "Kyle," two BFFs whose weekend bicycle bro-bonding trip up the mountain goes South when Mike confesses to having slept with Kyle's fiancée, Marissa (Gayle Rankin.) Their relationship continues to change and evolve across subsequent months and years.
RogerEbert.com calls The Climb "thrilling and charming in a way that very few comedies ever are"—just one of a multitude of good reviews contributing to the film's current 90% "fresh" rating on Rotten Tomatoes, to be released March 20.
Tickets for next week's Breaking Away Live Read are $30 for Film Independent Members, limit two tickets per Membership. Tickets are $50 for the general public, limit two tickets per order.
Direct ticketing:
More info:
Follow Film Independent: