(Not Quite) 10 Questions: Tamar Halpern & Chris Quilty of 'Llyn Foulkes One Man Band'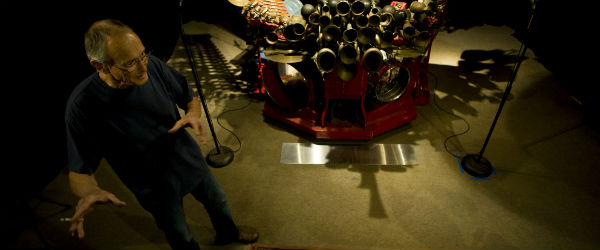 "10 Questions with LA Film Fest Filmmaker Spotlights" is a series of posts to help you get to know our Festival filmmakers and their films just a little bit better. In this installment, Tamar Halpern and Chris Quilty take us through the making of Llyn Foulkes One Man Band.
Tamar Halpern and Chris Quilty
FILM: Llyn Foulkes One Man Band / Documentary Competition
"Make and destroy and make again" is how Llyn Foulkes' describes his artistic process. Others might simply label it "obsession." Tamar Halpern and Christopher Quilty's portrait of an iconoclast follows Foulkes as he labors to complete two astonishing tableaux that demonstrate his outsider's perspective and eye for evocative imagery. As his reworking of one piece stretches into its second decade, we watch Foulkes' righteous contempt for the establishment erode, replaced by a yearning for the recognition he's due.
While his artwork frequently offers only torment, solace comes courtesy of The Machine. In concert with this odd contraption of clown horns and cowbells, Foulkes composes otherworldly melodies that segue from charming to haunting and back again… Much like the documentary that bears his name.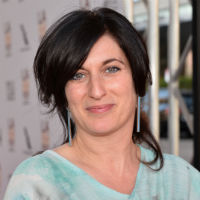 1. Who are you and what do you do?
We are a directing team who followed the artist and musician for seven years as he went from forgotten to rediscovered by the international art world at the age of 77. When we weren't doing that, Chris Quilty was doing production sound on TV shows like Arrested Development (OG version) and Tamar Halpern was writing and directing features like Jeremy Fink and the Meaning of Life starring Mira Sorvino and Joe Pantoliano.
2. Tell us about your film in 140 characters or less.
Foulkes creates destroys and recreates 3-D paintings, one that ruins his marriage & is finally rediscovered by the art world at age 77 as he plays his one man band machine.
Or
Llyn Foulkes: create destroy recreate art – ruin your marriage doing it – play a one man band – be rediscovered at age 77 by the international art world.
Or
Rediscovered at age 77 by the international art world, artist/musician Llyn Foulkes creates/destroys/recreates large 3-D paintings while playing a one man band machine.
3. Who were your early filmmaking mentors or inspirations?
Frederick Wiseman's fly-on-the-wall style of documenting was an huge influence. Tamar wrote about his film "Titticut Follies" on her application to USC school of cinema. Zhang Yimou's "Raise the Red Lantern" is another early influence – any filmmaker who lets the action play out in a way that feels real and unrushed, like peeling an onion to reveal the inner core, like Yasujiru Ozu.
4. What inspired you to make this film?
Llyn Foulkes. He is such a charismatic and enigmatic character with incredible talent. We couldn't understand why he was working in a vacuum, seemingly unnoticed by the art world. He blamed himself and the art world and though we never found out the answer, the search was worthwhile for us personally as filmmakers as we grappled with the arc of our own careers. There was a mirror held up for us as we studied Llyn – a lesson of sorts about the random nature of fame and discovery.
5. What challenges did you face while making this film?
We slowly began to realize that Llyn was taking years to finish a painting, and we were taking years to finish a film about him. It was an uncomfortable parallel.
6. What's been the coolest experience so far with the film?
As we followed him for seven years, a narrative unfolded that revealed Llyn's process. What we say in front of our eyes – an artist working and struggling – unfolded into a lifelong struggle with love, music and art. We were able to get a larger, more historical picture the longer we filmed.
7. Are you a film festival newbie or have you done the circuit before?
This is Chris Quilty's first film and Tamar Halpern's first documentary. She has had narrative films in festivals.
8. Lastly, what are you most excited to do and/or see at this year's LA Film Fest?
We are most excited to see the film with Llyn before an audience. To experience the whole of the experience with him, to see it through his eyes as others watch and react. That will be a pinnacle for us after eight years.
Llyn Foulkes One Man Band online:


Official Site: llynfoulkesfilm.com


Facebook: facebook.com/LlynFoulkesOneManBand
Lllyn Foulkes One Man Band Screenings at the LA Film Fest
Thursday, June 20 7:40pm
Saturday, June 22 2:00pm