Don't Be A Dick: Directing Lab Fellow Pamela Ribon's On-Set Communication Tips
As avid film fans and creators, we sometimes take for granted the fact that not every person out there understands just what a film director is or does. Often, the average non-filmmaking civilian has little grasp of the difference between producer, director, distributor or studio exec. But the breakdown of behind-the-scenes responsibilities can be just as perplexing for creative storytellers themselves. Every project is different, demanding its own unique set of duties and drawing its own specific (and sometimes murky) lines of authorship.
As a filmmaker it helps to have an environment within which to hone your skills; a place to refine what directing means to you, working in collaboration with peers and mentors to determine your own personal approach to creating what we see on screen and communicating with the crewmembers who get it there. One such environment is Film Independent's Directing Lab—now accepting applications (non-Member deadline is August 28; Members have until September 12.)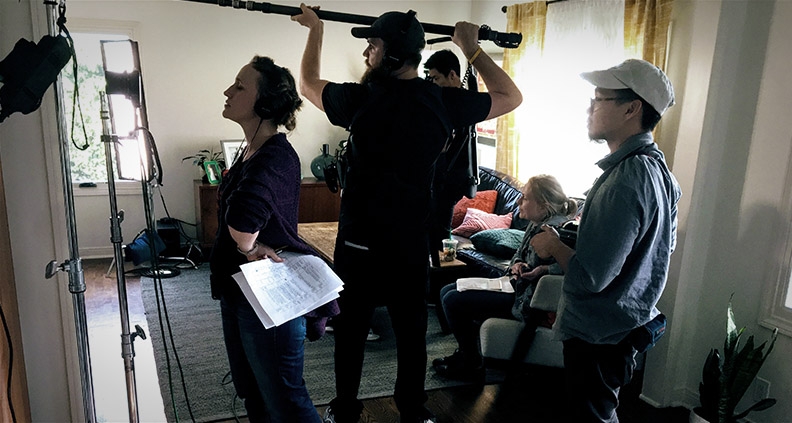 Among those who can attest to the value of such a nurturing and creative environment is filmmaker Pamela Ribon—a 2017 Directing Lab Fellow who participated with her original feature project Standby, a romantic drama set in the aftermath of the investigation into a missing airplane. Through the Lab, Ribon's mentors and creative advisors included Karyn Kusama (The Invitation), Andrea Arnold (American Honey), Matt Ross (Captain Fantastic), Sean Baker (Tangerine) and James Laxton (cinematographer, Moonlight).
We recently spoke to Ribon about how she defines what the role of "director" means to her as well as her own tips for on-set communication, as well her 2017 Film Independent Directing Lab experience. Here's the conversation:
PAMELA RIBON
When did you first realize that there was such a thing as a film director?
I've never thought about this question before, but I immediately know the answer: through music videos. When I was super-young, I watched The Making of Michael Jackson's "Thriller." Seeing John Landis at work made me understand that a director makes the videos—which also meant that a director made Ghostbusters. My brain broke open in such a way that I soon understood that there was someone behind Santa Claus and the Tooth Fairy.
How would you describe what a director does to someone who maybe doesn't know?
I would use the words "collaboration" and "vision" in some kind of answer about executing a passion. But recently, my four-year-old described directing in a way that's pretty accurate: "You say what to do and then we do the things over and over until we all know we did it good."
How would you describe your own personal directorial style?
I like setting things up to see what will happen in a space that's ready to catch vulnerability and surprise. I try not to be far away, but I don't want to be [present] in the performances. I like a respectful working atmosphere, with an expectation that everyone is offering up the best of their unique talent.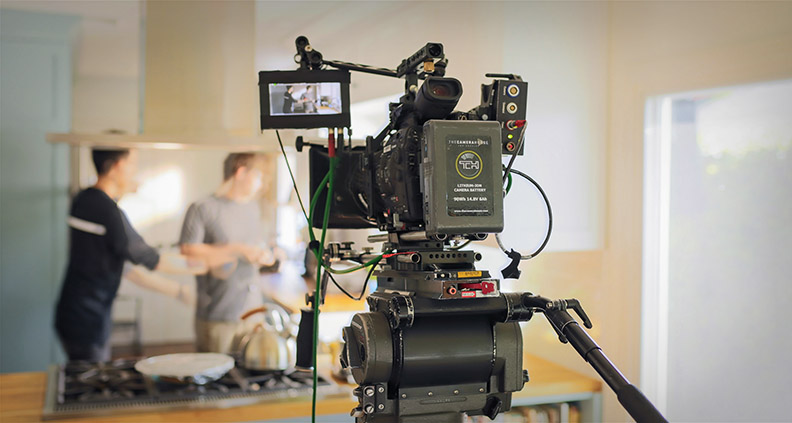 Any tips for collaborating or on-set communication?
Every note or concern is coming from a personal place and a position different than yours. It's not just about the "note behind the note"—it's about the human giving it. Is the note coming from fear, frustration, insight or experience? Don't assume someone's voicing a concern because they think you're wrong. Start with empathy. Don't be a dick.
What drew you to participating in Film Independent's Directing Lab?
My friend Sian Heder recommended it, based on her positive experience going through the Directing Lab. I was blown away by her work on Tallulah.
What are one or two helpful pieces of insight, wisdom or advice you received from your Directing Lab mentor(s)?
In terms of time and anxiety management: stay in charge of the things that will make you nervous if they're out of your control—delegate the rest.
How did your participation in the Directing Lab change or influence the direction of your project?
I stopped thinking of it as my script and started thinking of it as my film.
Why should filmmakers consider applying to the Directing Lab?
You will not believe whom you get to meet, what you get to learn and how you get to work. [The Lab] is understanding of the realities of LA life, so you don't have to abandon your job and responsibilities to participate; you're immediately welcomed into a world of innovative, creative problem-solvers with vision and talent. It's both humbling and invigorating.
---
To learn more about Ribon and her work, please visit her website. Her 2017 Film Independent Directing Lab project, Standby, is currently in development. Learn more about the 2017 Lab by clicking here.
To apply for the 2018 Directing Lab, please visit our applications page. Not a Member of Film Independent yet? Become one today. Want more Film Independent? Follow us on Twitter, Facebook and on our YouTube channel.