2022 Film Independent Forum Day 4: The Shifting Sands of the Film Industry and the Power of a Good Story
As the saying goes, all good things must come to an end. And so, with a heavy heart, we bade adieu to the 16th incarnation of the Film Independent Forum last week.
As #FiForum22 drew to a close on Thursday evening, the theme of the day was cautious optimism. Several of the speakers agreed that the world has changed radically in a very short time, and so has the ability to produce, market and distribute independent films. How can you know if you have the right story, the right cast, and the right budget to succeed in this new post-pandemic era?
There is no one right answer, according to these panels of seasoned and rising filmmakers, as well as sales agents, and distribution and acquisition execs. Because this requires a nuanced conversation with ramifications for each story depending on its own needs. From financing to packaging to production, marketing and selling, Thursday's sessions offered a plethora of solid gold perspective – but more importantly – an ultimate permission to simply enjoy the process and make mistakes along the way.
"Love what you make and who you make it with, because it's really not worth it otherwise," remarked Cold Iron Pictures CEO Miranda Bailey, in perhaps the best summary of all possible summaries for an independent filmmaker forum! And her fellow panelists wholeheartedly agreed. Scroll on for more highlights from Thursday's events.
Producers at the Table: The Shifting Sands of Audience Demographics for Female-driven Films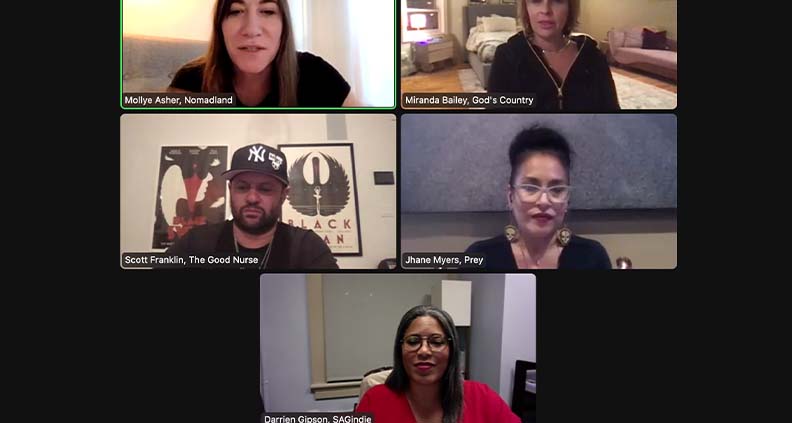 Starting with what she called "a doozy of a question," moderator and SAGindie executive director Darrien Michele Gipson dove into Thursday's livestreamed panel by asking if female-driven films are becoming easier to fund, following the intensified focus to draw out more female talent in recent years.
Given the outstanding track record of these producers, the question makes sense. Mollye Asher won an Academy Award – as well as a Spirit Award – for the ultimate road movie Nomadland, starring four-time Spirit Award winner Frances McDormand. Two-time Spirit winner and Oscar nominee Scott Franklin has just released the biographical crime drama The Good Nurse, starring Jessica Chastain. Miranda Bailey produced thriller God's Country – starring Thandiwe Newton – which premiered earlier this year at Sundance. And finally, Jhane Myers has been amazed by the worldwide reception for Hulu's sci-fi action/horror Prey, starring Amber Midthunder.
Bemoaning the tired "who's the audience?" question that she often hears in response to a female-driven story pitch, Comanche and Blackfeet American Indian producer Myers celebrated the reaction that Prey has been getting with a Native woman at the center of the story. Not only are audiences around the world engaged, this latest film in the Predator franchise with predominantly male viewers is now shifting to 40% female! "That's really exciting if you can change a demographic like that," Myers said. "Break out the magic wand!"
The panelists agreed that stories about women appeal to everyone, but until recently, the supporting data was tough to find. Now that the paradigm appears to be changing, Myers encouraged Indigenous creators to get busy pitching. Asher recommended leveraging budget constraints and the freedom of independence to make "big, bold mistakes." Bailey conceded that she's not well-positioned to champion a first-time filmmaker in the current marketplace, but she doesn't subscribe to the general anxiety seen in the Hollywood trades. It's still worthwhile to take risks. "It took us eight years to get The Good Nurse made," shared Franklin. "You just have to find out what it will take to make your movie and do it."
Big Vision, Small Budget: The Shiva Baby Story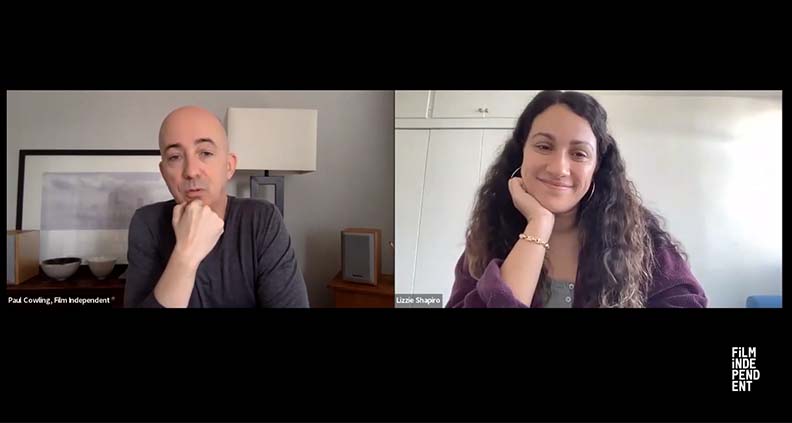 How do you keep costs down on a film budget of $200,000? The go-to price-slashing measures usually revolve around a small no-name cast and a single location. But the 2022 Spirit Award John Cassavetes Award winner Shiva Baby managed to attract a big cast (with some pretty big names!) on the strength of the story that centers on a Jewish college student who encounters her sugar daddy and her ex-girlfriend while attending a funeral with her parents. The fact that the project was shooting locally for a short time – three weeks in New York, where all but one cast member lives – made all the difference.
"The Casting Director must be key," suggested Paul Cowling, Film Independent's Associate Director of Film Education. "Very key," agreed Producing Lab and Fast Track Fellow producer Lizzie Shapiro, calling out the series' casting director Kate Geller, who "went very hard for the project. A couple roles were challenging to fill, but overall people read the script and just wanted to do it. That doesn't usually happen." She also attributed the ability to raise financing to the spirit of the story, sharing details on where the funds came from, how the producing team went about finding it, and the lookbook that helped cast the vision for potential investors.
Shiva Baby is now on HBO Max, with writer/director Emma Seligman in development on a spinoff series with HBO and Hyperobject Industries.
Justice and the Forces that Compel Creation in Art & Krimes by Krimes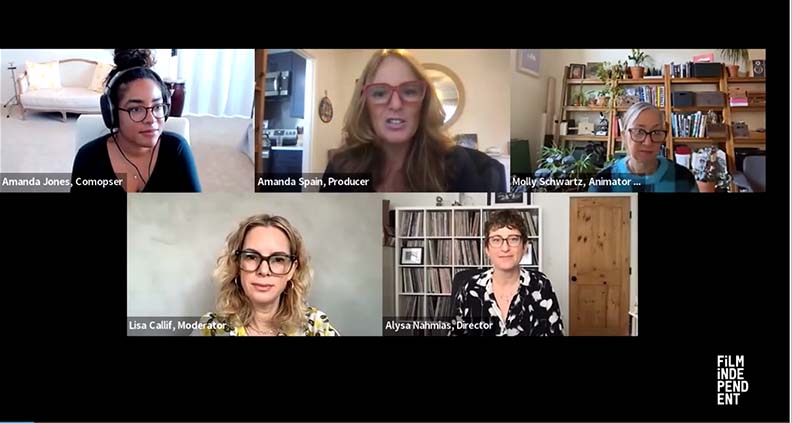 When AJNA founder and Art & Krimes by Krimes director Alysa Nahmias saw Jesse Krimes' 40-foot mural made with bedsheets, a plastic spoon, hair gel, and newspaper, she couldn't stop thinking about it. It was the work of a man who had been in pre-sentencing solitary confinement for over a year. And now it's included in a documentary that began as a story to chronicle Krimes' six years in prison. As Nahmias soon learned, there was nothing "past" about the role of the American justice system in Krimes' life and the lives of his fellow incarcerated artists who have since been released.
Moderated by Lisa Callif – a partner at the Los Angeles-based law firm Donaldson Callif Perez – the four members of the Krimes creative team discussed the unique challenges and solutions involved with bringing this story to the screen. Producer Amanda Spain spoke frankly about funding, encouraging specificity and transparency in finance-related conversations. "It took as long as the film took to raise the budget. We found ways to make the film with the money we had." That said, the filmmakers staunchly advocated for the creative team to be compensated for their work even while the funds were being raised.
Plenty of sound advice and road-tested experience were shared when it comes to film festival strategy, generating buzz, and ultimately selling Krimes to MTV. But you can't have a film's composer and animation director in the room and not talk about the music (weaving voices with guitars and synthesizers to help carry each thematic movement) or the animation (drawing inspiration from the artwork to depict Krimes' inner world as his inspiration). Composer Amanda Jones was thrilled to be working with Musicambia to record voices from inside the prison system. "There are stories that need to be told and nothing to tell them with," commented Director of Design and Animation on the project, Molly Schwartz. "That's one of our favorite problems to solve as animators!"
The Global Marketplace: How to Sell Your Film Across the Globe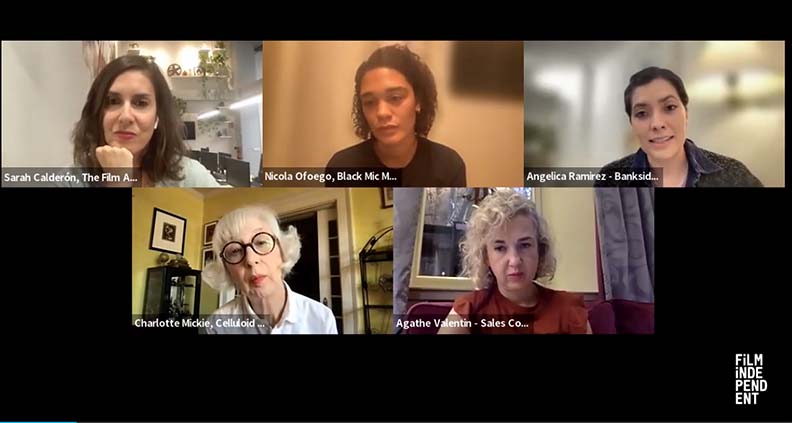 As we assess the state of the film business in 2022, you might be asking, "Can my film get a better deal in foreign markets?"
And the answer is, of course: "It's complicated."
Thankfully, we had the informative and very experienced voices of four international sales agents and market managers speaking to the state of the global film market. While there is no pithy and universal takeaways (except perhaps, that streaming should be the last stop on the distribution journey, not the first!), what we did get is an in-depth discussion of what matters to each international market. And guess what? It keeps coming down to STORY.
Moderated by founder and CEO of The Film Agency, Sarah Calderón, this intriguing discussion covered some very pragmatic and topical grounds. Productions in every stage will benefit from this panel as it traversed a wide spectrum of issues: how the market feels at this juncture, some nuanced considerations for English-language films and some unique considerations for European films of any language (based on country-specific subsidies available). But there is certainly no formula for success in foreign markets. "Really, they fall in love with the story," claimed former Totem co-founder turned independent consultant, Agathe Valentin.
To find out what the panelists consider to be the best festivals for U.S. films, strategic considerations for the upcoming American Film Market, and how to help agents from around the world actually see your film, tune in to this discussion available on-demand with your Full Access pass or purchase a virtual pass now.
If you've missed part or all of this week's Forum, not to worry! On-demand content covering the entire 2022 Forum is accessible through December 1, and virtual passes are still available.
Be sure to keep up with Film Independent's blog and YouTube channel for more illuminating coverage of the 16th Annual Film Independent Forum. To jump straight to the daily recaps, here they are: Day 1, Day 2, and Day 3, respectively!
The 2022 Film Independent Forum is sponsored by the Directors Guild of America, SAGindie and the Mississippi Film Office.