Forum 2022 Day 3: Forging Your Path, Unparalleled Authenticity in 'Pachinko' and Diversity in Storytelling
Alright, on the penultimate day of #FiForum22, we were still going strong with plenty of panels on the fortitude that it takes to forge a career in filmed entertainment, like how Pachinko creator Soo Hugh amassed an army of historians to bring meaningful authenticity to the hit show. Check out the highlights du jour below and visit our blog for full coverage of the 16th Annual Film Independent Forum.
Forging Your Path: Film Independent Fellows in the Spotlight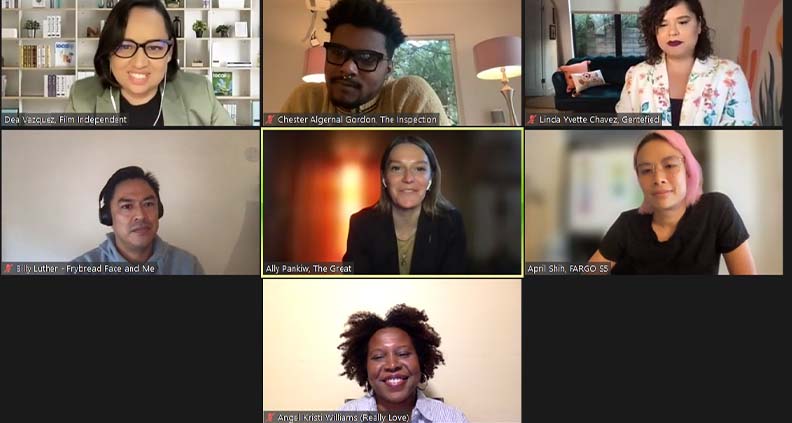 For the October 26 livestreamed discussion, 'Forging Your Path: Film Independent Fellows in the Spotlight' event, we were treated to an abundance of talented Film Independent Alums who have returned for a scintillating and frank conversation about the joys and vicissitudes of trying to eke out a career in filmmaking. The discussion was moderated by our very own Dea Vazquez, Associate Director of Fiction Programs within Film Independent's Artist Development umbrella, which celebrates its 30th anniversary next year!
One of Vazquez's questions to the panel: "What was harder – getting started or keeping going?" 2018 Directing Lab alum and writer-director Ally Pankiw (Hulu's period dramedy The Great) thinks it is much harder to keep going because you have to get used to constant rejection in order to survive in this business.
On one hand, producer Chester Algernal Gordon – of this year's Opening Night Film, The Inspection – thinks it takes more to get started because "no matter where you are, you keep having to prove yourself over and over again, from the $1 million movie to the $3 million film, then the $10 million film, and so on." He also shared his genuine appreciation for the opportunities that Film Independent has been able to provide that have helped open many doors over the years.
Making a movie takes stamina and determination, and the long days on set away from friends and families certainly makes challenging days even more so. Which is why 2014 Project Involve Fellow Angel Kristi Williams (Really Love) tries to have fun doing what she loves and be kind to her beloved crew – these are the most important qualities to her as one of the leaders on a production. "I like to have fun on set! It's a gift to be able to tell stories."
When it comes to pitching projects and "selling it in the room," 2020 Directing Lab Fellow and 2006 Fast Track alum Billy Luther thinks that making a genuine personal connection with the target audience is the most important thing, because filmmaking is such an emotional process. He is currently on post-production on his first narrative feature Frybread Face and Me, which is Executive Produced by Taika Waititi and slated to premiere in 2023. To hear what Gentefied creator, 2010 Project Involve and 2015 Screenwriting Lab Fellow Linda Yvette Chavez and 2017 Episodic Lab Fellow April Shih had to say, purchase the virtual pass for full access to every panel hosted throughout the 2022 Fi Forum.
Episodic Case Study: How Creator Soo Hugh Achieved Unrivaled Authenticity with 'Pachinko'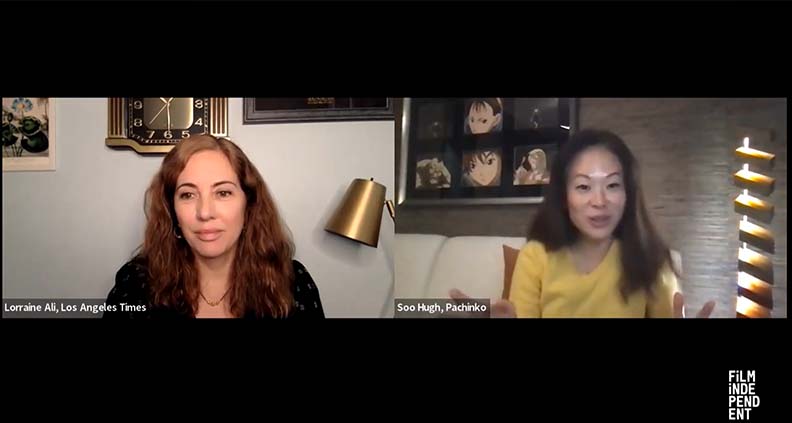 Moderated by Los Angeles Times television critic and award-winning journalist Lorraine Ali, this year's Episodic case study centers around the critically-acclaimed Apple TV+ hit period drama Pachinko. Before becoming the creator, showrunner and EP of the multigenerational saga of a Korean immigrant family living in Japan – TV writer Soo Hugh's credits include AMC's The Terror, Netflix's The Killing and CBS' Under the Dome.
Ali jumped right into how and why Hugh decided to adapt Min Jin Lee's bestselling novel in particular. While she (Hugh) doesn't believe in the need to adapt every compelling novel into the cinematic form, she just couldn't stop thinking about this one. At first, she was torn between telling the story in a nonlinear vs. linear fashion: "…. especially when you're telling a new story that people don't know much about, I always want to say something more thematic." But then her lightbulb moment came when it dawned on her: "What if you didn't make it linearly? What if you made it about a conversation between generations? Does the story change?"
When it comes to maintaining historical accuracy and authenticity, Ali was also curios to know if Hugh had brought in historians to bolster the adaptation. With the decades-long tensions between Japan and South Korea still smoldering today, she knew the authenticity factor on this project would have to be amped up. "The one thing I knew would sink the show was if people from either side [of the tensions] felt like it was a fantasy. If one thing felt really, really wrong, then the whole show loses its creditability."
To really make sure that the show got the historical aspect nailed down, her team worked with a huge army of historians – food historians, war historians, and experts on costumes and ceramics, you name it! They also had historians in the writers' room and on set and watching cuts to provide notes. "We had historians from all sides – the Zainichi, Japanese, Korean and the U.S."
Documentary Case Study: 'Stray' – A Canine POV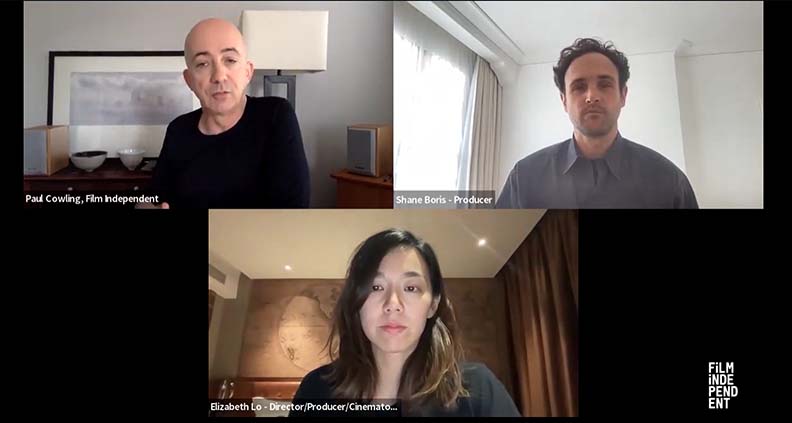 For director, producer and cinematographer Elizabeth Lo's first feature-length documentary, the seed of the idea for Stray came to her when she was attending the premiere documentary film festival – the Camden International Film Festival in Maine's MidCoast region. "I had the idea of making a film about stray dogs around the world as a way to examine how a single species, their status can change depending on the cultural context, which would reveal how arbitrary it is the value that we assign to various species."
Lo just so happened to be sitting around the fireplace that very day next to producer Shane Boris (NatGeo's Fire of Love), who was impressed with her deeply personal story of when she had lost her beloved dog. "I remember Elizabeth telling me the impossible contradiction in society where she could feel such a connection to another living being but society wouldn't allow the space to mourn that being or to be connected to that being." When that conversation eventually led to her idea of making a movie about stray dogs, he was struck by the importance and value of non-human animals and by how our society doesn't allow the space for that. In that instant, he totally got the originality and depth of her perspective.
Film Independent's moderator Paul Cowling (Associate Director of Film Education) was also curious about the process of filming all over Turkey. Once Boris connected Lo to local producer Zeynep Köprülü and Ceylan Carhoglu in Istanbul – both Co-Producers on the film – they were able to reach out to local animal communities and took scouting trips, eventually getting a blanket permit to film all around the city. To find out how the producing team chose the dogs to focus on and why Zeytin became one of their lead characters, check out the archived session on our virtual platform.
An Inclusive Set: How the Diversity of Voices Makes the Story Better and Makes Business Sense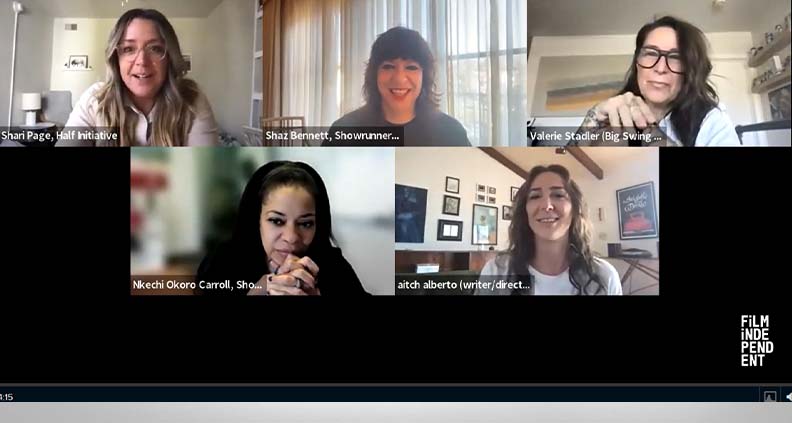 Aitch Alberto, writer-director, Aristotle and Dante Discover the Secrets of the Universe
Moderated by Half Initiative's Program Director Shari Page, the panel shared tips and insights on how to encourage more intentional hiring standards that can really bring parity to the forefront and give equal opportunities to talent that come from traditionally underrepresented communities.
It's not just because "it's a story about brown people, so we should have brown people working on it. It's not just about the story you're telling, the range of voices will always make the story better regardless of what it is," remarked Valerie Stadler, producer of this year's Aristotle and Dante Discover the Secrets of the Universe. And showrunner/EP Nkechi Okoro Carroll (Found, All-American, All American Homecoming) agrees wholeheartedly: "The diversity of voices above and below the line, it all makes better business sense. So, even if you don't want to do it for all the other reasons, everyone understands money."
Showrunner/EP of Queen Sugar, Shaz Bennett is delighted by how much things have changed when it comes to female directors in television. Happily, these days, it is considered unusual if there isn't at least one female director on a show. "There's a certain quality that has changed in the last six years and I think a lot of that comes from Queen Sugar [which is on its seventh season on OWN]."
Page also brought up the question of when producers should initiate the conversation surrounding hiring goals for the core team on a project with the studios and production companies. Because of who they are as artists and what the story is about, writer-director of Aristotle – about two 'brown kids in 1987 El Paso' – and fellow producer Stadler were very intentional about what they wanted the film to be from the very beginning. "If I'm not leading with intent, then I'm not doing my job. There were many women who were heads of departments [on this project] and I'm really proud of that."
If you've missed part or all of this week's Forum, not to worry! On-demand content covering the entire 2022 Forum is accessible through December 1, and virtual passes are still available.
Be sure to keep up with Film Independent's blog and YouTube channel for more illuminating coverage of the 16th Annual Film Independent Forum. To jump straight to the daily recaps, here they are: Day 1, Day 2, and Day 4, respectively!
The 2022 Film Independent Forum is sponsored by the Directors Guild of America, SAGindie and the Mississippi Film Office.