Old School: The Best Film Independent Forum Moments from Yesteryear
August may still be clinging on with sunburned fingertips, but if the chestnut-hoarding antics of the noble squirrel have taught us anything, it's that it's never too soon to start planning for fall. Sure, there are still four hot, humid weeks of September looming on the horizon, but before you know it the holiday aisles at Vons and Target will be jam-packed with cotton cobwebs and fiberglass tombstones as October descends—and with it, the 2016 edition of the Film Independent Forum, which opens pre-sale registration to Film Independent Members today.
Unfolding over one dense, edifying weekend each year at the Directors Guild of America in Los Angeles, the Film Independent Forum offers a bevy of advice and hard-fought wisdom from top voices in the film industry—featuring exclusive filmmaker panels, case studies, intimate discussions and one-of-a-kind networking opportunities designed to help independent filmmakers make, sell, distribute and market their dream projects. So take a couple days off from tweaking the flaxen mop on top of that utterly terrifying Donald Trump Halloween costume and come join the fun. It'll be yuge.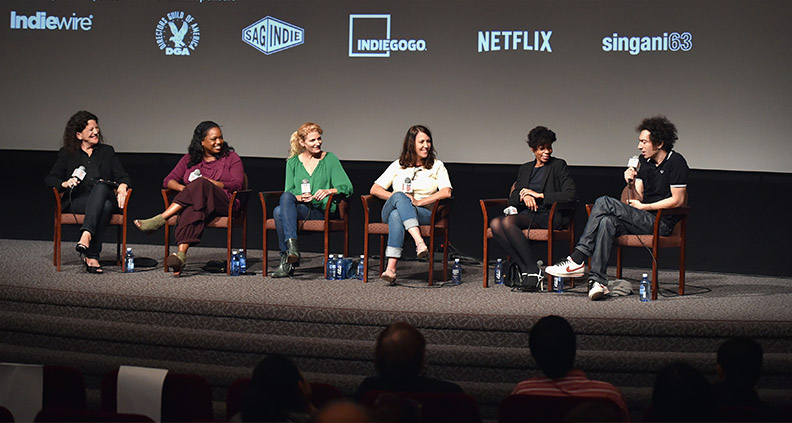 As in previous years, this year's October 21-23 Forum will feature an eclectic collection of panelists and speakers from across the moviemaking landscape, joining the ranks of past speakers such as Ava DuVernay, Ted Hope, Tim League, Jill Soloway, Jon Chu, Werner Herzog and many more. The complete line-up (along with this year's Forum keynote speaker) will be revealed next Tuesday, September 6 along with ticketing info—all treats, no tricks. Stay tuned!
Not convinced? Well, in preparation for #ForumFever, we decided to hop in the way-back machine and set the dial for yesteryear, revisiting some of our favorite panels and moments from Film Independent Forums past. Enjoy!
---
TRAILBLAZING WOMEN: LYNN SHELTON AND ILLEANA DOUGLAS (2015)
Last year, award-winning actress Illeana Douglas (To Die For, Ghost World, Six Feet Under) moderated a career-spanning panel discussion with filmmaker Lynn Shelton (Humpday, Your Sister's Sister) about their experiences as women in the film industry, as well as the sometimes messy collaboration between directors and performers.
---
THE SUCCESSES (AND FAILURE) OF BLUMHOUSE (2015)
Also from last year, Blumhouse Productions' namesake studio boss Jason Blum took to the stage to discuss his company's unique business model and offer candid insights into his career's biggest highlights and lowlights. The panel was recorded just as Blumhouse's underperforming Jem and the Holograms reboot was flailing in theaters—a situation Blum discusses with surprising honesty.
---
CAREER ADVICE WITH WERNER HERZOG (2014)
What does working as a bouncer in a sex club have to do with becoming a great director? A lot, actually—at least according to Werner Herzog, whose offbeat suggestions to aspiring filmmakers formed the heart of his 2014 Forum keynote address. "Roll up your sleeves and work where there's a real intensity of life," advised the legendary (and legendarily) idiosyncratic director, who argued that great art is the product of experience, not academics.
---
AVA DUVERNAY KEYNOTE ADDRESS (2013)
"This is a tweet-friendly event," chuckled 2013 Forum keynote speaker Ava DuVernay during her opening remarks, adding that she herself had attended "many, many of these events on my journey to making films, and they really made a difference." We'll say—just a year later, DuVernay's stirring drama Selma would be released to overwhelming critical acclaim (and four 2015 Film Independent Sprit Award nominations).
---
Pre-sale registration for the 2016 Film Independent Forum is now open to Film Independent Members? Not a Member? Join today.
Non-Members can register for the Film Independent Forum starting Tuesday, September 6. For more from past Film Independent Forum participants, please visit our YouTube channel.
The 2016 Film Independent Forum happens October 21-23 at the Directors Guild of America in Los Angeles. For more information about, including updates about panels, speakers and special events and ticketing, please visit our website.
The 2016 Film Independent Forum is presented by Premier Sponsors Directors Guild of America and SAGindie and Principal Sponsor Montana Film Office.