ICYMI: Rebecca Green on Creating the Producers Union and What it Means for the Industry
EDITOR'S NOTE: The below piece originally ran in July of last year. We're re-posting it here with minor edits to the original text.
***
Go ahead: picture a film producer. What does this mental image look like? Well, if you've allowed the pop culture's idea of "movie producer" to influence your vision you're probably picturing some wealthy middle-aged dude, terrycloth pool shirt open to his sternum, chomping on a cigar while screaming obscenities into a speakerphone in some corner office with in view of the Hollywood Sign. But this idea of what a producer is couldn't be further from the truth.
More often than not, producers are hardworking independent contractors at as much risk of being exploited and undervalued as anyone else on the crew. The fact that producers (like directors) operate in a supervisory capacity does not mean they are necessarily management, in labor relations terms. So then, how to protect producers against the labor squeeze that our current streaming-era content boom seemingly demands?
In a word: unionize. Which is why Dear Producer creator and frequent Film Independent Artist Development Labs creative advisor Rebecca Green (It Follows, And Then I Go) has partnered with a who's who of leading indie producers—among them Effie T. Brown, Monique Walton, Chris Moore and Avril Z. Speaks—to form the Producers Union. Separate and distinct from the Producers Guild of America (PGA), the Producers Union is a collective bargaining group fighting for fair wages and labor rights for indie producers at a variety of career levels.
We recently spoke to Green, also a Film Independent Producing Lab and Fast Track Fellow, about the formation of this new organization, her ongoing attempts to correct misconceptions about the profession of producing and managing the various branches of her career.
REBECCA GREEN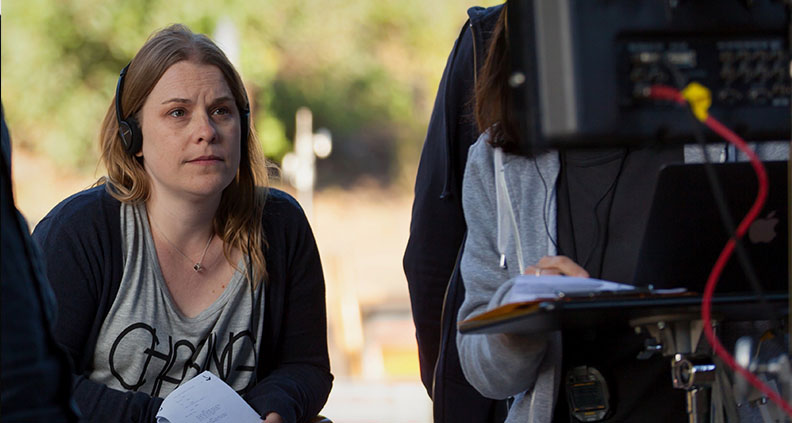 Let's start with the basics: can you tell me what the Producers Union is, exactly? And what do people need to know?
Green: The key is that the Producers Union is a collective bargaining organization for producers, similar to organizations like the SAG, DGA, or WGA. The PGA exists and supports producers in many ways, but they're not a collective bargaining organization, which most people don't realize. Collective bargaining is when a group of people come together [as labor] to fight for wages and healthcare and workers' rights. Other than production assistants, the producer is the only person on set who doesn't have a union to join for collective bargaining—we have nobody fighting for us when it comes to wages or any sort of labor protections.
I think there's perhaps an assumption out there that producers are the head honchos—that they're the ones in charge and that people would be negotiating their deals with them rather than the other way around. Can you explain how this assumption is false?
Green: Certainly there are a handful of producers who are very well off and make a lot of money and own the IP and control the backend. But they are the unicorns. The majority of producers are labor; we're signing work-for-hire agreements with financiers. Yes, we're overseeing budgets and schedules, which some see as a conflict, but when you look at directors, you can point to a very similar type of supervisory role. We do supervise production, but we ourselves are employees of whoever is financing the film, whether that be individual equity financiers, streamers, or studios. As supervisors we would be excluded from the protections of federal labor law. However, the right to self-organize and select a bargaining representative are fundamental rights predating the existence of any labor relations laws. The Supreme Court has recognized that supervisors have fundamental labor rights that exist independent of federal labor laws.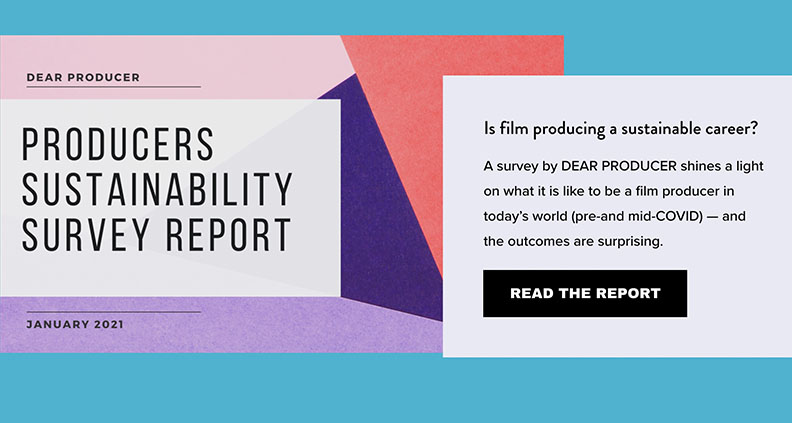 Do you consider this union an extension of the work you've been doing through Dear Producer, both in terms of educating people as well reforming some practices that are detrimental to producers?
Green: It definitely is. I started working on the Producers Union with producer Chris Moore in the fall of 2019. But subconsciously I'd say the idea started a decade ago, when I worked at Sundance managing their Creative Producing Lab. During that time, I was exposed to a wide breadth of producers and over the last decade have had really vulnerable, transparent conversations, hearing their stories and struggles and what they're up against: that despite the content boom and how much is getting made, producers each year get more and more financially squeezed. That was the impetus for starting Dear Producer, which was meant to support producers through education, but to also highlight what it is that we do and who we are.
How did these conversations with your other producers eventually evolve into such an ambitious project?
Green: I was in LA actually teaching at the Film Independent Producing Lab in 2019 when it began. While I was in town, I was taking some general meeting with different companies that had deals with studios and streamers, mostly companies helmed by actors and directors, and started to get really frustrated with my own inability to move up the chain and make bigger projects which in turn means I'm making more money. I emailed my friend [producer] Mynette Louie and asked, "Do you know why we don't have a union?" She introduced me to producer Julie Lynn who then introduced me to Chris Moore who had been having the union conversation for many years. So Chris and I started talking several times a week and after a few months we hosted a dinner in New York and a dinner in LA with close producer friends to discuss a potential union. From there, we started our first exploratory committee and we had 24 producers, many of whom are Film Independent Fellows. Then we moved to an official Steering Committee of nine, and that Steering Committee drafted—with a lawyer—the constitution for the organization, which was unanimously ratified by 108 producers in March of this year.
Let's say I'm a fledgling producer. Maybe I'm not very far along in my career, but I hear that this thing is being put together and I'm curious how I could be involved. What would my next steps be?
Green: We've set up two different branches for our membership: Professional and Emerging. The Professional membership is someone who's produced two movies in the last seven years that have had a commercial release—and "commercial release" is something we define very loosely. We recognize that the industry has drastically changed and will continue to do so at a rapid pace and we do not want to define success only by having a theatrical release. We do not want to discredit work that is seen by other means or producers who are self-releasing their films. For Emerging members, it takes one credit that has been released or that has premiered at designated festival. But much like how we're defining "commercial release" we're also making sure that we include festivals from all different types of regions and communities and have included 40+ festivals on our eligibility list. The memberships each have different rights and privileges, but it's our way to start bringing up-an-coming producers into the union and getting them into the fold.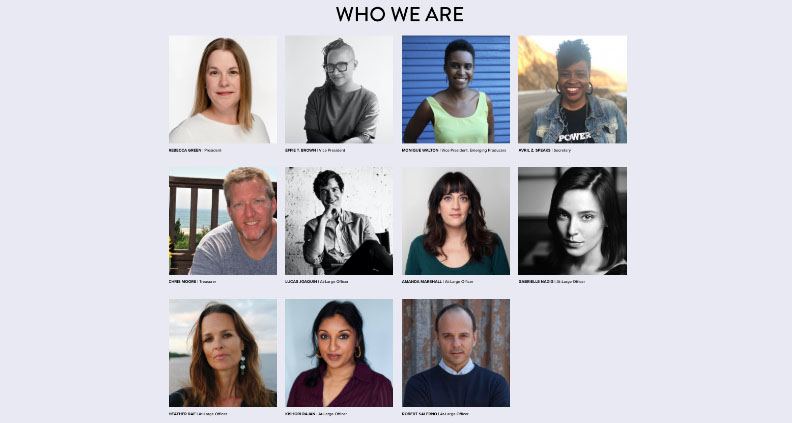 How are you doing it all—making stuff, but also creating these resources and this union for other people who make stuff?
Green: I ask myself that a lot. I run both Dear Producer and act as the President of the Producers Union on a volunteer basis in addition to the projects I'm producing. The Union's Executive Committee is amazing and has so many smart producers involved so I'm not the only one carrying the weight. What I've learned in my 40s is to just be kind to myself. I don't give myself a hard time if I don't get something I planned done and I'm not trying to live up to anybody else's expectations of what they think I should be doing. I think living in Detroit makes it easier for me, I have a support system of friends who while they are curious about my work, don't need me to read their script or introduce them to financiers, they have their own careers separate of mine. My life isn't all about my work. And I'm really picky, I've only got five projects and that's it. I'm not in this hustle all the time to find new stuff to develop. I want what I work on to be exceptional and I want to give my all to the project. I don't believe you can do that if you have a large slate.
I think for a long time in Hollywood a willingness to work yourself to death was highly overvalued. Now people are reevaluating whether or not that's worth it, or even if it's the most effective way to work.
Green: It can't be everything. A lot of the work that I've been doing is brainwork. It's thinking about big ideas and how we move the industry forward. And I can do that sitting on a beach or out for a hike, I don't have to be hunched over my computer. In fact, it's better that I'm not. Being out in the world experiencing life doesn't mean I'm not thinking about the work, it just doesn't have to be so all consuming.
Click here learn more about the Producers Union and be sure to check out Dear Producer. To become a Member of Film Independent, just click here. To support us with a one-time or recurring donation, click here.
More Film Independent…