Sterling K. Brown and Issa Rae to Host Spirit Awards Nominee Brunch and Grant Presentation
If it wasn't already obvious from its beachfront locale (bring your swimsuit!) or avant garde approach to red carpet fashion (that psychedelic cowboy-hat-and-poncho combo is just fine by us), you should know by now that the Film Independent Spirit Awards are not your typical awards show. The purpose of the Spirit Awards isn't to anoint individual filmmakers or performers and elevate them into some sort of untouchable, aristocratic fraternity of Hollywood bigwigs—it's to celebrate independent moviemaking as a whole.
It's beyond cliché at this point to observe that film is a collaborative exercise, one that brings an entire micro-community of likeminded artists together to create something new and unique. So really, "community" is the key watchword here—and what better way for likeminded communities to celebrate each other's work than to break bread together. Or, in this case, breakfast burritos.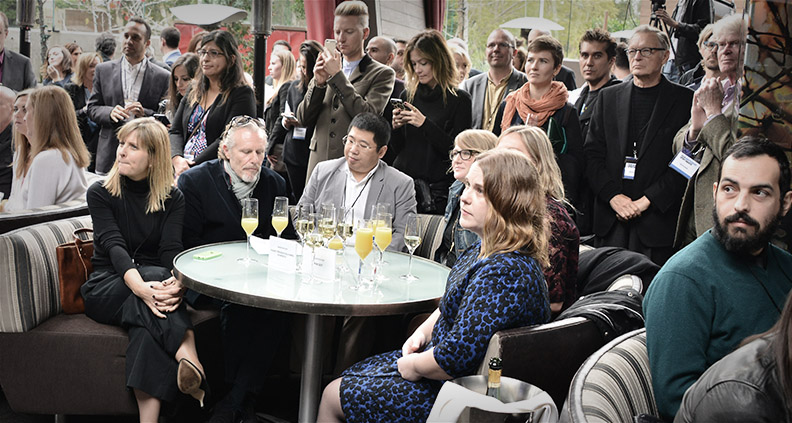 The actual 2017 Spirit Awards ceremony won't drop until February 25, but on Saturday, January 7 this year's honorees will once again gather for Film Independent's annual Nominee Brunch in West Hollywood in order to toast the past 12 months in independent film (and perhaps sip one too many mimosas) and watch as Brunch co-hosts Sterling K. Brown and Issa Rae take the stage to award a trio of filmmaker grants: the Piaget Producers Award, the Truer Than Fiction Award and the Kiehl's Someone to Watch Award.
And if that wasn't enough, the Sprit Awards have announced that the great David Oyelowo as the honorary chair of the 2017 awards, as announced by Film Independent President Josh Welsh. Need a quick refresher about who the 2017 Film Independent Spirit Award nominees actually are? Check out our Nominee page here, or watch last week's press conference announcement, featuring Jenny Slate (Obvious Child) and Edgar Ramirez (Carlos):
As for this year's Brunch co-hosts, Welsh said, "Sterling K. Brown and Issa Rae are two of the most captivating and talented actors working today…we're so happy to have them host our Spirit Awards brunch."
Sterling K. Brown rose to fame in 2016 with his jaw-dropping portrayal of Christopher Darden in the FX phenomenon The People vs. O.J. Simpson. He currently stars on the hit NBC drama This is Us. Rae—who joined us at the LA Film Festival "Diversity Speaks" panel in June (click here for a full recap)—is the creator and star of HBO's critically acclaimed dramedy Insecure, which recently wrapped its first season. The show is an adaptation of Rae's popular web series, The Misadventures of Awkward Black Girl, which you can find here.
Two actors of enormous depth who have both been involved in projects exploring, with nuance and sophistication, the complexities of African American life in the 2oth and 21st centuries, Rae and Brown are in good company with Oyelowo, widely acclaimed for his performances in films including Middle of Nowhere (for which he was nominated for Best Supporting Male Spirit Award in 2013) and Selma (nominated for Best Male Lead, 2015). Past Spirit Award Honorary Chairs have included Jessica Chastain, Kerry Washington, Benicio del Toro and Jodie Foster, among others.
The January Spirit Awards brunch will also feature the awarding of three separate filmmaker grants, presented by Brown and Rae during a brief awards ceremony in-between bites of home-fried potatoes and Greek yogurt. For last year's Grants Presentation featuring Orange is the New Black's Uzo Aduba and Mr. Robot's Rami Malek, see below:
The (previously announced) Nominees for the 2017 Spirit Awards grants are:
PIAGET PRODUCERS AWARD – Sponsored by Piaget, the 20th annual Piaget Producers Award honors emerging producers who, despite highly limited resources, demonstrate the creativity, tenacity and vision required to produce quality independent films. Nominees for this year's $25,000 unrestricted grant are Lisa Kjerulff, Jordana Mollick and Melody C. Roscher & Craig Shilowich.
KIEHL'S SOMEONE TO WATCH AWARD – Now in its 23rd year, the Someone to Watch Award (Sponsored by Kiehl's Since 1851) recognized a talented filmmaker of singular vision who has not yet received proper recognition. 2017 Nominees for the $25,000 unrestricted grant include Spa Night director Andrew Ahn, Embers director Claire Carré, The Fits director Anna Rose Holmer and Ingrid Jungermann, director of Women Who Kill.
TRUER THAN FICTION AWARD – This year's 22nd annual Truer Than Fiction Award is presented to an emerging director of non-fiction features who has not yet received significant recognition. Nominees for the $25,000 unrestricted grant are Solitary director Kristi Jacobsen, Kiki director Sara Jordenö and Nanfu Wang, director of Hooligan Sparrow.
So final congratulations to all of this year's grant finalists, nominees, honorees and co-hosts. See ya in the New Year!
---
The 32nd annual Film Independent Spirit Awards will take place on the beach in Santa Monica Saturday, February 25 and will air exclusively on IFC at 2:00pm PT / 5:00pm ET.
Subscribe to our YouTube channel for more Spirit Awards coverage, and follow us on Twitter, Facebook and Instagram for all the latest updates.
Not a Member of Film Independent yet? Join by December 6 to enjoy the complete benefits of Spirit Awards season, including voting privileges and awards screeners. Click here to find out how.