Fiscal Updates: 'Monica', 'Hold You So Tight' and 'Necessity: A Documentary In Two Parts''
For several years now, Film Independent's Fiscal Sponsorship program has supported a wide variety of projects: shorts, features, both narrative and nonfiction. Not to mention the occasional new media project, special event or advocacy initiative. Each month's Fiscal Spotlight column announces three new projects taking part in the program.
But maybe you're curious how some of those prior subjects have turned out. Well hey, you're in luck! Once again it's time for another FiSpo Update highlighting the recent achievements of previous Fiscal Spotlight subjects.
Film Independent's Fiscal Sponsorship program opens the door to nonprofit funding for independent filmmakers and media artists. The projects and makers participating in the program express a uniqueness of vision, celebrate diversity and advance the craft of filmmaking through the creation of these special works. To see the full range of projects that are part of our program, visit our Sponsored Projects page.
For more information about any of our Film Independent programs (including Fiscal Sponsorship) and how to apply to them, please check out our upcoming Spotlight Your Story session with our Artist Development team on June 20.
MONICA
Project type: Narrative Feature
Project status: Theatrical Release (IFC Films)
Filmmakers: Andrea Pallaoro, Gina Resnick, Eleonora Granata, Christina Dow, Christina Sibul
Synopsis: Monica is the intimate portrait of a woman who returns home to the Midwest for the first time in 20 years to take care of her dying mother. Not certain her mother recognizes her and living in her childhood home, Monica must heal the wounds of the past and forge her own path of forgiveness and acceptance. Exploring the universal themes of aging and beauty, rejection and alienation, we are led into Monica's world and state of mind: the pain, fear, needs and desires of a woman whose journey ultimately illuminates the human condition.
Update from the filmmakers: "We are so proud of this small, beautiful and hopefully impactful film. Monica is being released by IFC and opened in New York and Los Angeles the weekend of May 12. It opened nationwide a week later. It is one of the first films released theatrically in the US to center a transgender woman as its lead. Trace Lysette's performance is stunning and has been critically acclaimed. Equally remarkable is indie icon Patricia Clarkson. Both have been tirelessly doing screenings, Q&A's and press as we get the word out. It was truly a full-circle moment to screen the film at Film Independent Presents. One of the producers of Monica is a Film Independent Fellow and all of our producers are Film Independent Members. It was lovely and gratifying to see Daniel Cardone [Manager, Nonfiction Programs and Fiscal Sponsorship] onstage as our moderator for the post-screening Q&A. He had championed our film early on by including us in the Fiscal Sponsorship program, which allowed us different and meaningful ways to fundraise for emergencies outside of our budget–as well as the million-and-one additional expenses that pop up as you push the Sisyphean boulder up the hill to theatrical release. We hope you all show up to see our small and hopefully mighty film in theaters!"
HOLD YOU SO TIGHT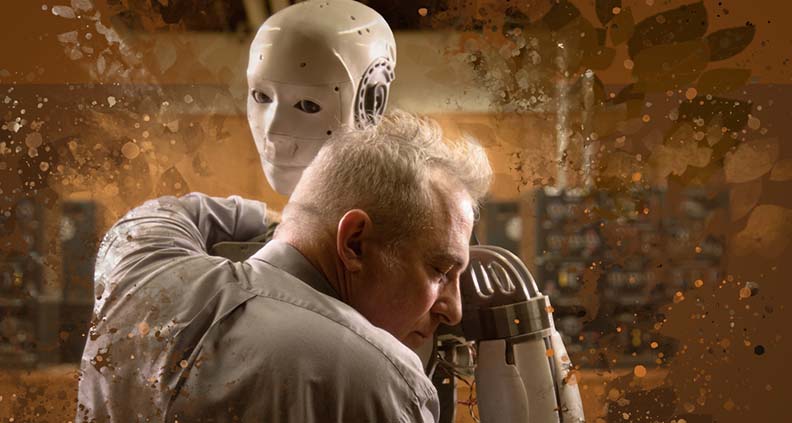 Project type: Narrative Short
Project status: Post-Production
Filmmakers: Eric Rudnick, Davey Robertson, Cameron Fife
Synopsis: We're all feeling it. Despair. Loneliness. Hopelessness. Hold You So Tight channels all of our anxiety through a woman named Stephanie. As she tries to keep it together in a tele-therapy session over her phone, Stephanie reaches a decision point. Emerging from her car in the parking lot of a motel she heads to the appointment she's made in Room 11. There, two men operate their traveling pop-up business Hold You So Tight, offering personalized hugs delivered by a homemade robot. Inside, Stephanie encounters the robot—and life may never be the same.
Update from the filmmakers: "Hold You So Tight wrapped filming in late April 2023. With 100+ years of experience on our crew, the teamwork was palpable—we shot thirteen pages in two days! In the weeks leading up to the shoot, stories about AI and ChatGPT started appearing daily, and continue to grab headlines. In relation to the themes of the film our timing was extremely fortunate. This brought a sharper focus to our script and an immediacy to our cast and crew, with everyone aware that we were capturing a story that was unfolding in real time. We are grateful to our generous donors, and are currently reaching out to robotics organizations and companies to share our vision of the film. Our leads Charisma Carpenter (Buffy the Vampire Slayer, Angel) and Kristina Wong (Sweatshop Overlord) gave portrayals that embodied not only our consumption of technology and our desire for healing, but also our addiction to the screens that deliver nearly everything to us. With its blend of tones including suspense, drama and comedy, we're entering post-production with something to say about our strange new world. We're looking forward to audiences experiencing what happens in this science fiction folktale, when low self-esteem meets high tech in Hold You So Tight."
NECESSITY: A DOCUMENTARY IN TWO PARTS
Project Type: Two-part documentary series
Project Status: Release (Freestyle Digital Media)
Filmmakers: Jan Haaken, Samantha Praus
Synopsis: Necessity: A Documentary in Two Parts folds around activists and their use of the "necessity defense" in jury trials in different regions of the US after being charged with trespassing. Movement lawyers must show that the threat of the climate emergency justified these acts of civil disobedience and that there were no legal alternatives. From the Mississippi Headwaters, wild rice fields and Great Lakes in Part One to the rivers and mountains of the Columbia River Gorge in Part Two, awe-inspiring terrains are sites of coordinated resistance to corporate expansion of oil through pipelines, rail and terminals in getting their lethal products to market. As inspiring and hopeful as they are informative, the twp films show how creative alliances form around shared commitments to save the planet.
Update from the filmmakers: "Most of the production of Necessity II occurred during the pandemic, which brought practical challenges in carrying out interviews—challenges we were only able to address because of our deep community support. The team's participatory method combined with the consultation process among Northwest tribes meant that tribal members serving as associate producers and advisors were key in pushing things along while also addressing other issues that arose. For example, filming the "She Who Watches" pictograph on tribal lands. Benefit events brought students, teachers and Indigenous and non-Indigenous activists together in discussions of legal tactics and lessons in climate activism. We were delighted to receive a number of awards at festivals, most recently the Documentary Feature Silver Award at the 2022 Social Justice Film Festival in Seattle. We're so happy that Freestyle Digital Media picked up the series for distribution and released the films on major platforms in May 2023! For more information visit: our website."
Learn more about Fiscal Sponsorship, including its benefits and eligibility requirements, by visiting our website. Check out our Sponsored Projects page to see the projects are currently being supported.
Celebrating 30 years, Film Independent Artist Development promotes unique independent voices by helping filmmakers create and advance new work. Become a Member of Film Independent today. Support us with a donation here.
More Film Independent…
(Header: Monica)