FiSpo Updates: Four More Fiscal Sponsorship Faves – Check Out These Glow-Ups!
Film Independent's Fiscal Sponsorship program supports a huge variety of projects. And while we take time to tout rookie Fi Fiscal Sponsorship projects (and encourage your support of them!) in each month's Fiscal Spotlight column, you may be wondering how some of that column's previous subjects have been progressing. So it's once again time for FiSpo Updates, highlighting recent achievements of projects that are part of the program.
Film Independent's Fiscal Sponsorship program opens the door to nonprofit funding for independent filmmakers and media artists. The projects and makers participating in the program express a uniqueness of vision, celebrate diversity and advance the craft of filmmaking through the creation of these special works. To see the full range of projects that are part of our program, visit our Sponsored Projects page.
To learn how Fiscal Sponsorship works, check out the above video or watch our full discussion with Film Independent's Artist Development team way down at the bottom of this article.
If you're already part of our Fiscal Sponsorship program and you have a production milestone you'd like to see in the next post, please email us.
THE ERRAND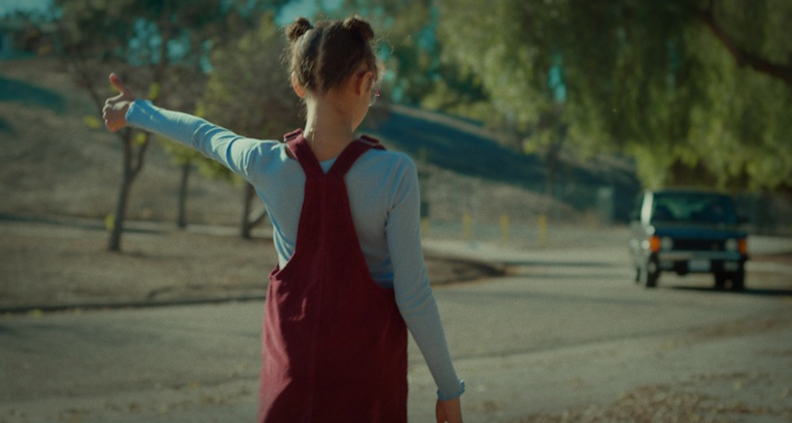 Project Type: Narrative Short
Project Status: Exhibition
Filmmaker: Amanda Renee Knox
Cast: Naya Johnson, Ezekiel Bridges, Toni Robison-May, Sean Gallagher
Synopsis: A young girl is hitchhiking. She is picked up by a middle-aged driver. She asks him to take her home. During their journey, the girl confronts the driver with moral questions and the tension between them builds until we understand the girl had a specific plan that the man blindly followed from the beginning: to expose her mother's affair and reunite her fractured family.
Updates: The Errand had its World Premiere at the 75th Cannes Film Festival in the American Pavilion Emerging Filmmaker Showcase, sponsored by The Hollywood Foreign Press Association. The film was presented in Italy preceding Trudie Styler's Infinite Storm, starring Naomi Watts. It will have its Los Angeles premiere at the 18th Academy Award-Qualifying HollyShorts Film Festival on August 19 at the TCL Chinese Theater. The Errand will also be among 25 International Short Films screening in the highly competitive Canadian Screen Award Qualifying at the Regina International Film Festival. The Errand was part of the Panavision New Filmmaker Program and has been highlighted on Panavision's website, to be screened in their theater Fall 2022. Writer Mira Olsson has been chosen as one of the top writers for the The Writers Lab, funded by Meryl Streep and supported by Television Tribeca and New York Women In Television. Producer Lara Aslanian and Nick Ramsey are collaborating on a pilot that was recently picked up by a major streaming site. Finally, filmmaker Amanda Renee Knox is in discussion with Maven Screen Media for a possible feature collaboration.
RILEY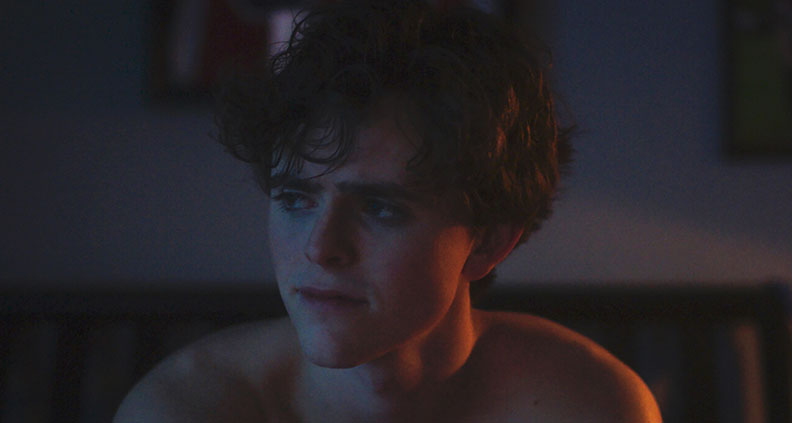 Project type: Narrative Feature
Project status: Post-Production
Writer/Director: Benjamin Howard
Starring: Jake Holley, Colin McCalla, Riley Quinn Scott, Connor Storrie
Synopsis: Ambitious high school athlete Dakota Riley begins his senior year like most of his peers; within the confines of the steady monotony that comes with adolescence — sports, classrooms, dinner tables, school halls. With high expectations for his athletic pursuits, Dakota lives within carefully designed boundaries, a calculated blueprint upon which he's formed the basis of his identity. But when the reality of this identity is thrown into disarray, Dakota is forced to confront the consequences of denying himself, or choose to live a life rooted in truth.
Updates: Riley wrapped production in April, filming throughout the month in San Diego. Largely based on the high school years of its writer/director, Riley aims to offer a contemporary perspective on the coming-out process for young athletes, as well as showcase how coming to terms with one's sexuality is easier said than done. The film has reached picture-lock, and is now in the final stages of post-production: score, sound design, and color. Riley is on track for its targeted film festival run in 2023. Rendezvous, the film's proof-of-concept, is currently on the festival circuit and has been selected for various festivals, including HollyShorts, Bend Film Festival and FilmOut San Diego.
IN TOW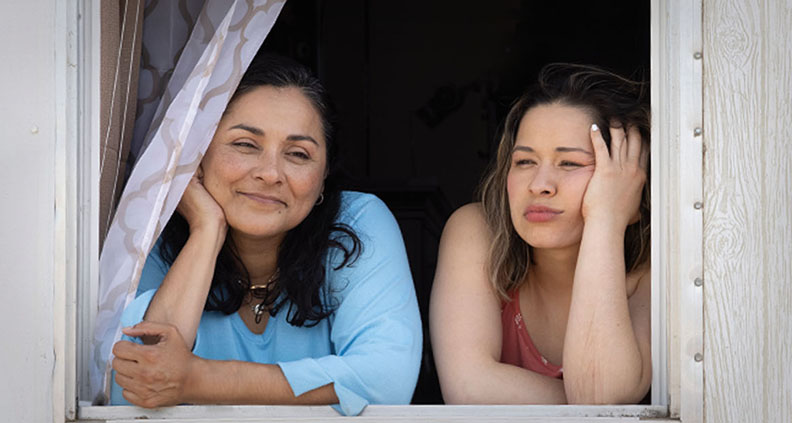 Project type: Narrative Short
Project status: Post Production
Filmmaker: Sharon Arteaga
Cast: Katy Atkinson, Sandy Avila, Alec Franco
Synopsis: On the morning of her senior homecoming game, a self-involved high school cheerleader (Sheila) and her overworked single mom (Bonnie) wake up to find that their mobile home is being repossessed… with them inside it! Although living under the same roof, the women's relationship has become estranged over the last five years–partly due to Sheila's adolescence and first-generation Mexican-American goal to become more than where she came from, partly due to her mother's fatigue from trying to keep their heads above water. The women argue inside the shaking, single-wide trailer as they are towed through the roads of rural Texas, fighting to get what they want. Bonnie tries to save the home she's worked so hard for, while Sheila desperately attempts to escape the moving home so that she can cheer at her last homecoming game.
Updates: In Tow wrapped principal photography with a mobile home and a semi truck before the brutal Texas summer rolled in. Writer/director Sharon Arteaga's latest project is an action-adventure inspired by her upbringing living in mobile homes with her immigrant single mom. The film has received production support from the Mexican American Cultural Education Foundation, Austin Film Society, New Orleans Film Society and the Santa Fe Film Institute. Now in post-production, editor Manuel Tsingaris (Building the American Dream, Lupe Under the Sun) is nearing a fine cut while VFX Supervisor Laurie Powers Going (Eternal Sunshine of the Spotless Mind, Amazing Spider-Man) has begun to make magic with visual effects. Director Sharon Arteaga is working with composer Amanda Duran and sound designer Morgan Honaker. The three last collaborated together on Arteaga's short film, When You Clean a Stranger's Home, currently streaming on HBO Max.
JIMMY IN SAIGON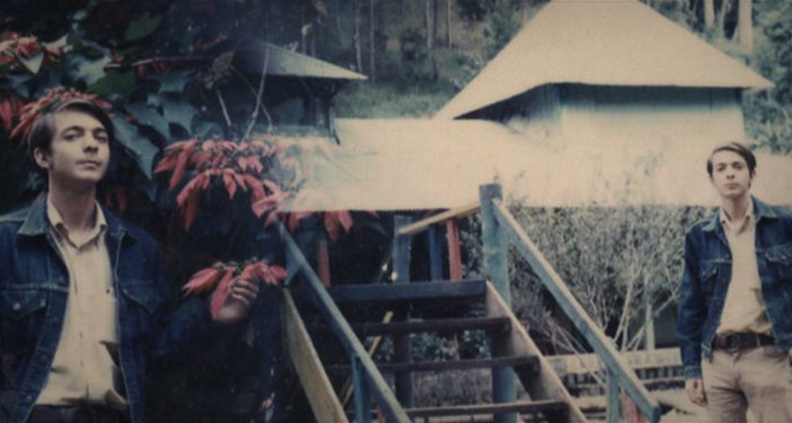 Project type: Documentary Feature
Project status: Exhibition
Filmmaker: Peter McDowell
Synopsis: Jimmy in Saigon explores the mysterious life and death of James Austin McDowell, a Vietnam veteran who died at age 24 in 1972 as a civilian expat living in Saigon. Painting an elegiac portrait, director Peter McDowell uncovers family secrets surrounding Jim's drug use and sexuality. Peter was only five when his brother died, and much about Jimmy's death remained hidden from him. Through over 200 of Jim's letters, interviews with Jim's friends and family, and the filming of a truth-seeking journey across the United States, Vietnam and France, Jimmy in Saigon is an elegiac work examining grief, family secrets, war, drug use, sexuality and healing.
Updates: Jimmy in Saigon had its world premiere at the British Film Institute's Flare Festival in March 2022. It has since played at numerous festivals, including Frameline: The San Francisco International LGBTQ+ Film Festival, Bentonville, OUTshine Miami, and the Lovers Film Festival in Turin, Italy, where it won Best Documentary. It is slated to screen at more than a dozen festivals in the US and internationally through the end of this year. The Chicago Tribune has said of Jimmy in Saigon: "Handsomely filmed… it will grab you." The film has raised over $200,000 from 500+ individuals, largely through Film Independent's Fiscal Sponsorship program. From this success, Peter McDowell is now teaching fundraising classes for filmmakers. Jimmy in Saigon is scheduled for release in early 2023. See the film's website for more details.
Film Independent promotes unique independent voices by helping filmmakers create and advance new work. To become a Member of Film Independent, just click here. To support us with a donation, click here.
Keep up with Film Independent…
(Header: Jimmy in Saigon)