Theater Crawl: With Cinema Falls, Indie Film is Alive and Well in South Dakota
Last week, we were thrilled to feature art house advocate and Cinema Falls founder Julie Anderson Friesen as the subject of December's Member Lens spotlight series. And wouldn't you know it, our chat with the Sioux Falls-based cineaste proved too epic to squeeze into a single piece. Hence Part Two, in which we fired up one of our Theater Crawl series of profiles of great film organizations and exhibitors nationwide—for a closer look at Cinema Falls.
Founded by Friesen in 2012, Cinema Falls seeks to serve a growing population of film lovers—and increasingly, filmmakers—within the Mt. Rushmore State, organizing a variety of screenings and special events in and around the Dakotas' most populous city, while also helping to provide info about production resources to local creators. If you missed Part One of our conversation, about Friesen's experiences as a film lover and Film Independent Member, click here. Enjoy!
CINEMA FALLS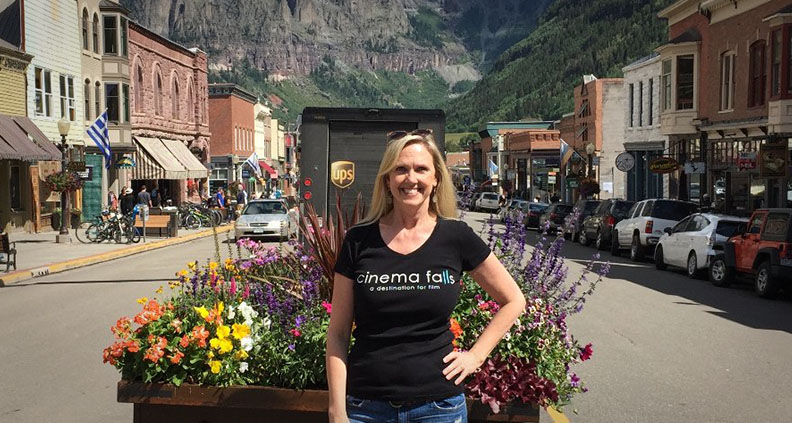 To start, tell me a little bit about Cinema Falls as a film organization. Do you have a mission statement?
Friesen: When I founded Cinema Falls in 2012, my mission was twofold: to build a film community where cinema lovers could find each other, and where they could find access to the independent films, documentaries and world cinema titles that typically bypass Sioux Falls. Beyond that, I hoped to forge a connection between our patrons and filmmakers. Cinema Falls is unique in that we don't own a venue, and we're not a nonprofit. Cinema Falls is both a community and exhibitor. In the art house directory, I believe we're called a "nomadic" cinema.
How has the pandemic impacted operations this year? 
Friesen: Our status has been both a blessing and a curse. On one hand, we're spared the stressors of a brick-and-mortar building to operate or ongoing lease payments, but we also don't have a 501(c)(3) status for donors to support us. We've been dark since March. I attempted a virtual cinema but many of our patrons found it unsatisfying and full of technical challenges—especially our older patrons. Recently, we went back to showing films in a theater with daily socially distanced screenings and masks [editors note: this interview occurred November 20], but if you've seen the national news, you know that South Dakota is in the spotlight and suffering at the hands of our decision-makers, and it's very negatively and rightly impacting people's desire to be indoors in a movie theater.
I imagine it's a very frustrating position to be in.
Friesen: When you build a community of patrons over nearly 10 years, you don't just miss exhibition—you miss your people. I greet everyone as they arrive at films, and it wasn't unusual for some to offer a hug before or after a movie. So, I worry about them [our patrons], especially the ones who told me that Cinema Falls filled a lonely place in their lives. I wish that I could give them something unique right now, even a chance to Zoom into a film screening with a filmmaker or actor who would typically never come to Sioux Falls—something similar to the experience that Film Independent creates for their Members.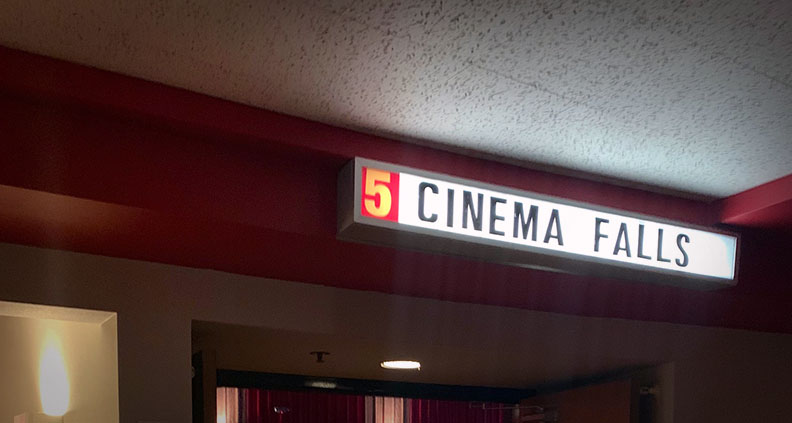 Tell me a little bit about Sioux Falls and the role of Cinema Falls within the local arts community. I'm particularly curious; my dad is from Sioux Falls and I still have a lot of extended family there.
Friesen: Sioux Falls has a vibrant and growing arts scene: live music, sculpture, theater companies—film was really the last piece of the arts that was missing. As far as a local film scene, there are people in the industry from here who left and never looked back. As I've built Cinema Falls, there's really only been a few of them who have gone above and beyond to help me out. One of them is Barbara Schock, who won the Oscar for Best Live Action Short in 2000 for her film My Mother Dreams the Satan's Disciples in New York Dreams. Barbara is now the Chair of the Graduate Film Program at NYU, and we became friends.
Was it difficult to get Cinema Falls up and running in the beginning? 
Friesen: I didn't have a mentor, no relationships with distributors, let alone know where to even find them. No knowledge of how it all worked, no venue, no formal film education. And of course, we're located in a part of the country that's not only off the Hollywood radar, but can also be treated [by Hollywood] with a not-so-thinly veiled look of of disdain. It made me fight harder. I just thought, you know, maybe one of the things I can do is not only nurture a film audience and a love of cinema among my community, but maybe I can also nurture filmmakers who are just sort of beat up from the process, who in turn I thought might want to refer their filmmaker friends, and that maybe eventually word would get out.
I know it's been difficult to get filmmakers out to Sioux Falls, but what are some examples of when you've been successful at doing so?
Friesen: Steve James brought Life Itself here. That was pretty incredible. And eventually, the name Cinema Falls got passed along to Chloé Zhao, who brought us Songs My Brother Taught Me…
Oh yeah, we love Chloé.
Friesen: Yeah. Chloé came here and we sold out two theaters for that screening. Because I had a post-production company, we brought in camera gear. We didn't know the first theater would sell out, but it did. So we set up the other projector and did a Q&A with Chloé in the other theater so that people could see it. And she brought Jashaun St. John, her cast member, her [St. John's] mother and grandfather came too, and we hosted them. I'd love to be able to show Nomadland when it comes out, but I don't know if I'm going to be able to do that. Mollye Asher [producer] contacted me asking if I knew anyone who would be interested in being an extra for Nomadland. I sent it out in our newsletter and sure enough, we had people head out there and participate as film extras for the first time. I've helped to forge a relationship between the patrons attending Cinema Falls here in South Dakota, who now will follow Chloe's career. It's important for me to be able to say to our patrons in that theater, follow her and support her work. I'd love to be able to do that with even more filmmakers in the future.
Past Theater Crawls include…
To learn more about Cinema Falls, please visit their website.
Film Independent promotes unique independent voices by helping filmmakers create and advance new work. To become a Member of Film Independent, just click here. To support us with a donation, click here.
(Header: photo originally from @CinemaFalls Facebook)