Fiscal Spotlight: Three Stories of Queer Activism, Actualization and Error 
Welcome to Fiscal Spotlight, a special monthly round up of projects—at all stages of production—working their way through Film Independent's Fiscal Sponsorship pipeline.
***
Over the past year there's been a bumper crop of LGBTQIA+ films spanning the entire breadth of the cinematic medium–from unsettling dramas like Tár and The Whale, to uproarious rom-coms Fire Island and Bros, to incisive and arresting documentaries like Nelly & Nadine and Jimmy in Saigon (the latter a previous Film Independent Fiscal Spotlight subject.) Happily, this year doesn't seem to be letting its foot off the gas one gay inch, with a robust pipeline of diverse queer content in imminent release and under development under the umbrella of Film Independent's Artist Development.
Take the three projects we're showing off in this month's column. Here we have a narrative short, autobiographical feature and feature-length documentary. One is a drama, one a celebratory work of historical archiving and community empowerment. Oh! And one campy dark comedy, too. These three works highlight the diversity of the queer experience and queer artists, and we're fortunate to represent them all as part of our Fiscal Sponsorship program.
Fiscal Sponsorship enables filmmakers to solicit tax-deductible donations and seek organizational grants in partnership with Film Independent's own 501(c)3 nonprofit status. Don't worry, it's not as complicated as it sounds! Learn more:
March's featured projects are Instagays, T and Out in the Streets. Read on to learn more about each project and how to support them below.
INSTAGAYS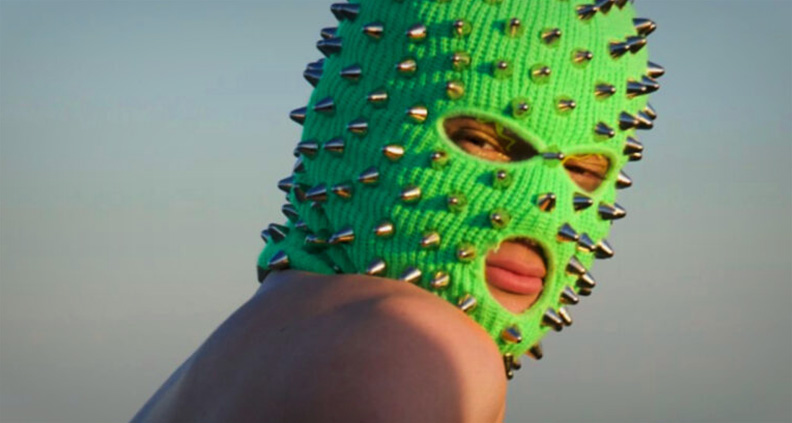 Project type: Narrative Short
Project status: Post-Production
Writer/Director: Dhruv Sud
Producers: Clarissa Blau, A.C. Smallwood
About the project: A gay spaghetti western about a group of vainglorious #instagays whose trip to Fire Island takes a dark turn when they accidentally murder their token friend of color. Boy next door, Luca (20s) and his friends–scheming party boy Nate (20s) and fitness influencer Tyler (20s)–are on a trip to Fire Island Pines. Nate and Tyler stress over the group's audition for an influencer-themed gay reality series. They plan for the casting director to join them later. Luca invites over a Grindr hook up, Shiv (20s). Shiv surprises the group by not having any social media presence. Tyler gets canceled online because he doesn't have any friends of color. Nate realizes that the group can use Shiv to appear more diverse. He asks Shiv to spend the night with them. Shiv is hesitant but agrees because to spend more time with Luca. Later at night, the casting director is a no show. Luca and Shiv establish a connection and have rough sex. Luca chokes Shiv. Nate and Tyler fume but Tyler gets a message that the casting director is on his way. Excited, they enter Luca's cabana and find him… with Shiv's dead body.
Meet the filmmakers: To learn more about Instagays including how to support the project, click here. Filmmaker Dhruv Sud is completing his MFA in Screenwriting and Directing at Columbia University. He is a 2021 BAFTA Newcomer, an inaugural recipient of The Joel Schumacher / Sophia Cranshaw Scholarship Award from the Gotham Film & Media Institute, and a recipient of the Phil Johnston Comedy Grant. He is drawn to dark comedy and drama, often dealing with themes of queerness, racial identity, immigration or privilege. His directorial debut The Coronation premiered in competition at the 38th edition of Miami Film Festival and screened at Nashville Film Festival and Montclair Film Festival in 2021.
T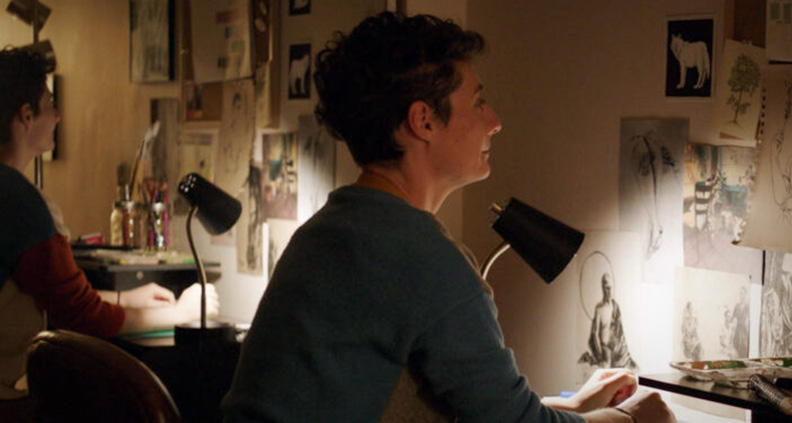 Project type: Narrative Feature
Project status: Production
Writer/Director: Lane Michael Stanley
Lead Actor/Story: Mel Glickman
About the project: Shot over the lead actor's first year on Testosterone, T follows Em through their journey of gender discovery, and the challenges and joys they face in their romantic relationships, friendships and family. After being out as nonbinary for four years, Em decides to take charge of their body and life and begin Testosterone therapy. Their fiancé Spencer reacts badly–though he is bisexual, he can't imagine coming out to his family and publicly dating someone who isn't a woman. Em leaves him, gets their prescription, and does their first Testosterone shot with their friend Rose, a trans woman navigating how to get back onstage after quitting music when she transitioned. Em starts dating Ana, a nonbinary performance artist who shows Em how to let loose–and inspires a kind of sexual awakening in Em. But when Ana stops taking her bipolar medication, she starts acting erratically–and Em falls back into the comfort of their relationship with Spencer. Throughout the film, Em grows into themself, all while balancing their romantic relationships, friendships and how to tell their single mother who they truly are.
Meet the filmmakers: To learn more about T including how to support the project, click here. Lane Michael Stanley (he/they) is a transgender director, playwright, filmmaker and producer, and the co-founder of Secretly Famous Productions along with Lowell Blank. Their award-winning debut feature film Addict Named Hal played at festivals including Austin Film Festival, Santa Barbara International Film Festival and Dances with Films, and is now available on all VOD platforms through the distributor Freestyle Digital Media. Mel Glickman (they/them) is an actor, stunt performer and fight coordinator based in Los Angeles. Their work has been seen internationally at the Edinburgh Fringe Festival and nationally at the Hollywood Fringe Festival, the Times Square Arts Center, the Rose Theater in Kansas City, Cohesion Theatre Company in Baltimore and in empty lots and city streets along the Mid-Atlantic. They are currently a company member and fight director for award-winning theatre company MB Stage Productions in Hollywood.
OUT IN THE STREETS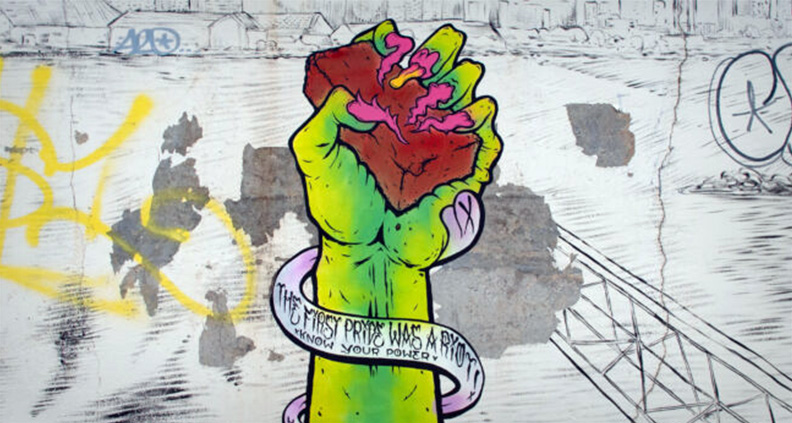 Project type: Documentary Feature
Project status: Post-Production
Director/Producer/Cinematographer: Daniel Albanese
Producer: Jonathon Roessler
About the project: Going behind the scenes of this electrifying artistic movement, Out In The Streets reveals how Queer Street Art has evolved into a means of visibility and a call to action for communities marginalized by mainstream culture. While the film showcases the deeply personal stories of LGBTQ+ artists and advocates from around the world, it also weaves together a half century of queer activism that has influenced much of their work. As Stonewall veteran Mark Segal explains, even on the night of the Stonewall Riots, queer teenagers were chalking "Tomorrow Night Stonewall" throughout Greenwich Village to help fuel the protests and encourage a citywide response. For decades, there have been numerous queer activist collectives—such as Gran Fury, AKIMBO, and Fierce Pussy—that have very effectively used Street Art as a vehicle for their messaging. In the film, Avram Finkelstein and Maxine Wolfe (members of ACT UP) explain how they powerfully used public spaces during the AIDS crisis. Out In The Streets goes beyond exploring Queer Street Art as a movement—it defines this pivotal moment of queer artists coming together as a way to inspire generations to come.
Meet the filmmakers: To learn more about Out in the Streets including how to support the project, click here. Daniel "Dusty" Albanese is the New York-based photographer and filmmaker behind the website TheDustyRebel. Shaped by his background in anthropology, he has built a worldwide following documenting the more marginal aspects of the urban landscape, as well as controversial artworks, and political protests. Daniel's photography has been exhibited in many shows in NYC, such as the International Center of Photography's "Occupy!" and #ICPConcernedGlobal Images for Global Crisis. In 2019, his work was acquired by the Leslie-Lohman Museum. He has also been a recurring guest speaker for the City College of New York, as well as at Stanford University, Metropolitan State University of Denver, Adelphi, and MoMA PS1.
Learn more about Fiscal Sponsorship, including its benefits and eligibility requirements, by visiting our website. Check out our Sponsored Projects page to see the projects are currently being supported.
Celebrating 30 years, Film Independent Artist Development promotes unique independent voices by helping filmmakers create and advance new work. Become a Member of Film Independent today. Support us with a donation here.
More Film Independent…
(Header: Out in the Streets)