Forum Announces Keynote Speaker Effie Brown, Panelists and 'Loving' As Opening Night Film
Contrary to what you might think, the most helpful tool in any filmmaker's toolbox isn't actually some kind of fancy camera lens or After Effects plug-in. It isn't a bestselling "how to write screenplays" manual or an all-access shooting permit—or even a shoebox full of budget-enhancing cash. All of those things would definitely come in handy, but the actual most helpful tool in a filmmaker's toolbox is knowledge and information.
But knowledgeable filmmakers are made, not born. And unfortunately, credible insight into the craft and business of moviemaking isn't always so easy to come by even now, in the age of TED Talks and message boards. Luckily, there's the Film Independent Forum, which for 12 consecutive years has been LA's pre-eminent conference for independent storytellers and content creators—featuring exclusive in-depth panels, case studies, networking events and keynote addresses from some of the top originative voices in the modern film world.
So mark your calendars and flex the spines of those college-ruled Mead notebooks—you'll want to be prepared to take notes, as the 2016 Film Independent Forum returns to the Directors Guild this October 21-23. And trust us: if you walk in curious, we guarantee you'll leave immeasurably better equipped to wrangle that slippery script, short, feature or web series into reality.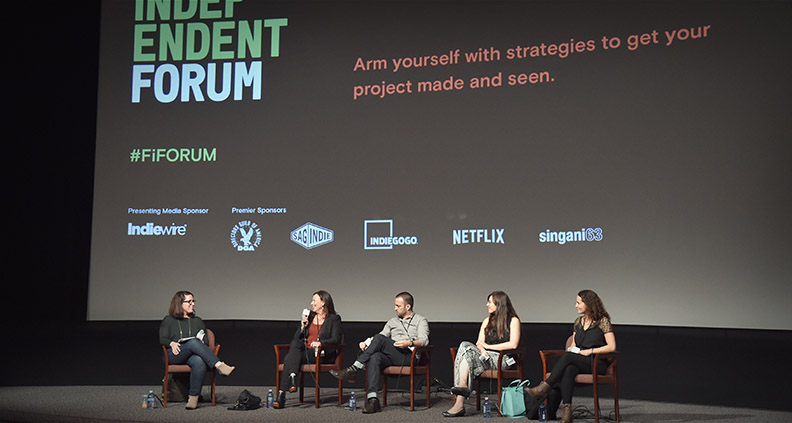 In the past few weeks, we've revisited some of our favorite Forum moments and given you a sneak preview of what to expect this year. But now, we're really getting into the thick of it: announcing just who, exactly, you can look forward to seeing next month—starting with one of our favorite (and most familiar) faces, Effie Brown.
Known for producing films including Dear White People, Rocket Science and Real Women Have Curves and for appearing on the most recent season of HBO's Project Greenlight, Brown is also a veteran of Film Independent's Project Involve program and a sitting Film Independent board member—not to mention the Executive Vice President of Production and Development at Lee Daniels Entertainment. Brown will kick the weekend of October 21-23 off with her Forum keynote speech, joining the ranks of such past illustrious toastmasters as Ava DuVernay, Jill Soloway and Werner Herzog.
"We could not think of a better keynote than Effie Brown," said Maria Bozzi, Film Independent Senior Director of Education and International Affairs, "[Effie] perfectly embodies the 'working filmmaker' we strive to celebrate and support."
To see Brown in action, check out this Narrative Case Study from the 2012 Forum:
But what's a three-day conference about filmmaking without at least one actual film to watch and discuss? Well, this year that film would be Loving, Jeff Nichols' much buzzed-about portrait of the two people at the heart of the "Loving. v. Virginia" case that became a watershed for marriage equality and civil rights.
"We're so excited to open the Forum with such a timely and poignant film," said Bozzi of Loving. The film, which is currently attracting awards buzz in Toronto, is set to premiere in theaters on November 4.
The film, starring Joel Edgerton and Ruth Negga as the titular couple, will serve as the Forum's Opening Night film, followed by an in-depth Q&A with cast and filmmakers and a reception. Here's the film's trailer:
But Brown and Loving are only the tip of the celluloid iceberg. Additional speakers and panelists include a who's-who of diverse creative and executive voices from across the industry—from feature directors, to web series creators, to film publicists, distributors and more. Currently scheduled to appear are:
Andrew Ahn, Writer/Director, Spa Night
Sylvia Desrochers, President, Big Time PR & Marketing
Sam Esmail, Creator, Mr. Robot
Rafi Fine, Co-Founder, Fine Brothers Entertainment
Katherine Fisher, Producer, Her Story
Sydney Freeland, Director, Her Story
Ashley Hasz, Senior Director of Film and Integrated Marketing, Participant Media
Dennis Hauck, Producer/Writer/Director, Too Late
Sian Heder, Writer/Director, Tallulah, Orange is the New Black
Carolyn Henderson, Manager, Film Social Impact, Participant Media
Tina Mabry, Producer/Writer/Director, Mississippi Damned, Queen Sugar
Paula Manzanedo- Schmit, Senior Vice President, Film Finances, Inc.
Matt Miller, Producer, Too Late
Kel O'Neill, Artist/Filmmaker, The Ark
Brian O'Shea, CEO, The Exchange
Elsa Ramo, Entertainment Attorney, Ramo Law PC
Jen Richards, Writer/Actor, Her Story
Kelly Thomas, Producer, Spa Night
Laura Zak, Writer/Actor, Her Story
These speakers will be discussing a wide range of topics covering every nook and cranny of the modern film landscape. For a full list of topics and panels, click here.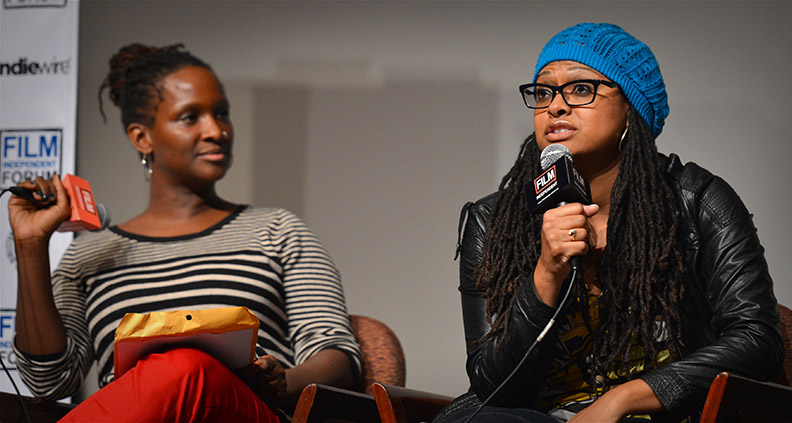 Also during the Forum, Film Independent will award the Alfred P. Sloan Producers grant to one talented and deserving filmmaker—a $30,000 award given to support filmmakers whose narrative features explore themes of science and technology. The award presentation will be followed by a reception celebrating this year's recipient.
So hopefully you're more knowledgeable now than when you started reading this, if only about the Film Independent Forum itself. And whether you're just beginning your independent filmmaking journey or are looking for new ways to sustain and thrive, we hope you'll join us. After all, as G.I. Joe once said, "Knowledge is power!"
---
Early registration for the 2016 Film Independent Forum is now open to Film Independent Members as well as non-Members through September 23. Click here for more info. Not a Member yet? What are you waiting for? Join today.
The 2016 Film Independent Forum happens October 21-23 at the Directors Guild of America in Los Angeles. For more information and updates about panels, please visit our website. For more from past Film Independent Forum participants, please visit our YouTube channel.
The 2016 Film Independent Forum is supported by Premier Sponsors Directors Guild of America and SAGindie, with Principal Sponsors The Montana Film Office, the Virginia Film Office and Media Partner IndieWire.